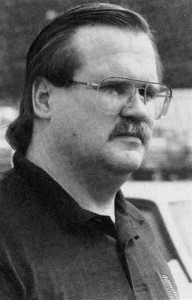 By: BOB McCLURG on June, 1993
Original Article: MUSTANG ILLUSTRATED AND HIGH PERFORMANCE FORD
JOHN McCAULEY
When John McCauley purchased his Saleen Mustang in 1990, he was like many other Saleen buyers – interested in high performance! John had owned two Mustang GTs in, and although both were fine cars, he openly admits that he wasn't quite ready for "the Saleen Experience".
A self-titled "old-fart-throwback" from the Sixties musclecar era, John began a life-long association, or "life-long commitment," to cars with the purchase of an MGA roadster which promptly broke down five miles from the dealership. McCauley feels the MG experience was "a young man's fantasy gone astray over the needs of an automobile." By the time he sold the car to trade up to a more practical "family" car, he had the little import running like a fine Swiss watch.
However, John's idea of a family car was anything but your typical station wagon. A special order 1967 Chevy Nova two door with 275 hp/327, 4-speed, Posi rear and front disc brakes was what John McCauley thought a family car should be. He fondly remembers both drag racing and slaloming the car while stationed with the US. Navy in Pensacola, Florida. It was there that John got his first taste of what a "real" car – namely a Ford Mustang – was all about. "I remember I was always coming up short against this one Mustang at the local Corvette Club slaloms. I sold the Nova to a friend for far more than what it was worth, and purchased my first Mustang, a 1969 Mach-1. "Man that thing flat flew"!
John's conversion to Ford products firmly took hold. With a growing family, his next car was a 1971 Gran Torino. That would be his last high-performance car for a while, that is, until 1984 when he purchased his first Mustang GT. McCauley drove the GT until 1988, and then passed it on to his daughter with the arrival of an even newer GT. John soon learned that the feeling a late-model Mustang gives you is, "like no other, stopping short of the standard reference to sex", and he found himself continuously testing his the prowess of every "bowtie" he ran up against.
With Saleen ownership came the desire to join some type of Saleen enthusiast's organization. Answering an advertisement for the Saleen Registry in a magazine, McCauley soon found himself becoming extremely involved in the club, to the extent that he was eventually elected to the office of Vice President. Unfortunately, the Registry was underfunded and politically constricted leaving McCauley looking for something else. "As it (the club) was on its way out in 1991, I called Saleen, and decided to express my interest in forming a national club." The Saleens were skeptical, and Steve basically told John "don't tell me, show me!"
With the gauntlet thrown down, John organized the first Saleen outing to the Ford Motorsport Nationals (Maple Grove, Pennsylvania) followed by yet another at the US. Ford Nationals at National Trails Raceway in Columbus, Ohio. Similar meetings were also staged at the Saleen Performance Parts "Cruisin' the Queen" car show in Long Beach, California, and at Watkins Glen, New York. It was at the 'Glen that McCauley again met with the Saleens, and was given their official blessing. Hence the Saleen Owner's and Enthusiast's Club (SOEC) was born.
"Our long term goals are to establish a comprehensive registry of our Saleens, maintain sources for "obsolete" Saleen parts, provide sponsorship for show and track events, and to promote ownership of our vehicles. Our deepest hope is that we can document the history of these cars and trucks while the information is still current instead of having to resurrect it some twenty years later!" Go to it John!