Steve Saleen Built The Most Collectible Fox-body Mustangs
"There is a great passion for these vehicles and the Saleen brand in general"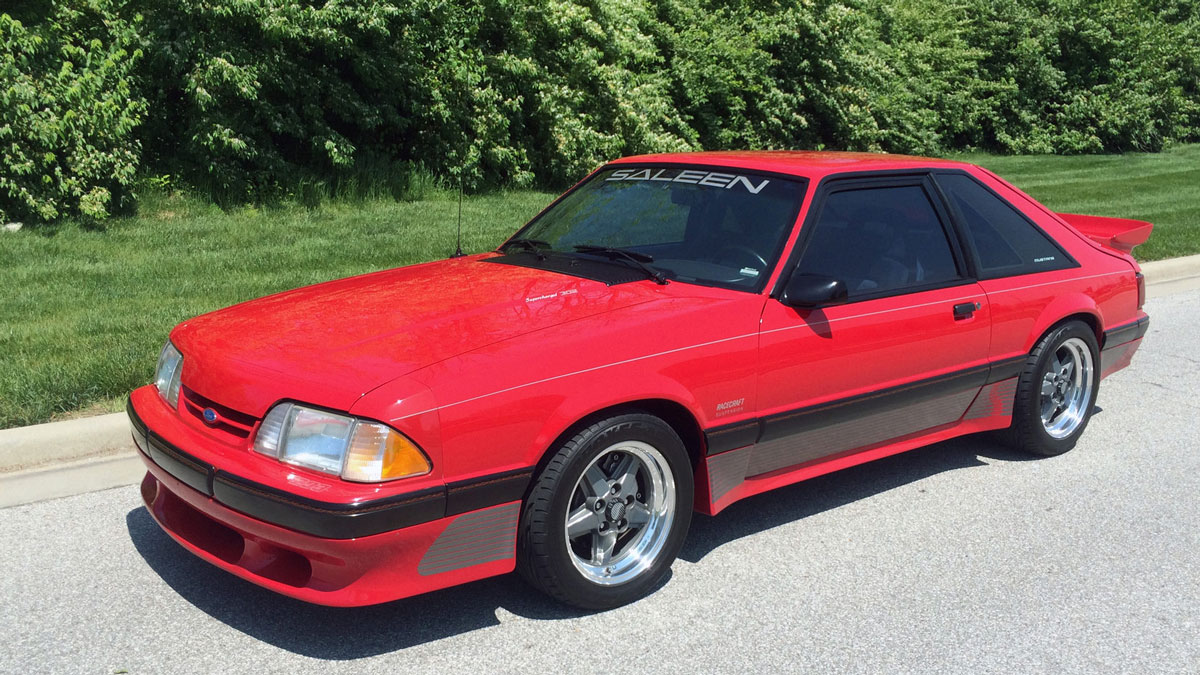 By: MIKE BUMBECK on October 12, 2016
Original Article: HAGERTY.COM
Ford established a winning formula of shipping assembly-line Mustangs to specialty companies for conversion into near-racing specials. Credit Carroll Shelby during the 1960s for inspiring this practice. At the dawn of the 1970s, the Boss 429 emerged from the Kar Kraft facility in Brighton, Mich., destined for showdowns against Hemi-powered competitors. The '80s saw this tradition continue to third-generation Fox-body Mustangs from Saleen, a California tuner shop.
Though Mustang traditionalists may angrily shake a fistful of collapsed carburetor floats toward the sky at the thought of any car built after 1972 being collectible, the age window of what's considered classic progresses. The '80s, along with cassette decks, body-color mesh wheels, flared fenders and fade-stripe graphics, are powering into the present with fuel-injected V-8 power.
For 1986 the Saleen Mustang packed a 200-horsepower 5.0-liter High Output (HO) V-8 with tubular headers and dual exhaust, backed by a five-speed Borg-Warner transmission. The Saleen aero treatment meshed with 16×7 Riken alloy wheels, Racecraft suspension and '80s-perfect striping. A three-spoke Momo steering wheel, Hurst shifter and sports seats met an optional radar detector in the cabin. A Saleen Mustang so equipped could hold .88 G on the skidpad and top 140 mph, according to Ford's marketing materials.
After transforming just three factory stockers into Saleen Mustangs in 1984, production increased to just over 200 by 1986, well over 700 by 1988 and nearly 900 for 1989. Steve Saleen took his Mustang racing knowledge and transferred it to a series of cars that honed his company's formula of suspension and power upgrades, including select builds that boosted acceleration, via a supercharger.
Ford had offered supercharging in 1957—a factory-installed McCulloch/Paxton centrifugal blower—and as an option in the 1966 Shelby Mustang GT350. Saleen resurrected the practice for Fox-body Mustangs with Paxton units. A 1984 model [1985 model sic] was the first outfitted, but it took until 1992 for development to conclude and the Saleen/Vortech supercharger option to become available.
These early-'90s supercharged Saleen specials are among the most coveted as an economic recession, combined with the approaching demise of the Fox-body, resulted in a drop in Saleen Mustang production in 1990-93, with just 476 Saleen Mustangs built. Production revived to 1,225 in 1994-98 with the debut of the SN-95 Mustang and ramped up to more than 4,000 constructed in 1999-2004.
The resurgence of the Fox-body has been good for the Saleen Mustang and its devotees; the Saleen Owners and Enthusiasts Club currently has 5,000 members worldwide. The club's president, Jim Dvorak, shed some light on the current state of enthusiasm. A renewed interest in all things '80s, together with limited Saleen production, has seen the collector market for Fox-body examples trending upward in recent years.
"There is a great passion for these vehicles and the Saleen brand in general," Dvorak said. "A lot of the trading is underground. A lot of the special cars are purchased privately and never advertised. The auction results can be a little misleading in some cases."
Original condition Saleen Mustangs can fetch more than modified examples, and Saleen keeps documentation on every car built, with unique history in some cases able to influence value. The good news is that getting into an era-defining collectible that has a connection to a strong community of like-minded enthusiasts doesn't cost a million dollars.
[Source: Hagerty]