By: JOHN DAGYS on June 6, 2019
Original Article: SPORTSCAR365.COM
Single-make Saleen series delayed due to production holdups in S1 Cup cars…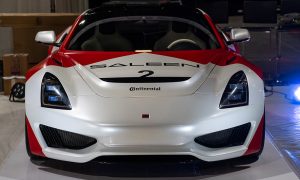 The launch of the Saleen Cup has been delayed, with the single-make series, scheduled to debut this weekend at Sonoma Raceway, having been pushed back to next month.
Delays in the production of the Saleen S1 Cup cars, due to "unanticipated delays" of the import of parts, has been cited by the American automaker, which has a manufacturing plant in China and joint venture with Jiangsu Secco Automobile Technology Corporation.
The arrive-and-drive series was due to feature a grid of 20 Saleen S1s this weekend, in support of the SRO Motorsports America event at the Californian circuit.
"The Saleen Cup cars require specialty components that are sourced globally, and unanticipated delays importing and clearing these parts through customs have significantly delayed production," a statement from the manufacturer read.
The series' launch has now been slated for the next SRO America weekend at Portland International Raceway on July 13-14, with additional events at Watkins Glen International, Road America and Las Vegas Motor Speedway.
It is due to feature two 50-minute races on each weekend, with single or two-driver lineups and a mandatory pit stop.
Saleen will still have a presence at Sonoma, with a "race ready" version of the Saleen S1 set to complete hot laps, with the manufacturer hosting a hospitality area.
No word has been given if the delays could impact Saleen's planned GT4 car for 2020.
Click here to participate in the discussion.
---
John Dagys is the founder and Editor-in-Chief of Sportscar365 as well as the recently launched e-racing365 Web site for electric racing. Dagys spent eight years as a motorsports correspondent for FOXSports.com/SPEED Channel, and contributes to other publications worldwide.
[Source: sportscar 365]