Performance, Style, Sophistication, Fun.
The Saleen N2O Focus Is All that Plus a Great Value
Introduced only last year, the Saleen N2O Focus has already proved it's got the muscles to back up its chiseled looks in the highly competitive sports compact market place. Equipped with the handling, aerodynamics, power and styling for which every Saleen automobile is famous, the N2O Focus sports one other innovative feature: an engine that comes "nitrous ready." This is no add-on aftermarket kit. Rather it's a fully integrated system, designed and engineered by Saleen's factory engineers. It's installed right on the assembly line in the Saleen factory as the N2O focus is being built. You can't purchase a similar system from any other car manufacturer.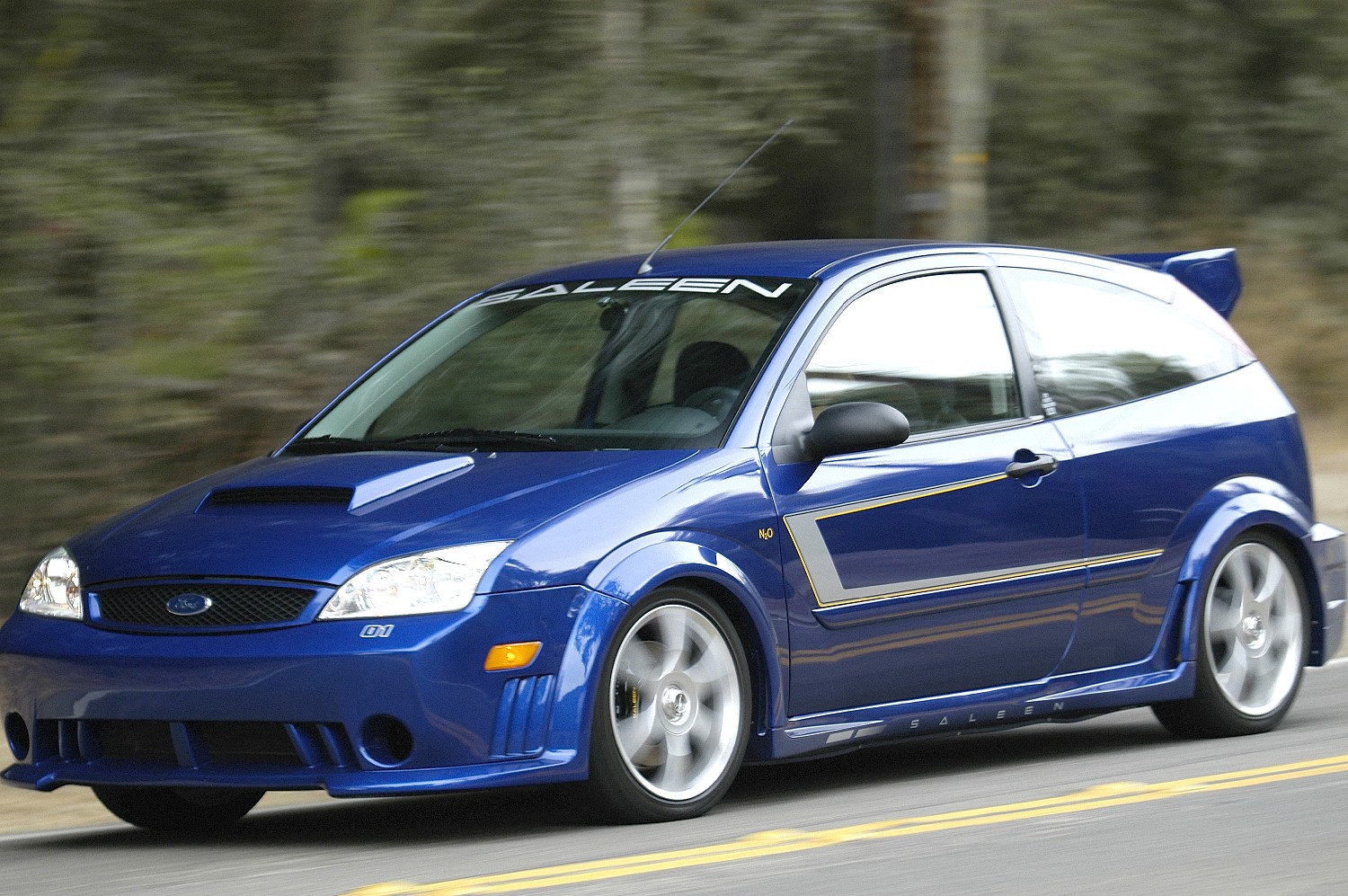 "During development we evaluated both turbocharging and supercharging, but our real world research out on the 'streets' led us to the nitrous ready concept," said Steve Saleen. "As we expected, the N2O Focus has been a hit with Gen Y buyers. They like being able to purchase it from a fully certified Saleen dealer," Saleen continued. "They also appreciate the ability to finance the car. And that, unlike most other similar cars, it comes fully equipped so they don't have to lay out several thousand dollars after taking delivery to add all the performance features we build into every N2O Focus at the factory.
"But while the N2O Focus has succeeded in attracting the 2Fast 2Furious crowd, we've also discovered the car has much broader appeal. Enthusiasts from age 16 to 96 are buying the N2O Focus. These are sophisticated performance buyers who tell us they might otherwise have chosen a Mini Cooper or an Acura RSX.
"A lot of our N2O Focus customers really like our industry-leading 'power on demand' concept," Saleen added. "Flip a switch and you've got an extra 75 horsepower under your right foot. For those other times, you can enjoy the fun of tooling around and looking 'bad' in a high-performance sport coupe that's also giving you more than 30 miles per gallon."
Engine & Transmission
Under the hood of the N2O Focus for 2005 lurks a new 2.0-liter all-aluminum, doubleoverhead-cam, 4-valve-per-cylinder, 4-cylinder engine. It is equipped with a low-restriction air intake tube designed for "heavy breathing" and a free-flowing Saleen performance center exhaust system. You, your passengers and those pedestrians lucky enough to be in the vicinity when you motor on by will be serenaded by some of the loveliest intake and exhaust notes street side of a Cosworth 4-cylinder racing engine.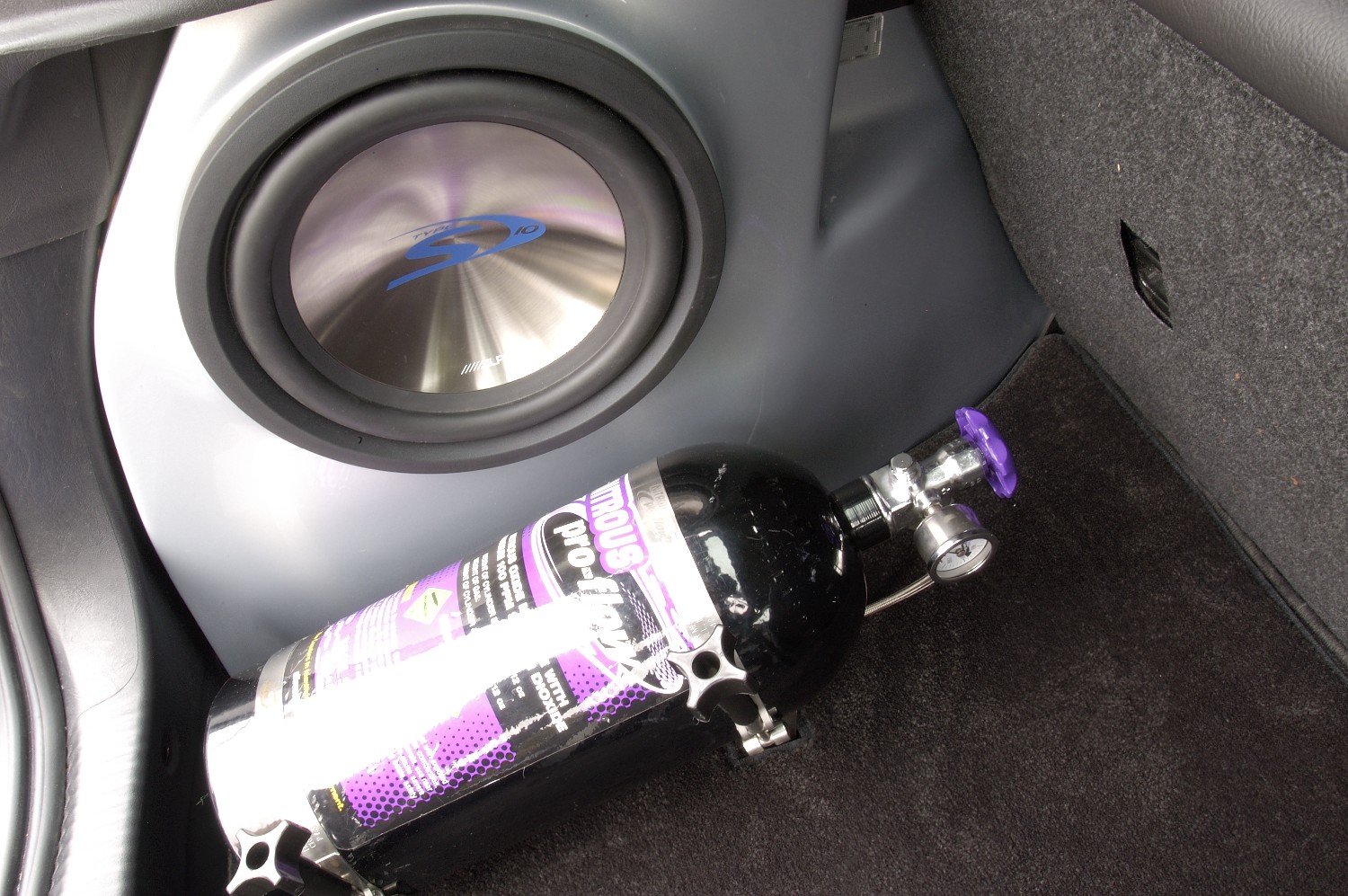 The engine is fitted with various nitrous compatible elements, including a 10-lb bottle mounted in the trunk, plumbing, wiring and a special Saleen PowerFlash performance computer—a sophisticated Saleen-designed engine management control system—that determines the precise fuel, air, and spark requirement for every running condition. The N2O Focus is perfectly content running on less expensive 87-octane fuel. But premium 91-octane fuel is recommended for maximum power with the nitrous.
"Nitrous ready" means that before the N2O owner will be able to smoke the front tires, he or she will have to fill the nitrous bottle, provide the main hose to the engine and hook up some wiring. This activity will require about an hour's worth of time.
For short bursts, the "75 horsepower nitrous kit" will turn the 150-bhp 2.0-liter Focus into a 225-bhp screamer, capable of running the quarter mile in 14 sec at 96 mph and rocketing from 0-60 mph in 5.8 sec.
And we thought you might be interested in knowing that the 4-cylinder's robust 150 lb-ft of torque leaps to a even more muscular 250 lb-ft when you "juice" the engine. Saleen's engine wizards have calibrated the N2O's engine so that the nitrous "comes on" around 3,000 rpm and shuts off at 200 rpm below maximum revs to prevent any harmful backfires that could occur when the driver lifts off the throttle between upshifts. Saleen engineers have thought of everything: a healthy dose of extra power along with measures to help ensure engine longevity.
The 4-cylinder is mated to a slick-shifting 5-speed manual with a performance 3.82:1 final-drive ratio. Just what the doctor ordered for aggressive launches and close-ratio shifts.
Chassis & Suspension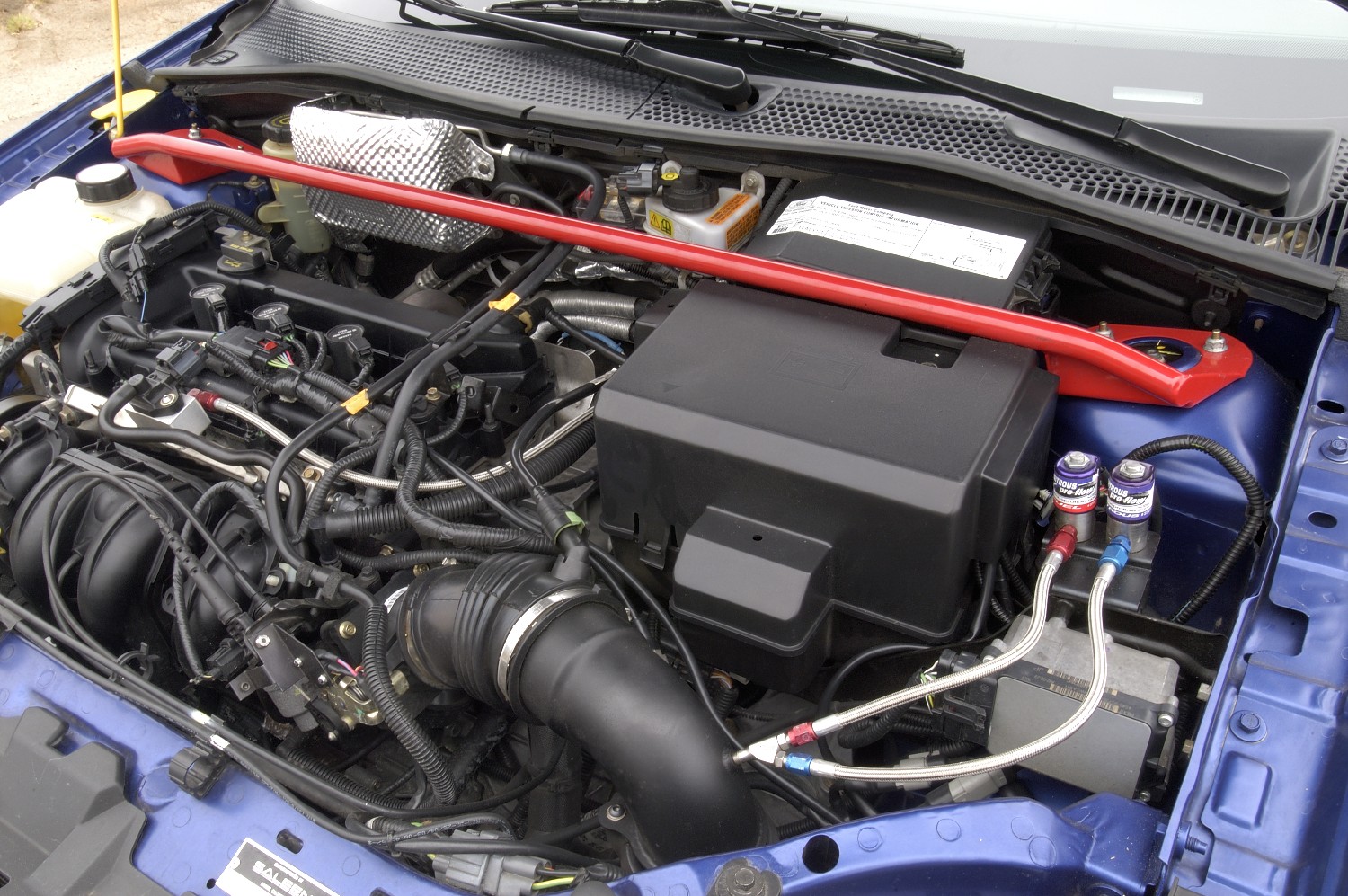 Every N2O Focus leaves the factory with a high-performance Saleen-engineered Racecraft suspension. It starts with special linear-rate front and rear coil springs and Saleen N2 front struts and rear shocks that are street and track tested to provide the athletic ride and handling characteristics for which every Saleen is famous. To control body roll, there's a Saleen-engineered sway (anti-roll) bar at each end of the car with special urethane bushings designed to reduce compliance in the system, resulting in even more immediate and more precise anti-roll bar actuation. Under the hood you'll find a Saleen strut tower brace bolted across the engine compartment to stiffen the chassis and provide more precise steering and handling. Finishing touches include a Saleen high-performance wheel alignment and a precision calibrated chassis.
Brakes
To assure a perfect balance between "going" and "slowing," Saleen engineers place as much emphasis on the N2O's braking system as they do on engine performance. For 2005 the vented front rotors are increased in diameter from 10.2 inches up to 10.9 inches for even greater stopping power. At the rear the Focus has 8.0-inch drums. An anti-lock braking system (ABS) and traction control are optional.
New for 2005 is an available Saleen-designed 12-inch brake system consisting of grooved and vented front rotors with Saleen black powder coated 4-piston calipers. These brakes dramatically reduce stopping distances. And the powder coating on the calipers is another subtle styling touch that adds to the N2O's eye-catching looks.
Wheels & Tires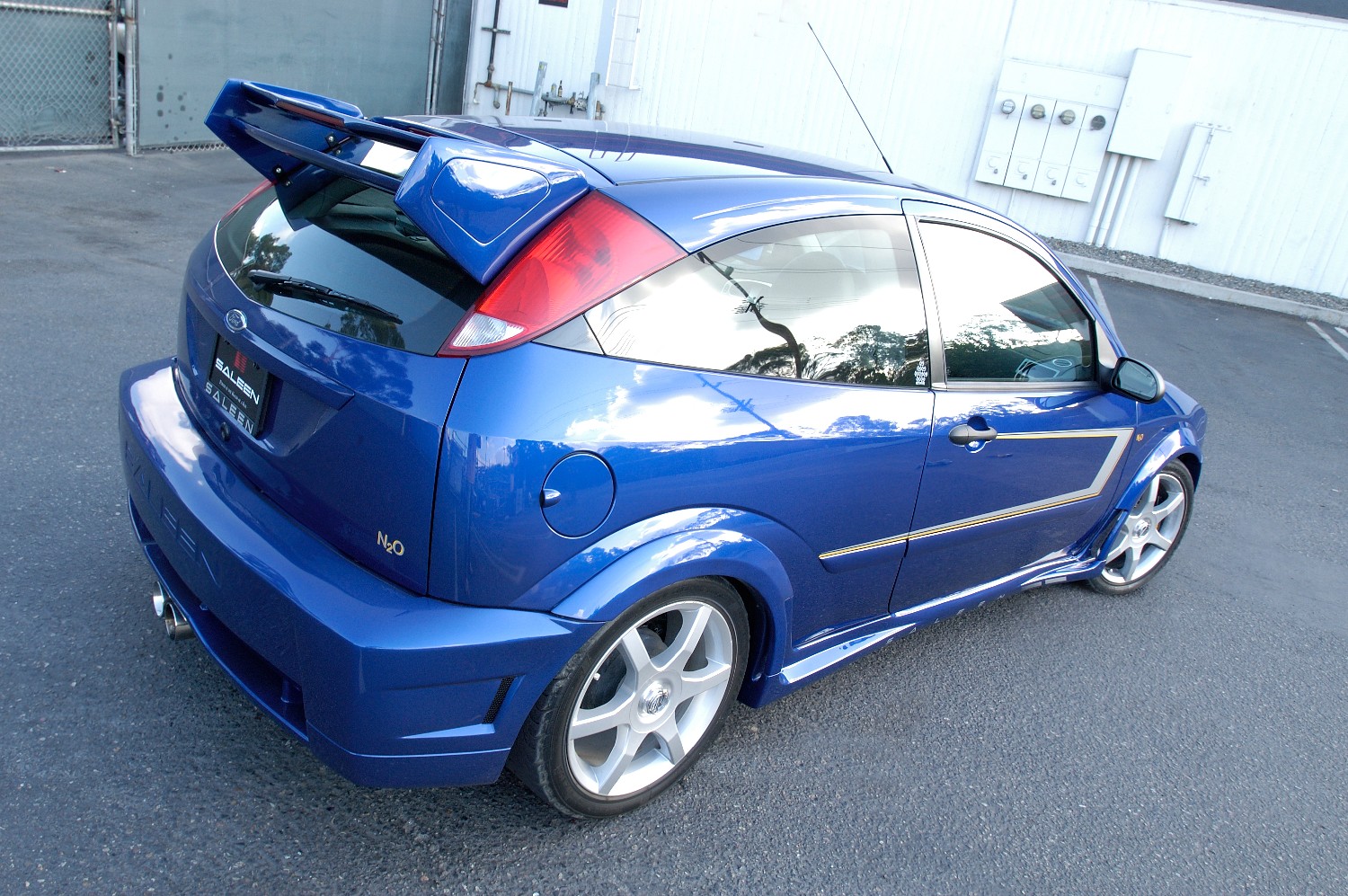 Saleen aluminum alloy 17 x 7-inch alloy wheels are found at all four corners of the Focus. Providing the impressive grip and stick are Pirelli P Zero high-performance radials, 215/40ZR17 up front and 215/45ZR17 at the rear.
For those requiring the ultimate in race-track-like grip for the street, Saleen offers special Pirelli Corsa extreme performance summer tires incorporating the latest in technology in construction and compound for maximum handling, acceleration and braking for the most extreme performance requirements. These are the same tires Ferrari specifies for the cars in the Ferrari racing series.
Design
Exterior Styling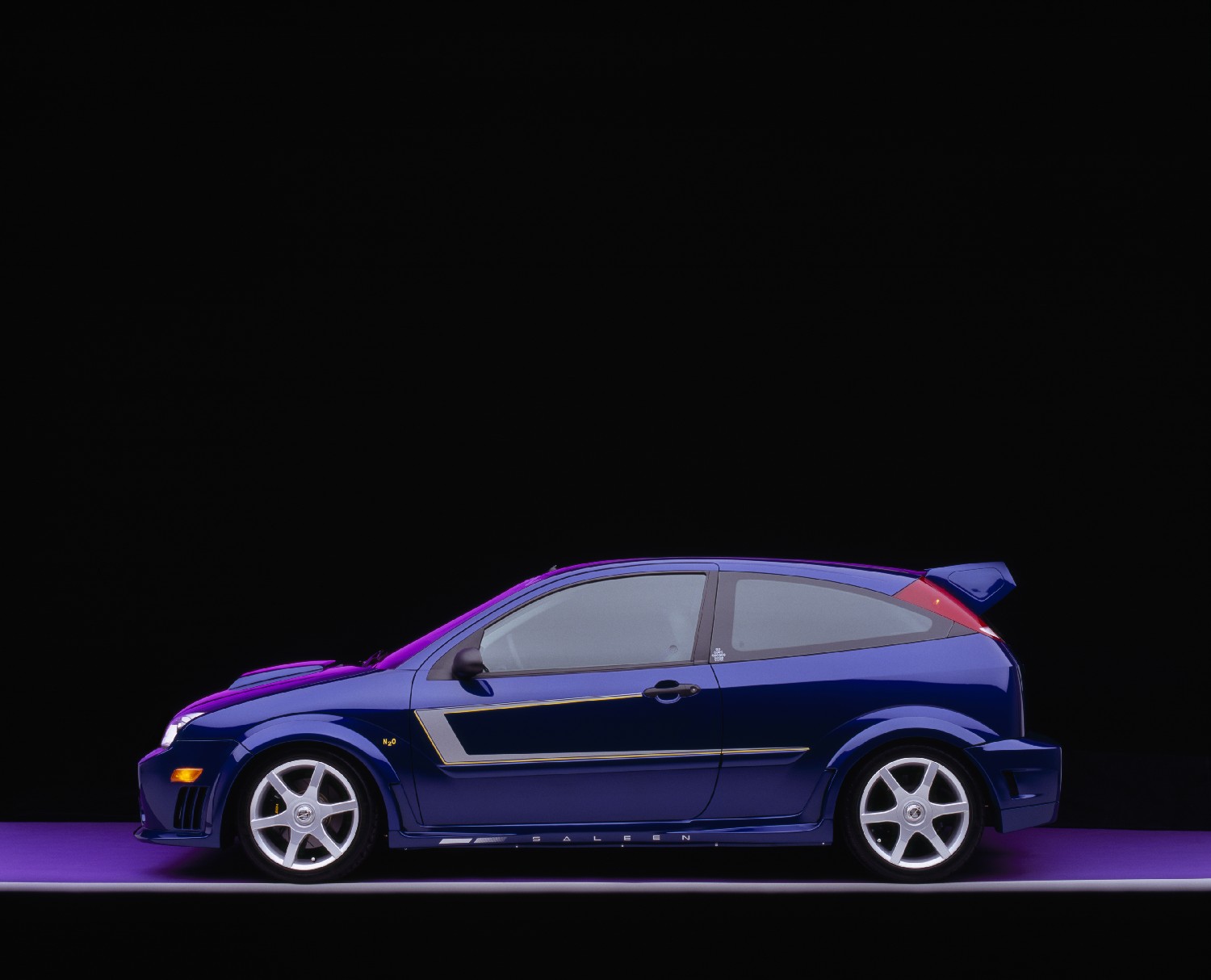 Just as every Saleen automobile—S281, N2O Focus, S7—contains unique Saleen performance DNA, so does every Saleen exude a look of sophisticated performance that makes it immediately recognizable as a "Saleen." At Saleen, aerodynamics and exterior design are inseparable, and for the Focus this includes a race-inspired aero package consisting of Saleen-designed front and rear fascias, side skirts, fender flares, a hood scoop and a Saleen bi-plane rear wing. Look closely and you'll notice that for 2005 the front splitter has been lowered slightly for an even more aggressive appearance.
You'll also find Saleen-designed side and windshield graphics, championship wreath decals and identification, including a fender badge and a serialized front bumper number. Any association you draw between the N2O Focus and the cars competing in the World Rally Championship is purely intentional.
For personalization purposes, Saleen offers the N2O buyer a choice of nine standard exterior colors and nine special BASF colors, including Saleen Extreme Rainbow, a rainbow of clearcoat colors that will set your Focus apart from any other on this planet.
Interior Design
The interior of the Saleen Focus combines business—performance driving—with function, elegance and comfort. The Saleen front sport seats are covered in leather and contoured to grip your body when accelerating, braking and cornering. The sporty head restraints are flush-fitting and include an embossed "Saleen" logo as an elegant finishing touch. A leather wrapped steering wheel is standard and it features tilt and telescopic adjustments.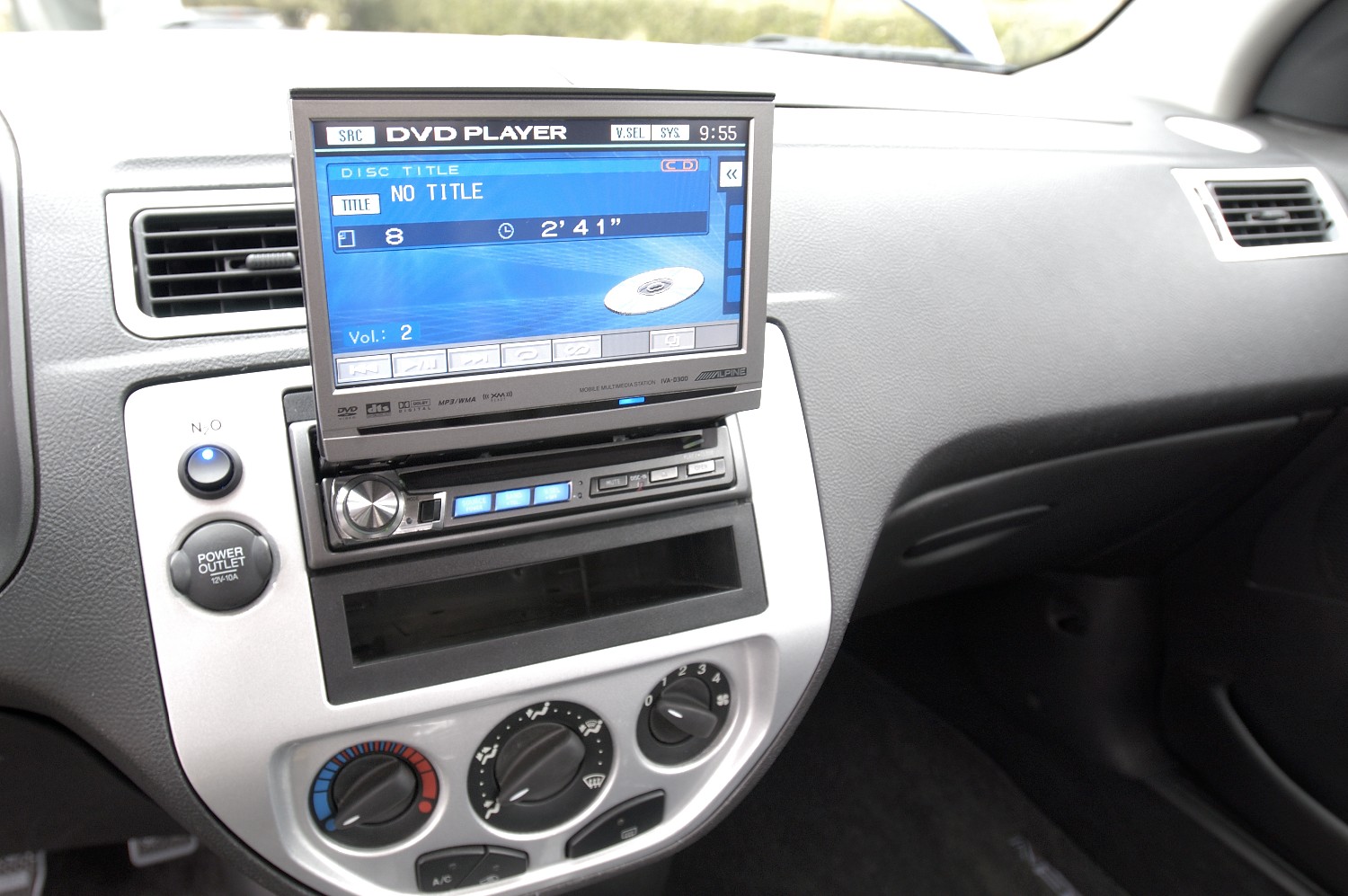 There's a fresh new look to the instrument panel with a Saleen speedometer, whitefaced gauges and painted accents that carry over to the door surrounds. To this Saleen adds performance driving pedals, including a gas pedal, which is new for 2005, along with a shortthrow shifter and a redesigned, easy-to-grip Saleen shift knob. Under your feet are custom floor mats and you are surrounded by custom trim accents and N2O Focus graphics and identification. Also standard are a Saleen key fob and an Eagle One detail kit.
Naturally, there's a Saleen serialized console plaque along with a serialized engine bay plaque to uniquely identify each N2O Focus as an authentic Saleen-manufactured automobile that complies with all applicable Federal safety and emissions requirements. It also identifies the discriminating owner as belonging to an exclusive club, one whose members ascribe to the philosophy of "Power in the Hands of a Few," not to mention (but we will) the bragging rights and the high resale value that accompany the purchase of any Saleen automotive product.
Every Saleen N2O Focus comes standard with an AM/FM, 6-disc, in-dash CD changer with 4-speakers and a digital clock. But if this doesn't sound like enough in the sound department, you can move up to a Saleen PowerTech entertainment system featuring Alpine's latest high-end offering for in-vehicle entertainment. It features an automated (touch feedback) flip screen, AM/FM/CD/DVD/MP3 capability and a Kevlar, coned, 10-inch subwoofer along with a 350-watt sub-woofer amplifier. The system is complimented by the addition of four 5 x 7-inch 2-way speakers powered by a "V-Power" amplifier. It comes complete with a trunk-mounted, Saleen integrated sub-woofer amplifier and under-glass neon lighting.
This Saleen PowerTech entertainment system can be combined with a rear-wingmounted camera similar to the one mounted at the rear of the S7. When "on," the camera provides a wide-angle field of vision behind the Focus, supplementing the conventional rear view mirror when the Focus is in reverse gear.
Also available for 2005 is a Saleen performance data logger that records and displays performance data for acceleration, braking and lateral g-loads. It's just the thing for wowing your passengers with the N2O's g-whiz attitude.
Marketing
Carrying a Manufacturers Suggested Retail Price (MSRP) of $26,519, the Saleen N2O Focus combines classic Saleen performance, styling and sophistication with outstanding value.