More horsepower, more torque, more performance. Better handling, better braking. Clean, aggressive styling. Designed by the wind. More fun . . . more everything. This is the best S281 ever!—Steve Saleen

This is our first all-new car in this market segment since we began manufacturing automobiles more than two decades ago. And by 'new' I mean the changes are much more than skin deep. We have an all-new all-aluminum 281-cubic-inch, 3-valve V8 matched to a slick-shifting 5-speed manual gearbox.

The suspension is totally new with an advanced MacPherson strut design up front and a three-link live rear axle with a Panhard rod at the rear. The improvements in handling have to be driven to be believed.

We've got bigger brakes at every wheel so there's more 'whoa' along with the added 'go.'

And a 20-inch wheel and tire package is standard on every S281.

The wheelbase has been stretched six inches and the wheels are pushed out closer to the corners of the car, especially up front. Not only has this allowed us to significantly improve the S281 Mustang's ride characteristics, but also its overall handling and balance. And there's a bunch less weight on the nose of the car for better weight distribution.

Without the great base platform Ford has provided in the form of the 2005 Mustang's all-new architecture and the great cooperation we have received from Ford in the from of early design and engineering information, it would have been impossible for Saleen to have designed and certified the new S281 models in such a timely fashion.—Steve Saleen
Design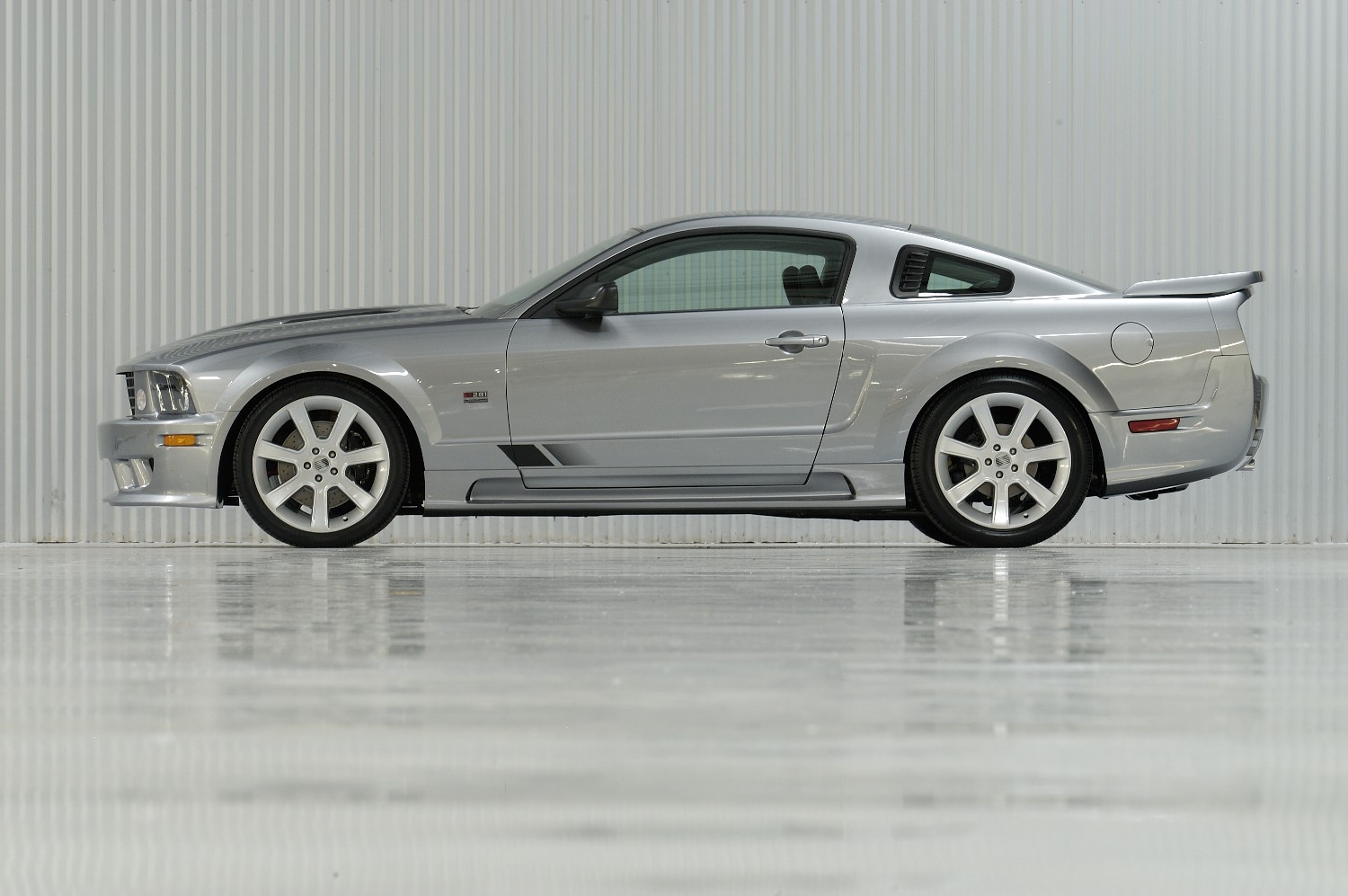 The first thing to capture any viewer's attention is the S281's dramatic styling—boldly new from stem to stern. Its signature long hood and short rear deck emphasize the Saleen muscle under the bonnet and its traditional rear-wheel drive. Note those Saleen alloy rims. They are big, wide and clothed in equally aggressive rubber that completely fills the prominent wheel wells. They shout "speed" and "style" with a capital S.
Up front are integrated turn signals along with available HID (High Intensity Discharge) headlights. Featuring unique Saleen-designed headlamp assemblies incorporating the industry's first bi-functional Xenon/HID lamp, these lights use moveable light shield technology to achieve both high and low beam functions in a single reflector with only one HID light source. They provide 40 percent more light in both low and high beam functions than conventional lamps. A high-performance sports car deserves high-performance lighting.
You will also notice a family resemblance with the Saleen S7 in the shaping of features such as the lower front grille opening, the hood "vents," the rocker panel side skirting, the rear spoiler and the rear diffuser. Designed by the wind. Beauty and function. Optimal aerodynamics and top-speed performance. Objectives the S281 achieves because of lessons previously learned in wind tunnel testing of the S7.
The S281 SC gets a hood, rear wing and quarter window treatment distinct from the S281 3-Valve.
While the S281 pays homage to other Saleens, including its predecessor, in certain of its design cues, the overall sophistication and refinement of the exterior surfaces pulls the S281 firmly into the 21st century.
"At Saleen we have our own design language," explains Steve Saleen. "It's evident in everything we do: S281, N2O Focus, S7. The new S281 is clean, distinctive and aggressive. It's retro, yet contemporary. And it's got great proportions.
"But I am equally proud of the subtlety, refinement and sophistication of the overall design," Saleen continues. "Saleen has come a long way in a very short time. A few years ago none of this would have been possible. But by tackling projects such as the S7 and the Ford GT, our core capabilities have grown enormously."
Engine & Transmission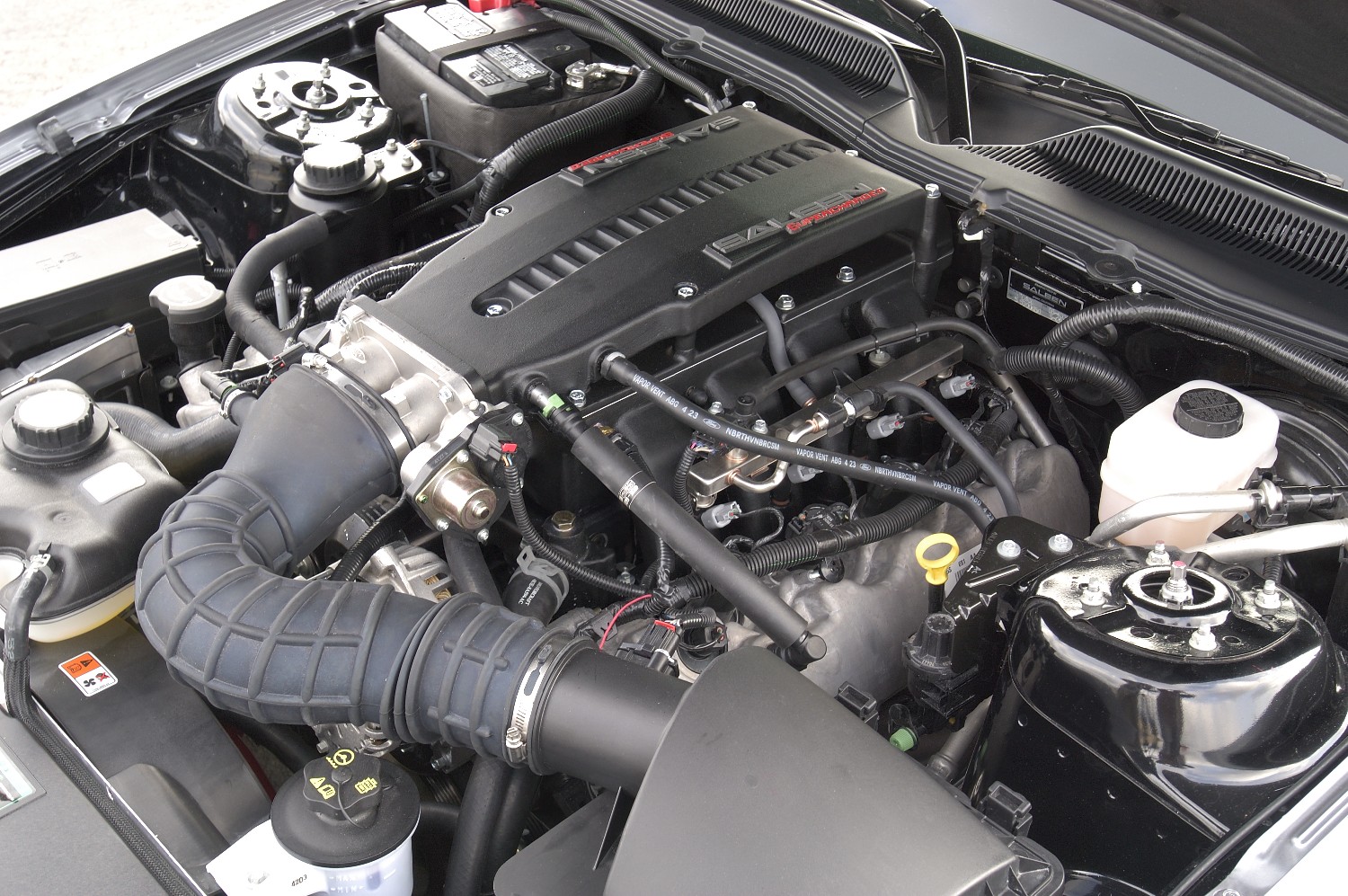 Saleen has a couple of credos the company lives by. One of them is "Power in the Hands of a Few." "Power" can mean a lot of things, but first and foremost at Saleen it speaks to what lurks under the hood.
A muscular V8 infuses every S281 Mustang with tire-smoking performance. The 2005 4.6-liter V8 has new three-valve heads—two intake valves and one exhaust valve. The additional intake valve measurably improves engine breathing on the intake side.
The exhaust system is an innovative "variable design," featuring twin mufflers with vacuum-actuated valves that open above a specified back pressure. When these valves open, a portion of the exhaust gases is routed through a second set of tail pipes pointed at the ground.
This design offers numerous advantages. It allows the engine to be calibrated to produce higher torque. Secondly, it provides a free-flowing exhaust system, while still providing the capability for passing mandated pass-by noise regulations in the U.S., Canada and U.K. Thirdly, it makes for some lovely exhaust sounds at wide-open throttle.
The exhaust side of the engine also features a full 2-1/2-inch stainless steel exhaust system, running from the exhaust manifold outlet to the tip of the exhaust pipes.
Because of its all-aluminum design, the new engine weighs 75 pounds less than last year's V8, which, along with the increased wheelbase, reduces weight on the nose from 57 percent down to a much more ideal 53 percent for a front-engine/rear-drive performance machine.
As with last year's S281, three levels of performance will be available:
S281 3-Valve
The S281 3-Valve's 4.6-liter V8 is also fitted with an underdrive pulley system, including a front damper, designed to SFI safety specifications, integrated with the crank pulley. This system reduces parasitic loses from the pulleys and water pump.
A PowerFlash performance computer—a sophisticated Saleen-designed engine management control system—determines the precise fuel, air and spark requirement for every running condition. It operates in conjunction with a new-for-2005 engine knock sensor system, allowing the engine to make use of premium fuel for maximum power and torque while minimizing fuel consumption and engine detonation.
The engine is also fitted with a Saleen free-flow air cleaner element.
As a result of these improvements, the S281 3-Valve V8 produces 325 bhp at 5,200 rpm and 340 lb-ft of torque at 4,500 rpm, compared to 290 bhp at 5,100 rpm and 330 lb-ft of torque at 4,100 for last year's normally aspirated V8.
Supercharged S281 SC
Saleen was been using supercharging since the mid 1980s and introduced a supercharged version of the S281 in 1999. Once word got around about its performance capabilities, the S281 SC quickly displaced its normally aspirated S281 counterpart as Top Gun on the Saleen sales charts. With what Saleen has in store for the S281 SC for 2005, it will have even more spectacular performance.
Let's start with the "guts" of the operation, the supercharger. It's an all-new innovative design, so new and so innovative that Saleen has several patents pending on the design.
Saleen engineers started with unconventional wisdom. That meant tossing all current supercharger design theory out the window. When they had finished with their out-of-the-box thinking, Saleen's engine wizards had created a design unique in the annals of supercharging. A supercharger that "blows" all others away. A blower charming in its design simplicity and elegant in its compactness, light weight and high efficiency. It's called the Saleen Series VI integrated TwinScrew supercharger with twostage water-to-air intercooling system.
Essentially, the Saleen design integrates the previously separate intake manifold, blower housing/assembly and intercooler into one compact unit that nestles neatly into the valley between the heads. This allows for a much wider intake manifold.
The blower assembly contains twin screws, which push 2300 cc of air per rotation versus 1600 cc for last year's supercharger. As a result, the supercharger turns slower for equivalent boost, producing lower stress and lower air charge temperatures. The higher supercharger efficiency, along with the lower air charge temperatures, allows for an intercooler that is smaller, lighter and more compact and which has virtually zero pressure drop from inlet-to-outlet side.
Where does the "two-stage intercooling" description come from? A second cooler located in the airdam below the engine radiator assists the intercooler integrated into the supercharger assembly.
The shape of the "snorkel" opening for the intake air tube is designed for maximum flow. And to maintain a constant volume of air as the air flows toward the rear of the engine, the housing widens and flattens-out over the engine. Some other significant design features of the Saleen supercharger:
It features an integrated bypass for low-speed running; when you are driving at low speeds and don't require boost, the bypass helps reduce heat buildup in the engine. The Saleen design provides for optimal runner length, resulting in more torque and better low-end drivability.
All bends are opened up to provide smooth airflow.
It features long, beefy downdraft runners with minimal bends for maximizing torque and horsepower. On the previous design, the air had to make two 180-degree bends. The new design provides a straight, direct shot into the cylinders and about a 50 percent increase in flow compared to last year's supercharger.
The new design is much more maintenance-friendly. It has only one sealing surface; the previous supercharger had four. In addition, you only have to remove the eight screws that bolt the air tube to the plenum for access to all of the blower components. Previously, you had to remove the supercharger assembly from the engine and then disassemble it.
The overall efficiency gains—in the engine, the supercharger and the intercooler—mean the new supercharged V8 produces more horsepower and torque at a less stressful 6-7 psi boost than last year's supercharged engine at 7-8 psi.
The 281-SC V8 also benefits from a specific Saleen PowerFlash performance computer along with a Saleen free-flowing air filter.
The "suped-up" SC cranks out a neck-snapping 400 horsepower, 25 more than last year's S281 SC, and an eye-popping 420 lb-ft of torque, 5 more lb-ft than in 2004. If that 400 bhp figure looks familiar, check out the stats on the new Corvette. Comparisons between the Chevrolet 2-seat sports car and the Saleen S281 SC 4-seat sports car will be both necessary and required during 2005.
S281 E
The "E" in the name stands for "Extreme." This "take-no-prisoners" Saleen model, first introduced in 2002, is extreme in every regard. Because it is scheduled for a spring 2005 launch, some details are yet to be finalized. But this much you can count on: It will contain the latest in Saleen race-bred technology. At its heart will be a unique Saleen-manufactured 4.6-liter V8 built in-house. It will feature a forged steel Saleen crankshaft, Saleen forged steel connecting rods, Saleen forged aluminum pistons and Saleen ported heads with various valve train mods. It will be supercharged.
The power will be mind-boggling. The 2004 version of this engine produced 445 horsepower and 450 lb-ft of torque. The new engine is currently under development so the final figures aren't in. But if you took one of the numbers from the 2004 horsepower figure and added two zeros, you wouldn't be too far off the mark. Enough said?
Transmission
The S281 3-Valve and S281 SC Mustang models are equipped with an improved version of the current 5-speed manual gearbox. The ratios are the same as last year but the gear change mechanism has been revised for smoother shifting. In addition, both models receive a lower (higher numerical) final-drive ratio—3.55:1 versus 3.27:1 last year—for more aggressive acceleration.
An electronically controlled 5-speed automatic transmission is available. It is matched to a 3.31:1 final-drive ratio.
The S281 E V8 will be coupled to a Saleen heavy-duty 6-speed manual transmission and a high-performance flywheel/clutch disc assembly. Power will be delivered to the rear wheels via a Saleen custom balanced driveshaft and a performance differential assembly featuring a Saleen MaxGrip, speed-sensitive, limitedslip differential.
Chassis & Suspension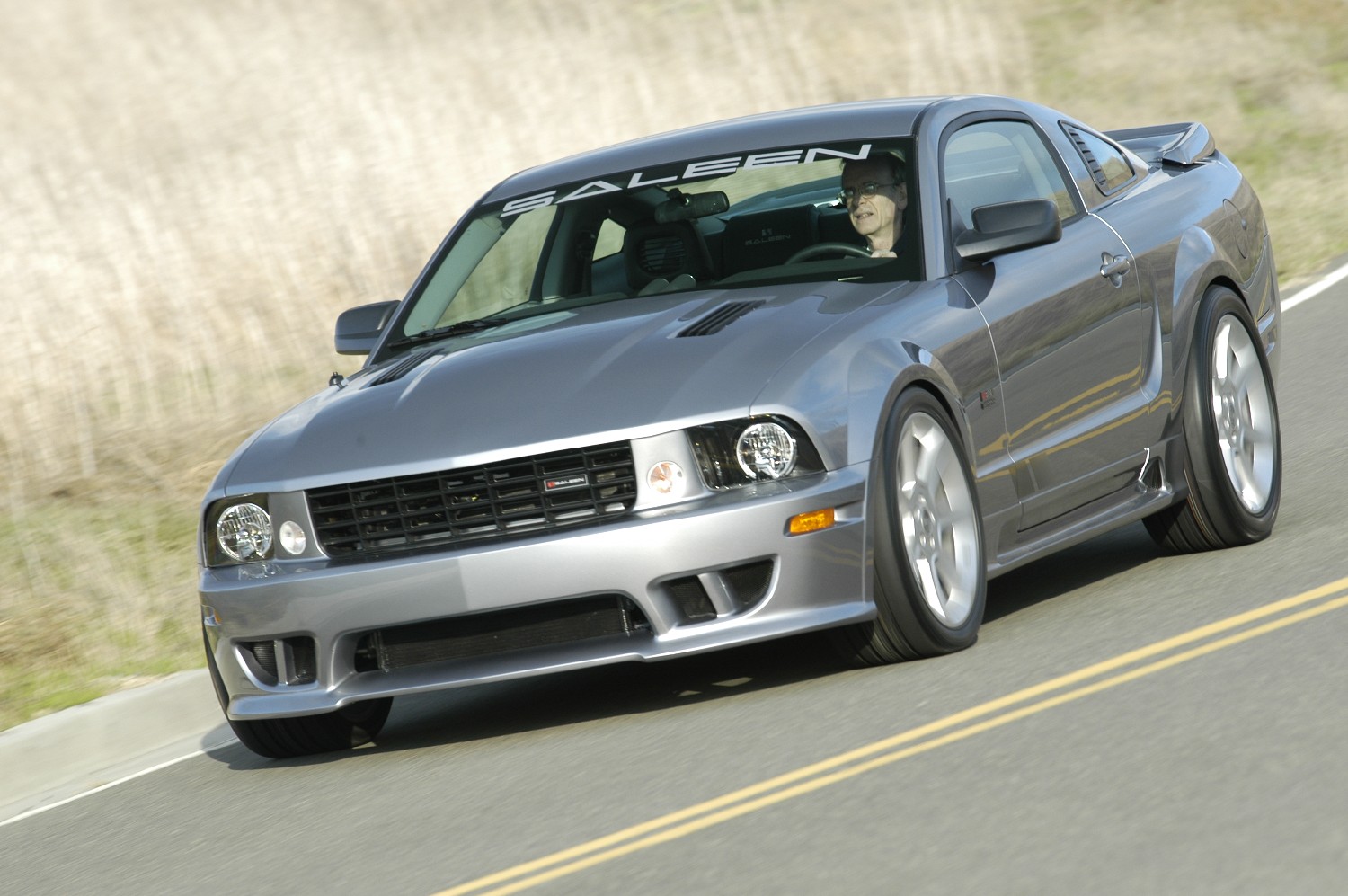 All of our market research and owner feedback told us not to change the basic suspension design of the S281 Mustang. The so-called 'experts' will tell you that a double A-arm suspension up front out-performs a MacPherson strut. And that IRS [independent rear suspension] beats a solid axle every day of the week. But I've evaluated more than a few expensive German imports with strut front suspension and they always get high marks for handling from the media. And I've driven and raced a number of ill-handling cars that had independent rear suspensions. 'Results' don't necessarily flow from design. They come from the proper execution of design. At Saleen, it's never technology simply for the sake of technology. If it doesn't pass the litmus test of higher performance and greater value, it's not going to be found on a Saleen automobile.—Steve Saleen
Body Structure
Precise, fun-to-drive handling starts with a highly rigid platform and body structure. The foundation for the new S281 Mustang is a high-strength-steel body shell that's completely new. It's 31-percent stiffer in torsion, meaning a twisting force of 15,500 foot-pounds can deform the body by only one degree. The body is also 49-percent more resistant to bending forces.
These dramatic leaps in body stiffness not only contribute to the 2005 S281's markedly improved dynamic characteristics but also have parallel benefits in accident protection.
Engineering a body with such high stiffness creates a passenger "safety cage" that helps protect the cabin from deformation and intrusion. The front structure is designed to absorb energy in a controlled manner and dissipate it before it can reach the passenger compartment. And the front rails have an octagonal shape to spread forces evenly at the firewall and progressively deform for increased protection in demanding, offset frontal crashes.
Front Suspension
Our customers demand an S281 Mustang with handling to match the car's acceleration potential. And this is an area where Saleen's racing expertise and racing experience played a major role in the S281's chassis development. We developed special springs, shocks and anti-roll bars to control body roll and to provide crisp cornering. And we use bushings made from high durometer rubber to achieve the direct steering response for which Saleen sports cars are noted. During the S281's development we tested the car on roads and tracks around the country to achieve what we believe is an optimum ride and handling balance.—Steve Saleen
Up front, the suspension departs so radically from its predecessor that it's really a MacPherson strut in name only. For 2005 the coil spring is mounted on a perch about halfway up the strut, replacing a design with the coil spring mounted on the lower control arm. This new "coil over" design results in an optimal 1:1 relationship between movement of the wheel and movement of the spring. With the former design, a oneinch movement of the wheel resulted in only a half-inch movement of the spring, a much less effective 0.5:1 ratio.
Positioning the spring on the strut provides another subtle advantage: a reduction in spring friction, known as "stiction," due to side loading on the control-arm mounted spring.
Similarly, the anti-roll (stabilizer) bar for 2005, which is tubular to reduce weight, also acts directly through the strut, not the lower control arm. This, too, results in an ideal 1:1 relationship between wheel and anti-roll bar movement compared to the 0.5:1 ratio for the previous design.
In addition, the 2005 S281 Mustang's front bar acts though a ball-jointed member versus a link with four rubber bushings. This reduces compliance in the system, resulting in more immediate, more direct and more precise anti-roll bar actuation.
The lower control arm (LCA) design for 2005 is also innovative. It consists of two steel stampings welded together into the shape of an I-beam. The resulting arm has the weight of a cast aluminum part and stiffness equivalent to aluminum but at a considerable cost savings.
The LCA is designed so that the typical conflicts between a bushing having to control both ride and handling inputs are minimized. Tire side loads follow a direct path into the front bushing. This bushing needs to be hard for precise handling and it is. Meanwhile, the large rear bushing is a sophisticated hydraulic design that effectively damps out annoying road vibrations and noise that would otherwise detract from ride quality.
Rear Suspension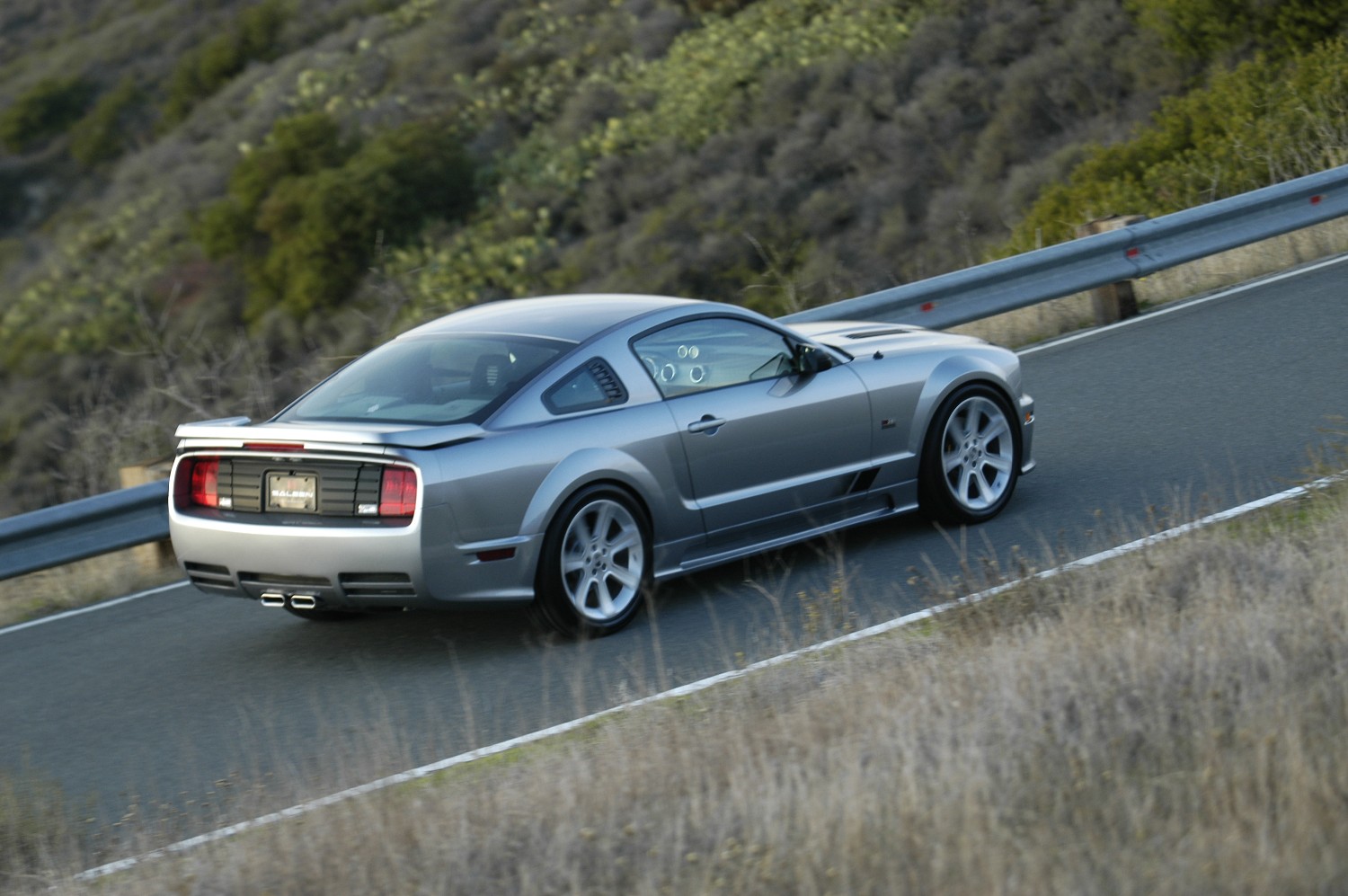 For 2005, the S281 Mustang's solid axle rear suspension has new three-link architecture with a lightweight, tubular Panhard rod providing precise control of the rear axle. This technology stabilizes the rear axle as the wheels move, particularly during hard cornering.
Thanks to the Panhard rod, the 2005 rear suspension is four times stiffer laterally than the previous design. The added lateral stiffness provided by the Panhard rod, working in conjunction with an axle tube with increased wall thickness and a larger outside diameter, helps keep the tire flat on the road for greater cornering power and more precise handling.
For 2005 the coil springs are optimally located on the axle instead of on the lower control arms. This creates an ideal 1:1 ratio between movement of the axle and movement of the spring, resulting in better axle control.
The coil springs have a linear rate and are "assisted" during severe upward movements by a jounce bumper on the axle, which actually provides a variable rate to the springing under these conditions. The resulting reduction in third-order forces—in engineering terminology it's referred to as "jerk"—minimizes rear axle "abruptness," making for a much better ride.
Similar thinking went into the mounting of the standard rear anti-roll (stabilizer) bar. It acts directly on the rear axle, as opposed to the lower control arm in the previous design. Again, this creates an ideal 1:1 ratio between movement of the axle and the anti-roll bar for more precise roll control.
As in the front suspension, Saleen engineers designed performance springs and shocks, high-durometer bushings and an anti-roll bar to provide the S281 owner with the sporty ride and handling characteristics for which Saleens are world famous.
Shock Absorbers
The front and rear shocks are proprietary Saleen designs. During the course of shock development, Saleen engineers evaluated a number of European sports sedans and coupes, especially those of German persuasion, for ride quality over a variety of road surfaces.
"For much of this testing, we were followed around by an 18-wheeler development trailer, which included a shock testing machine, allowing us to 'analyze and develop on the fly,' said Saleen. "Our ability to test a spring, shock and bar package and make immediate changes, allowed us to subtract numerous hours, days and even weeks from a conventional suspension development program."
"Along with a considerable improvement in handling, the 2005 S281s also offer better ride. It's 'athletic'—it wouldn't be a Saleen if it didn't provide a firm, sporty ride—but it's supple. The numerous improvements to the car in body stiffness, longer wheelbase, and advanced suspension designs, only begin to tell the story. It's a case of one plus one equaling three. You have to drive one of the new 2005 S281s to appreciate what our engineers have achieved," Saleen continued.
Steering
The S281's rack-and-pinion steering system is similar to its predecessor's with one major difference: The steering rack is solidly mounted to the chassis versus rubber mounted. While the solid mounting contributes to the S281's precise and direct steering feel, potentially, it also provides a path for noise, vibration and harshness to follow directly into the steering wheel. The good news is that the combination of a rigid body structure, precise suspension tuning, including those special lower-control arm bushings up front, plus hydraulic engine mounts, result in considerably less transmission of NVH than last year.
Brakes
The four-wheel disc brakes fitted to the S281 3-valve and S281 SC Mustang models have the biggest rotors and stiffest calipers ever fitted to an S281 as standard equipment. Twin-piston aluminum calipers clamp down on 12.4-inch ventilated front brake discs, an increase of more than 15 percent in rotor size compared to last year.
In the rear, the brake rotors are 11.8 inches in diameter, more than 12 percent larger than on the 2004 model. In addition, the 2005 rear rotors are vented.
To handle the S281 E's considerable horsepower and torque, the Extreme is fitted with slotted, 1-piece, 14-inch front brake rotors. These same brakes, designed by Saleen, are optional on S281 3-Valve and S281 SC models. They are also the same size brakes fitted to the new Ford GT.
A four-channel anti-lock braking system and all-speed traction control provide additional assistance during emergency maneuvers. When traction control isn't desired—like when a smokey burnout at the drag strip is in order—drivers can deactivate the system with a simple button on the instrument panel.
Wheels and Tires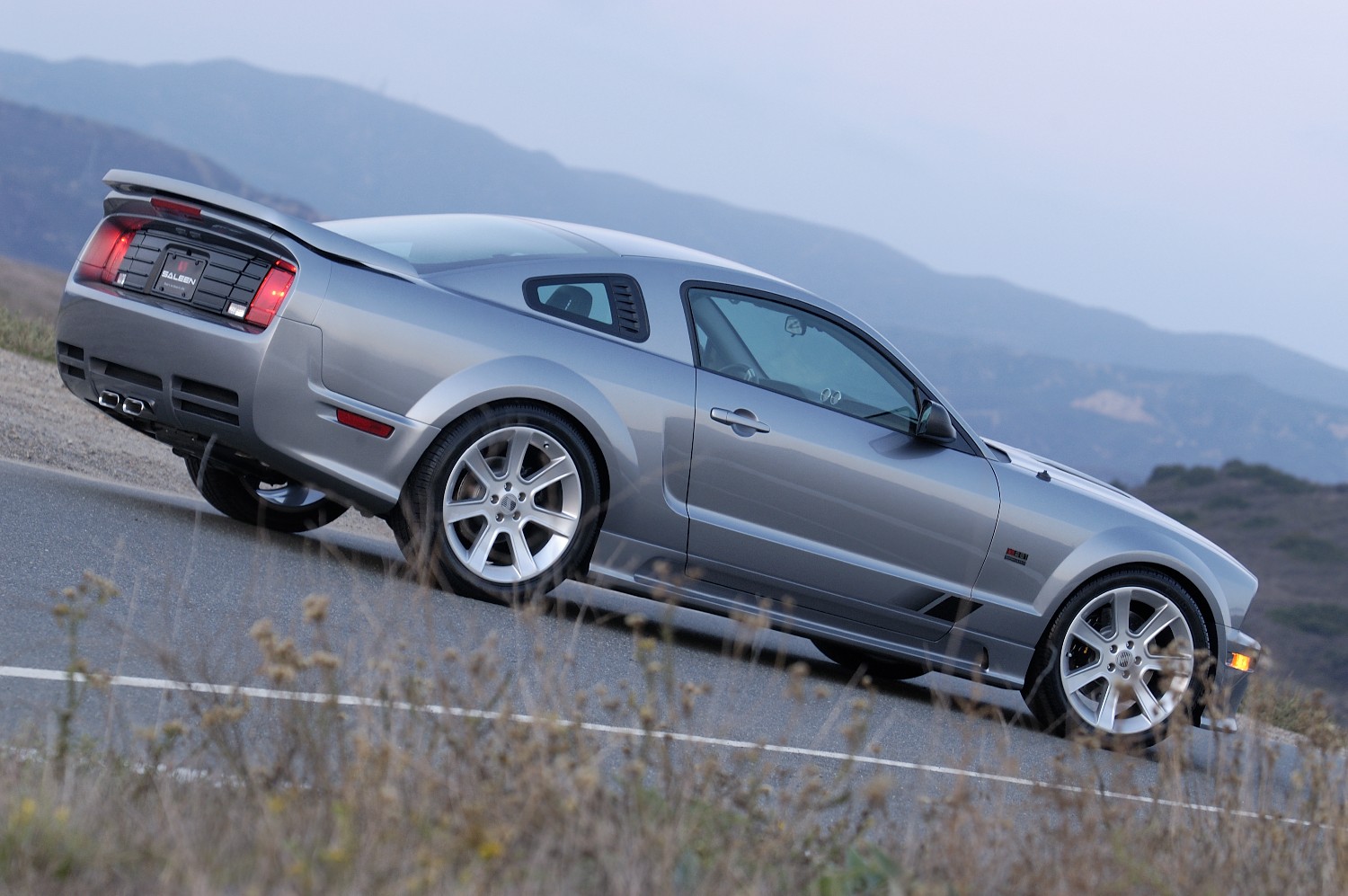 Saleen-designed 20-inch alloy wheels are standard on all three S281 models. Up front, the wheels are 9-inches wide; the rears are 9 inches in width on S281 3-Valve and SC models. Ten-inch-wide rear wheels are standard on the E and optional on the other two S281 models.
All S281s are equipped with high-performance radials. Sizes are 275/35ZR20 all around on 3-Valve and SC models. Standard on the Extreme and optional on 3-Valves and SCs are ultra-high-performance Pirelli P-Zero Rossos, 275/35ZR20s up front with 275/40ZR20s fitted to the 10-inch wide rear wheels.
"There are no optional wheel diameters for 2005," explained Steve Saleen. "We wanted to achieve specific ride and handling goals and create a specific look across our lineup of S281s, and one of the ways we achieved that goal was by not compromising on wheel diameter. Those 20-inch alloys completely fill the wheel wells. It's a look that speaks to sportiness as well as style. It's a look that certain European makes have perfected," Saleen continued. "At the same time, we haven't had to compromise on turning radius. With the new platform and the new front suspension we're been able to achieve a significant reduction in turning diameter compared to last year's S281. You'll immediately notice the improvement when parking or when maneuvering in tight quarters."
Interior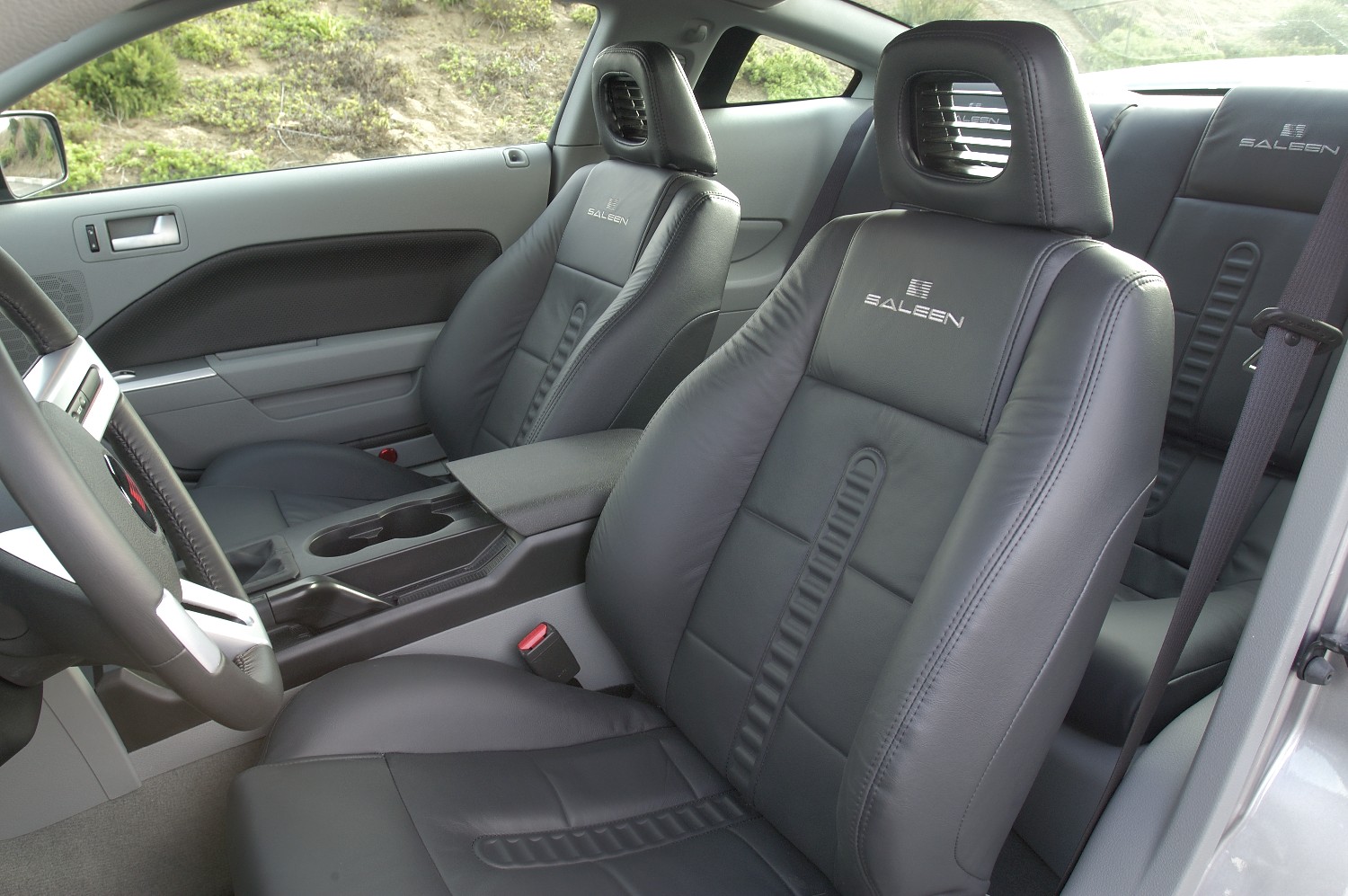 A performance-focused driving environment is as much a part of a Saleen automobile as its Saleen engine, Saleen suspension and its race-proven aerodynamics.

That 6-inch gain in wheelbase gave us the ability to really maximize the comfort and ergonomics of the new S281 Mustang. 'No compromise' is an apt description of the 2005 interior.–Steve Saleen
Six inches might not seem like a lot when compared to the S281's overall length, but you won't believe how much of a difference it makes until you slip behind the wheel of a new Saleen S281. Taller drivers will feel more at home with more head room and shoulder room. Rear passengers also enjoy more leg room and shoulder room in their sculpted bucket seats.
The S281 Mustang's modern architecture creates a much more comfortable driving position. It starts with Saleen leather seats featuring stylish louvered head restraints and performance bolstering for greater support, whether cruising for long distances on the interstate or for high-g cornering. It continues with power seat controls relocated to a more intuitive position on the outboard side of the seat and featuring ample fore/aft and cushion height adjustments, along with individual front/rear cushion height adjustment, power lumbar and manual seat back rake.
Add a three-spoke steering wheel offering rake adjustment, Saleen high-grip, racing-inspired brake and throttle pedals ideally positioned for easy heel-and-toe downshifting and a Saleen, short-throw shift lever that truly falls "right to hand," and you've got the makings of a world-class driving environment.
To not find a comfortable driving position in the 2005 S281 you'd have to be either Shaquille O'Neal or Mini Me!
Naturally, the interior features a number of Saleen exclusives. A few of these include unique Saleen gauges with black backgrounds, white numbers and easy-to-read silver needles with black inserts, satin aluminum trim, painted accents, Saleen door sill plates and S281 floor mats. Each car also comes with an individualized Saleen VIN number stamped in the chassis, on a dash plaque and on the front bumper. S281 SC and S281 E models also feature a Saleen twin gauge pod with readouts for boost and air temperature.
More standard features than ever before include one-touch up/down power windows, power mirrors, keyless entry and power locks, a heated rear window, interval wipers, a Shaker 500 audio system with 500 watts of output, a six-disc CD player, MP3 capability and a MyColor custom instrument panel. The industry-first, color-configurable MyColor instrument panel offers the ultimate in personalization. S281 owners can mix and match lighting at the touch of a button to create more than 125 different color backgrounds to suit their personality, mood, outfit or whim.
Safety Systems
Every S281 incorporates some of the industry's most comprehensive safety technology. The system is designed to provide increased protection in many types of frontal crashes by analyzing impact factors and determining proper air bag response in milliseconds.
It uses dual-stage driver and front-passenger air bags capable of deploying at full or partial power. In less severe frontal crashes, air bags inflate with less force—or not at all—helping reduce the risk of injury caused by inflation of the air bag.
But seat belts remain the best line of crash defense for vehicle occupants. S281s employ pretensioners to tighten front seat belts in the first milliseconds of a crash; energy management retractors gradually slacken the belt, if necessary, to reduce forces across the occupant's chest during the impact.
In addition to dual-stage driver and front-passenger air bags, the S281 features a system to tailor deployment of the front-passenger air bag. If the passenger-seat sensor detects no weight or very little weight, like a newspaper or a jacket, the passenger air bag is automatically switched off.
If more weight is on the seat, like a small child, the air bag remains deactivated and an instrument panel light alerts the driver with the message "PASSENGER AIR BAG OFF." Of course, the safest place for children remains the rear seat, properly restrained. If an adult is seated properly in the passenger seat, the air bag automatically is switched on, ready to inflate within milliseconds, if needed.
Among the dozens of standard safety and security features the S281 offers are:
SecuriLock™: Passive anti-theft systems like SecuriLock help protect against drive-away theft through the use of an electronically coded ignition key. The system is designed to help prevent the engine from being started unless a coded key programmed to the vehicle is used. A miniature transponder with an integrated circuit and antenna is imbedded in the ignition key. A wireless radio-frequency transmission transfers an electronic code between the transponder in the key and the vehicle. If the codes match, a signal passes through the wiring system to the electronic engine control, allowing the vehicle to start.
Battery Saver: Battery Saver helps prevent accidental battery drainage from the S281's interior lights. The battery saver feature automatically turns off interior lights in a parked vehicle after a few minutes, such as when a door is left ajar. If interior lights are left on while the ignition is in the 'Off ' position, a relay is deactivated in 10 to 40 minutes cutting power to the interior lights.
Technology & Manufacturing
Saleen is a totally different company today than it was even a few years ago. The company's capabilities have accelerated with its work on the S7 and the Ford GT. Its expertise in crafts such as clay modeling and technologies such as CAD/CAM for design and tooling has taken the S281 to new levels of fit and finish.
For example, composite parts that were previously made from urethane, including the front and rear fascias, the side skirts and door cladding and the rear tail light panel are now injection molded TPO (Thermo-Plastic Olefin). TPO offers numerous advantages over urethane. Saleen components molded from TPO are lighter (by about 60 percent), more rigid, more durable and have a higher-quality finish than urethane parts. Using TPO instead of urethane also improves recycleability.
TPO parts come out of the mold "paint ready." Hand prep work is eliminated. A primer coat isn't needed and only a solvent wash is required before painting.
Another material change between the old and the new S281s is the rear wing fitted to the supercharged models. Previously the wings were fiberglass. The 2005 wings are blowmolded plastic, which offers the same advantages over fiberglass as TPO versus urethane. And it is also much more worker and environment "friendly." As another example, for the S281, Saleen created a full-size clay model and then did the final refinements in CAD.
We have invested heavily in tooling and manufacturing expertise. We're as capable in these areas as companies producing millions of vehicles a year. The tolerances we build to, the gaps between panels, the finish on our composite parts are all world class.
Our expanding technical capabilities are reflected in such areas as our Saleen-designed Series VI integrated TwinScrew supercharger. We've got several patents pending on its unique design. But they are also evident in the S281's HID headlights, brakes, suspension and exhaust system.
We will begin manufacturing S281 3-Valves in November-December. Right after the first of the year we'll start producing the SC. Next spring we'll roll out the Extreme. Convertible versions of all three models will arrive sometime next summer. We'll build cars both in Irvine, California and in our new Troy, Michigan facility, with the bulk of the cars coming out of Irvine.—Steve Saleen
Marketing
If you take into account overall performance and styling, as well as traditional Saleen attributes such as "limited production by design" and resale, the new Saleen S281 represents an even greater value than its predecessors.
At an MSRP only slightly higher than last year—$39,043—the new S281 3-Valve offers exponential improvements in acceleration, handling, comfort and ergonomics, considerably more standard features, along with levels of fit, finish and refinement light years better than the previous model.
Coinciding with the release of the first "all-new from the wheels up" Saleen S281 since 1984, the company has created a dealership initiative to handle the pent-up demand that has developed for the 2005 S281. The sales, marketing and training programs in place at current Saleen dealerships are being revised and expanded and the number of Saleen certified dealers nationwide is being substantially increased.
I sincerely believe that the S281's refinement and sophistication will appeal to a broader range of discriminating buyers who might have looked at high-end European cars in the past.

When we tested the 281 SC in marketing clinics, one of the questions we asked was, 'Based only on styling and performance, how much should this car cost?' The answer that came back most frequently was, '$75,000.' This is around $30,000 more than the actual price.

The positioning of the 281 SC at $46,134 places it squarely in Corvette territory. Consider the following. Both have 400 horsepower, but the Saleen is a little quicker. Both have excellent handling and brakes but the S281 SC is faster in a slalom and stops shorter. Both have similar price tags when comparably equipped.

In the past I would have had a weaker argument positioning the Saleen S281 SC against the Corvette in the areas of refinement, sophistication, comfort, fit and finish. But not any more. The 'Vette's got two seats. We offer four. We both sell a fully certified car. If you want the same sort of exclusivity offered by the Corvette and European cars such as Porsche and BMW, you should be looking at a Saleen.

I encourage you to compare them. In fact, I dare you to compare them.—Steve Saleen