On Second Thought: One bite deserves another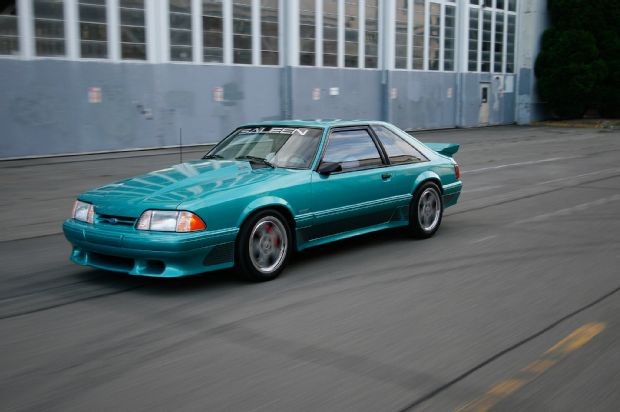 Eric English
May 29, 2015
Tom Rice had locked onto a favorite Mustang genre… until this 1993 Saleen came along.
The nature of Ford's Mustang (and cars in general, for that matter) is that the breed tends to get better as new models debut. Understand that we're not necessarily talking about styling here, but otherwise there's a pretty consistent trend toward better drivability, safety, quality, power, economy, and technology with each new generation. For certain there are occasional stumbles when our theme doesn't hold true, but there can be little argument over the long haul.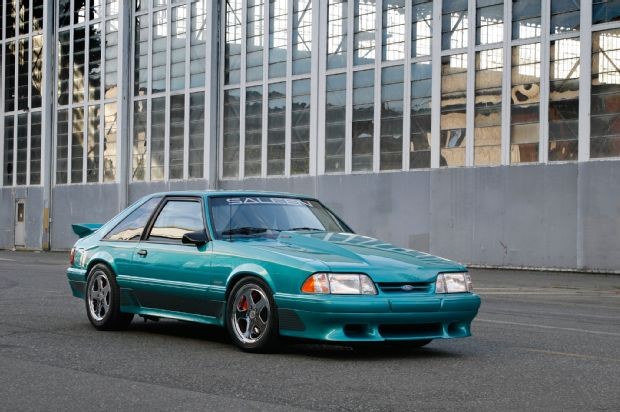 Tom Rice has personally experienced the above phenomenon, and despite time marching on, he thought he had locked into a favorite genre some years ago. The generation of Tom's obsession turned out to be the 1994-1998 SN95s (Saleen S351s, to be specific, of which he currently owns two). That the 1994 Mustang was a leap ahead of the 1979-1993 Fox platform is a given, with improved chassis rigidity, standard four-wheel disc brakes, dual airbags, and, in rare situations, more cubic inches. That would be the 1994-1998 Saleen S351s and the 1995 Cobra R—both featuring 351 Windsors, some of the Saleens being supercharged. So what could cause Tom to rethink his allegiance? The very 1993 you see here.
Tom stumbled upon this Fox Saleen in 2010 via the Saleen Club of America's website. He was struck by the fact that the car was one of just six Saleens ever built in Bright Calypso Green (one in 1991, five in 1993). Tom was also struck by the car's recently installed 392ci engine, realizing that with lighter weight and a big-inch Windsor, this Fox might well offer everything he liked about the SN95 S351s and then some. As luck would have it, the car was within just a few miles of his home, allowing for a quick meet and greet of buyer and seller.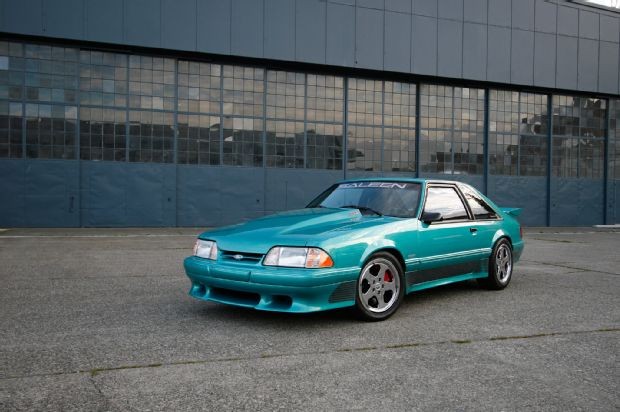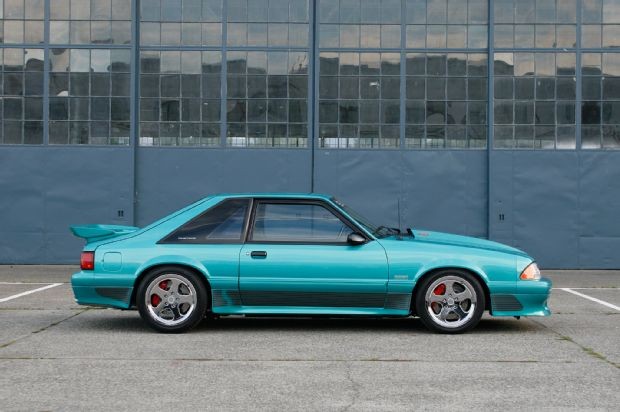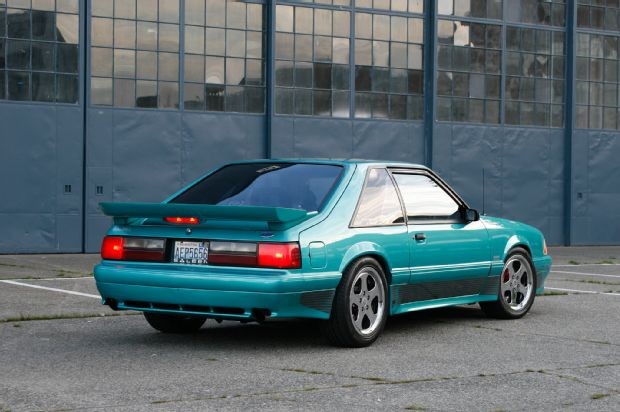 "Once I saw it and drove it, I was hooked," says Tom. "The factory Recaros are the same as in my 1995 Saleen, which made me feel right at home."
As Tom describes it, the 1993 needed a bit of TLC, but you've got to take that assessment with a grain of salt considering the current owner's standards of near-perfection. However you care to describe it, it's clear that Tom has taken the car to another level completely, replacing the stripes and doing some minor paint touchup, detailing and dialing in the engine, upping the ante on the factory modified suspension, and completely making over the braking system.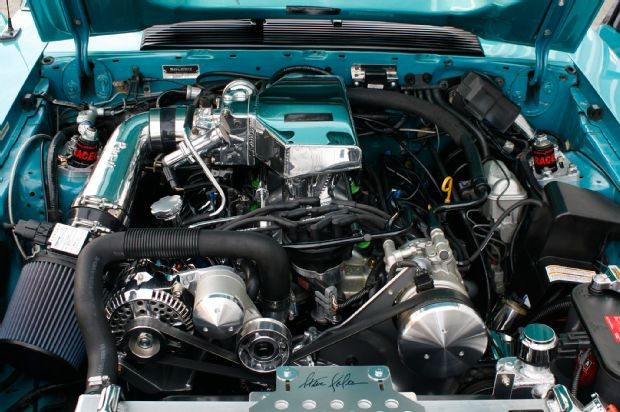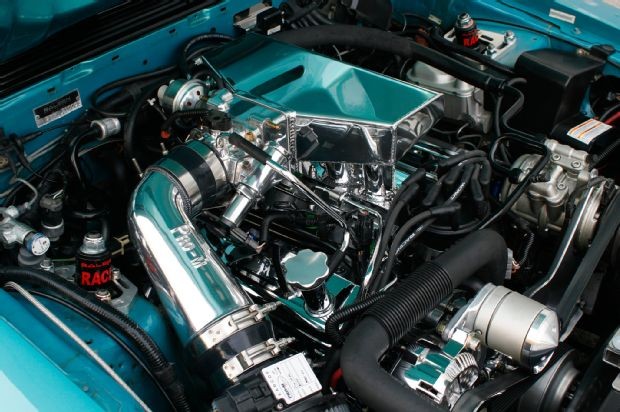 The former owner had surely put a good foundation in place after he blew up the original 302 with help from a blower. The replacement turned out to be a Ford Racing 392-inch M-6009-D392 short-block, finished off with AFR 185 cylinder heads and a Comp XE282 cam. To this baseline, Tom added the ported Lightning lower intake and Hogan's sheetmetal upper, Accufab 75mm throttle-body, MAC long tubes, Anderson PMS, and untold numbers of other detail items. He also chose to add a gear to the drivetrain, installing a Tremec T56 via a Stiffler's crossmember and driveshaft safety loop. A 3.55-geared, 31-spline 8.8 brings up the rear.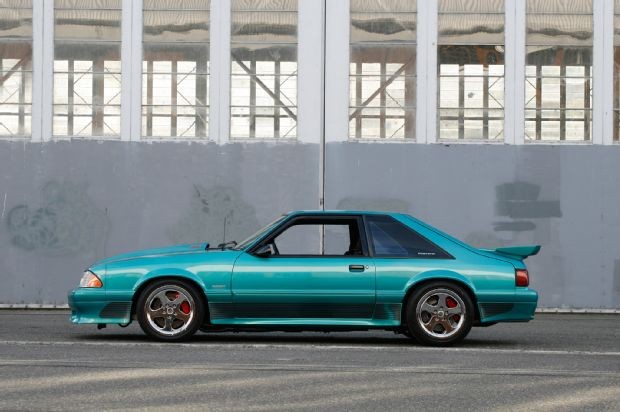 To make sure the big 392ci doesn't overwhelm the rest of the car, the original Racecraft suspension was upgraded with Bilstein dampers and Maximum Motorsports' bumpsteer kit and rear control arms. The brakes, however, are a different story altogether. The front install incorporates 1994 spindles, 13-inch rotors with aluminum hats, and the Baer 6P two-piece forged calipers. "Fourteen-inch rotors would've been nice," says Tom, "but I've got an affinity for the 17-inch Speedline wheels, which are original to this car. That's why I used the 13-inch rotors, but they're 1.15 inches thick and will take a ton of abuse".
Tom is quick to credit Rick Pojman at Baer for his technical help in getting the rears brakes installed. The six-piston units are a bit unusual in a rear application, but after having difficulty getting four-piston calipers centered on the installed rotors, Tom tried the six pots and found them easier to work with.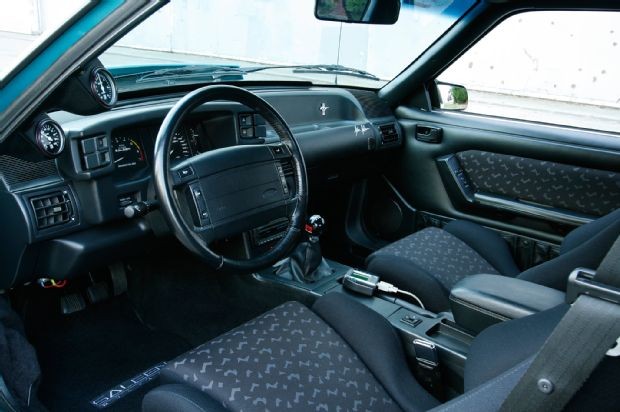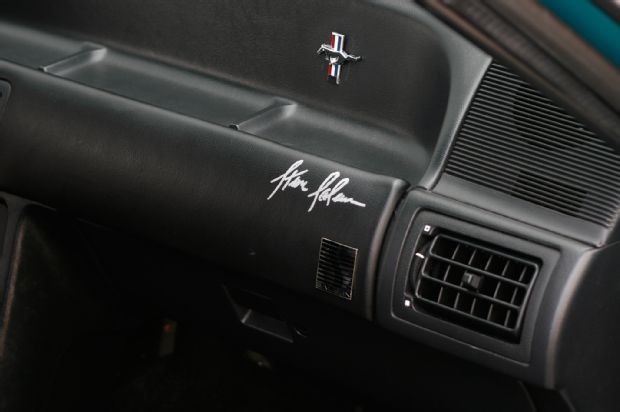 The results of Tom's build are satisfying and in his mind, not necessarily better than his S351's, but different and similar all at the same time. Driving a Fox is a largely different experience than a SN95, with a completely different cockpit (in this case with the cool and rare factory black threads) and totally different sheetmetal. Nevertheless, strikingly similar underpinnings yield familiar characteristics when you're behind the wheel. A naturally aspirated stroker small-block doesn't know what chassis it's bolted into. If weight is comparable, performance will be too. For Tom, it now comes down to appreciating two distinct Mustang genres, with a healthy respect and enthusiasm for both.
Truth be told, like most of us, Tom likes virtually all Mustangs. Sometimes it just comes down to learning one or two inside and out, and sticking with them despite the inevitable progress of the latest and greatest.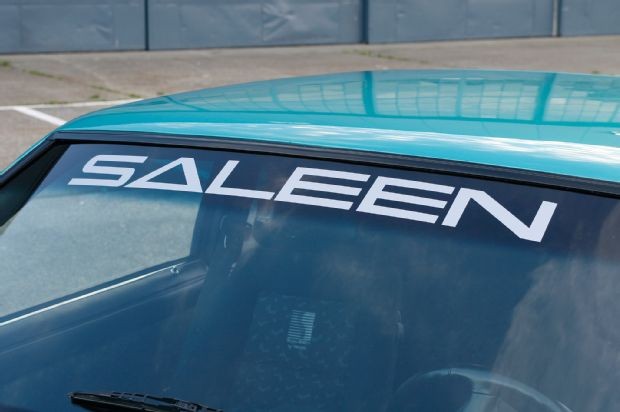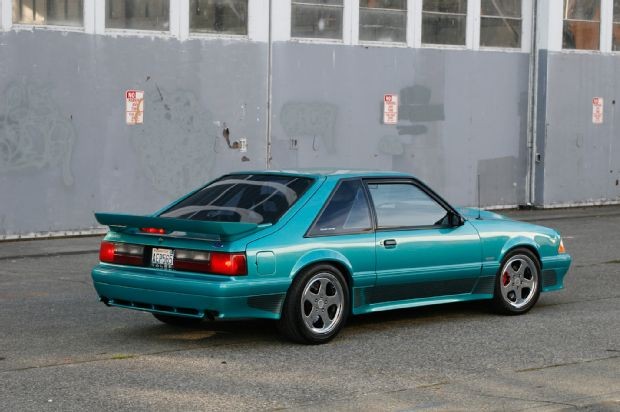 Read more: http://www.mustangandfords.com/
Follow us: @ModMustangs on Twitter | ModMustangsandFords on Facebook
Click here to participate in the discussion.
[Source: Mustang360]