By: ERIC DESCARRIES on February 22, 2007 | Updated: February 22, 2007 at 9:27
Original Article: AUTO.LAPRESSE.CA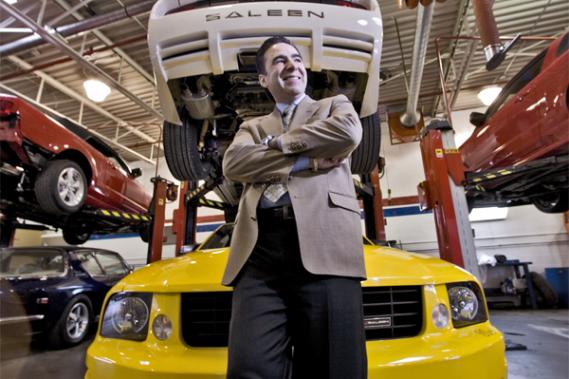 The Texan Carroll Shelby was the first to discover the Mustang performance potential in 1965. He managed to convince Ford to change versions of high-performance and racing and make marketing. The Californian Steve Saleen took over in the eighties. This wizard automobile could see that there was a demand for its Mustang in Canada, but for Saleen US to import Mustangs that meet Canadian legal requirements and return them to the country once modified, made no sense from the point of economic view.
That was when the Montreal Joe Visconti suggested a deal with the transformation of Saleen Mustangs in Canada. It's trade in exotic cars or luxury, in Dorval, Auto Bugatti, had already established a fine reputation. The American businessman hesitated because he believed in his own team. Mr. Saleen sent his vice president Fred Blum to Auto Bugatti. What Blum saw in the body shops of the Quebec company surprised him so much that he advised Saleen to trust Joe Visconti even mentioning that their work would be higher than Californian workshops.
Ford of Canada Joe Visconti helped to build a network of a dozen Ford dealers to display the Saleen product. In the first year, Saleen Canada found 27 buyers of S-281 Mustangs, quite a feat for a great car. In 2006, forty brand new enthusiasts have ordered their Canadian Saleen, but Mr. Visconti expects that it will need to build 80 to 100 next year.
Here is the S-331 pickup truck
This increase in production is due to the arrival of another vehicle within the Saleen range, the S-331. This is a pickup based on the Ford F-150. Saleen Canada workshops have had to work extra hard to build their copy, just in time for the Auto Show in Montreal. The truck had quite a success there and the manufacturer has twenty firm orders for the S-331, available in a basic version with 325 horsepower V8 ($59,000 USD) or supercharged 450 horsepower ($69,000 USD). Incidentally, the Saleen S-281-based 335 horsepower has a base price of $58,000, while the supercharged 465 horsepower Supercharged starts at $68,000.
These vehicles come in their original form to Dorval workshops where Saleen Canada technicians start by changing the mechanical (different suspension, souped, redesigned exhausts) before moving on to the body shop where the original bumpers are replaced by Saleen parts. The instrumentation and several interior details are also replaced by parts from Saleen. Wheels and original tires are replaced with performance parts.
It will enlarge!
The Saleen body shop is already busy despite its 12,000 square feet of surface. It can modified a dozen cars a day, a capacity that could double. But Mr. Visconti believes that it will not be sufficient (they are also repairing luxury cars). Of the thirty people who work at Auto Bugatti / Saleen Canada, fifteen are assigned to the body and the exterior finish. There is even a program to accept individual customer cars who want to turn their Mustang GT into a Saleen, if only partially.
[Source: LA PRESSE]