Schenley Park Race Weekend – July 15 & 16, 2017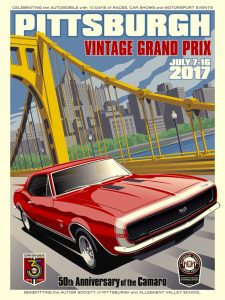 Schenley Park is the scene of our nation's largest vintage race event. 150 vintage racers gather here each July to test their skills and entertain the crowd. The PVGP races through Schenley Park are considered by many drivers to be the most challenging race course worldwide. The 2.33 mile circuit has 23 turns not to mention haybales, manhole covers, phone poles and stone walls. The Grand Prix in Schenley Park is the only vintage race event that is run on actual city streets – made possible by our Pit Crew of 1,000 volunteers.
The best place to watch the races is from the 456 acre Bob O'Connor Golf Course where the Grand Prix stages an International Car Show with over 2,000 vehicles on display. These car shows are mainly supported by local car clubs but are also open to the public for only $30 for the weekend. In addition to the car shows there are dozens of sponsor tents, a village full of vendors and plenty of food and refreshment vendors. 200,000 spectators are expected to come out and watch the races – there is no cost for spectators to enter, but we do encourage donations. Proceeds from the event benefit charity.
There is so much that happens on the Race Weekend in Schenley Park that we can't fit it all on one page – so here are some quick links to individual events that occur over the weekend.
There are practice/warm-up sessions each morning. Qualifying races take place on Saturday with the Featured Races on Sunday. Both afternoons feature exciting racing as groups are separated by engine size and year of manufacture. There is little difference to spectators between Saturday's and Sunday's track action as over 175 cars will compete.
2017 Schedule
Saturday, July 15
Vintage Practice Sessions 8:15 – noon
Vintage Track Rides noon – 1:00
Vintage Qualifying Races 1:00 – 5:00
British Car Day 9:30 – 5:00
International Car Show 9:30 – 5:00
Sunday, July 16
Vintage Warm-up Sessions 8:15 – 11:00
Parades and Opening Ceremony 11:00- 11:50
Vintage Races noon – 5:00
International Car Show 9:30 – 5:00
http://www.pvgp.org/race-weekend-events/
http://www.pvgp.org/car-show-overview/
Click here to participate in the discussion.
[Source: Pittsburgh Vintage Grand Prix]