Price: $49,500.00
VIN: 1ZVHT82HX55100450
Ext. Color: Trilogy Silver
Int. Color: Charcoal
Mileage: 8,815
Website: www.celebritycars.com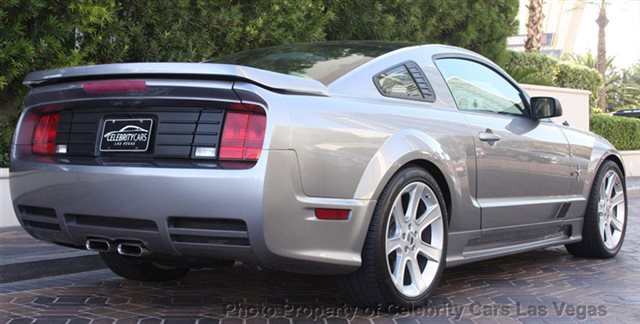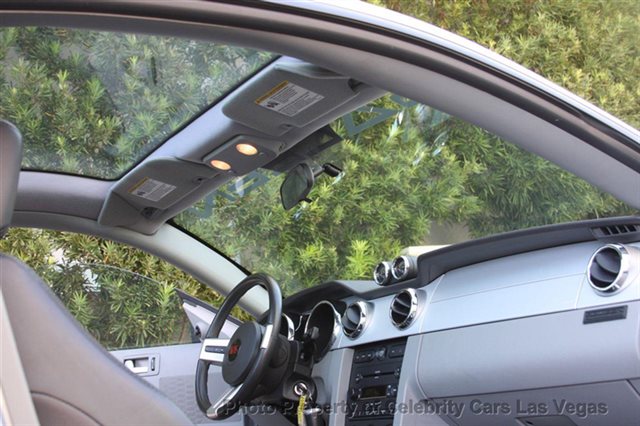 Vehicle Description:
2005 Saleen S281 Ford Mustang Coupe
This beautiful non smoker 2005 Saleen Mustang Coupe is in great condition with very low miles (8815).
-It is a E model with full glass roof in which only 3 have been made.
Only Ford, Saleen and one other private party has ever owned it. The car was the marketing car for Saleen and numbered #1. The runs great, looks great, with the exception of the following small issues; Gas Gage not working and a broken lever on driver seat. The car originally came with a supercharger but was removed and is not available. We are told it was removed by Saleen as it was the marketing car.
-CERTIFICATE OF AUTHENTICITY AND ORIGINAL SALEEN WINDOW STICKER ARE INCLUDED IN THE SALE.
Don't miss out on this rare collectible SALEEN Mustang!!
Saleen S281 Supercharged Mustang Factory Info
Part of what makes Ford's new Mustang GT a winner is its price. At $25,570 and with 300 horsepower under the hood, it's hard to find anything comparable. Certainly, Saleen's new supercharged S281 version of the Mustang–at $48,624 in its cheapest form–is not directly comparable.
Or is it? The major performance differences between the two are demonstrated most significantly at higher speed. The time the supercharged S281 took to reach 100 mph was 2.4 seconds quicker than our last Mustang GT ["21st-Century Muscle Cars," C/D, January 2005]. By 130 mph, the difference was 7.1 seconds and growing. That's called driving away.
But the differences are less profound in the quarter-mile sprint, where the Saleen reaches the lights just 0.6 second ahead of the GT (although it's already traveling 7 mph faster). A lot counts on getting a decent launch at the drag strip, and we'll admit our testing facilities have been badly ravaged by winter storms, making grip hard to come by.
We've heard of Saleen development drivers turning 12.7 seconds at 114 mph compared with our 13.2 seconds at 110 mph, and we'll ponder that possibility until we get another example to test at a grippier venue. But the fact is that the claimed 100-hp advantage the Saleen enjoys is at least partly offset by the usual Mustang state of affairs. You know, a front-heavy weight distribution that makes launches hard to hook up. The Mustang also has a solid rear axle and a gearshift linkage that is not exactly precise. (This is a hindrance that has surfaced on production Mustangs, where the jointed linkage to the forward-mounted transmission has proved sloppier than on early press prototypes.) Add an electronic throttle that hangs onto revs long after you've lifted, and gearshifts are not made easy.
That's not to say the supercharged S281 is not a fast and enjoyable car to drive. It is. Nearly every aspect of its character has been honed for better performance. Some of it is ingenious work. The Saleen-designed Series VI screw-type supercharger, for example, integrates itself, the intercooler, and the induction plenum into a single compact unit.
That has allowed Saleen's engineers to design a plastic hood without a giant power bulge in it. The hood incorporates a redesigned grille and front fascia that evoke aspects of the Saleen S7 with its aggressive air dam and shark-gill inlets. Despite being a double-skinned (and presumably quite stiff) molding, the vented hood quivers and jumps as you drive along, its spasms suggesting you might not have closed it properly.
Saleen-specific plastic designs pretty much run the perimeter of the S281, with rocker skirts at the sides and a jutting rear fascia below a prominent spoiler. It all gives the S281 a distinct appearance–one not lost on the motoring public, if the reaction from jaded California motorists is anything to go by.
Once you hit the mountains, the car's extroverted appearance is thoroughly backed up by the Saleen Racecraft suspension, which has tuned spring and bar rates along with urethane bushings and nitrogen-pressurized shocks, as well as by the optional 20-inch Pirelli P Zero Rosso tires on 10-inch-wide Saleen-designed chrome alloys, which provide reassuring turn-in and midcorner grip.
The S281's ride is firm, with some fairly sudden, although small, vertical disturbances, and it takes quite a smooth stretch of pavement to get it all settled down. That Ford solid axle makes its presence felt, too, with the occasional hop at corner entry, but its Panhard rod and various links keep any seriously wayward tendencies in check.
A broad spread of usable torque enables the driver to reel in miles of wrinkled mountain road in one gear, slowing, turning, and driving out strongly without recourse to the billet aluminum shift knob. And if the strong engine braking isn't enough, the optional 14.0-inch slotted and vented front discs and their four-piston monoblock calipers make short work of unwanted velocity. Although our dusty test venue produced longish stops from 70 mph (179 feet, nine feet longer than in that last GT we tested), they were consistent and fade-free, with a clear pedal feel.
The supercharged S281's interior is festooned with Saleen upgrades, including a dual-gauge pod mounted high and center with boost pressure and intercooler temperature, Saleen-monogrammed instruments (with a particularly accurate 200-mph speedometer), specific vents and bezels, steering-wheel badge, and pedals, as well as the aforementioned billet shifter featuring tightened throws.
Occupants sit on furniture that has been through a Saleen makeover, with improved bolstering and unique leather design. Naturally, the seats bear Saleen logos. We wouldn't want to forget who modified this car, would we? Not that you could. That big, fruity V-8 rumble is a constant reminder of the 400 horsepower tugging at the leash, as is the dentist's-drill whistle of the blower at anything over 2000 rpm.
Yet all of that goes by the board when you have your foot planted. The car blasts forward between 3000 and 6000 rpm in almost brutal explosions of power in the lower gears and in long, sustained surges of acceleration in third and fourth. This is what you pay for here, and at $51,934, you pay dearly. But for some drivers, it's likely worth every penny.
VEHICLE TYPE: front-engine, rear-wheel-drive, 4-passenger, 2-door coupe
ENGINE TYPE: supercharged and intercooled SOHC 24-valve V-8, aluminum block and heads, port fuel injection
Displacement: 281 cu in, 4601cc
Power (SAE net): 400 bhp @ 5800 rpm
Torque (SAE net): 420 lb-ft @ 4000 rpm
TRANSMISSION: 5-speed manual
DIMENSIONS: Wheelbase: 107.1 in Length: 189.1 in Width: 74.0 in Height: 56.0 in
Curb weight: 3680 lb
PERFORMANCE RATINGS:
Zero to 60 mph: 4.6 sec
Zero to 100 mph: .10.6 sec
Zero to 130 mph: .18.5 sec
Street start, 5-60 mph: 5.1 sec
Standing 1/4-mile: 13.2 sec @ 110 mph
Top speed (governor limited): 150 mph
Braking, 70-0 mph: 179 ft
Roadholding, 300-ft-dia skidpad: 0.90 g
FUEL ECONOMY:
EPA fuel economy, city driving: 17 mpg
C/D-observed fuel economy: 15 mpg
Click here to participate in the discussion.