Price: BID
VIN: 1FALP42T4SF254730
Condition: Used
Vehicle Title: Clear
Year: 1995
Make: Ford
Model: Mustang
Sub Model: S351
Engine: Supercharged 351
Fuel Type: Gasoline
Transmission: Manual
Drive Type: RWD
Mileage: 86,943
Body Type: Coupe
Warranty: Vehicle does NOT have an existing warranty
Exterior Color: Black
Interior Color: Black
For Sale By: Private Seller
eBay #: 262582632057
#86 of 1995 as listed in Saleen registry. S351R's are probably the most profilic and rarest Saleen ever made. Motor trend called this car the thundering, plundering, viper-eating monstrosity!
Authentic, could not verify if car had R code supercharger installed by dealer or after original order. Does come with various documentation…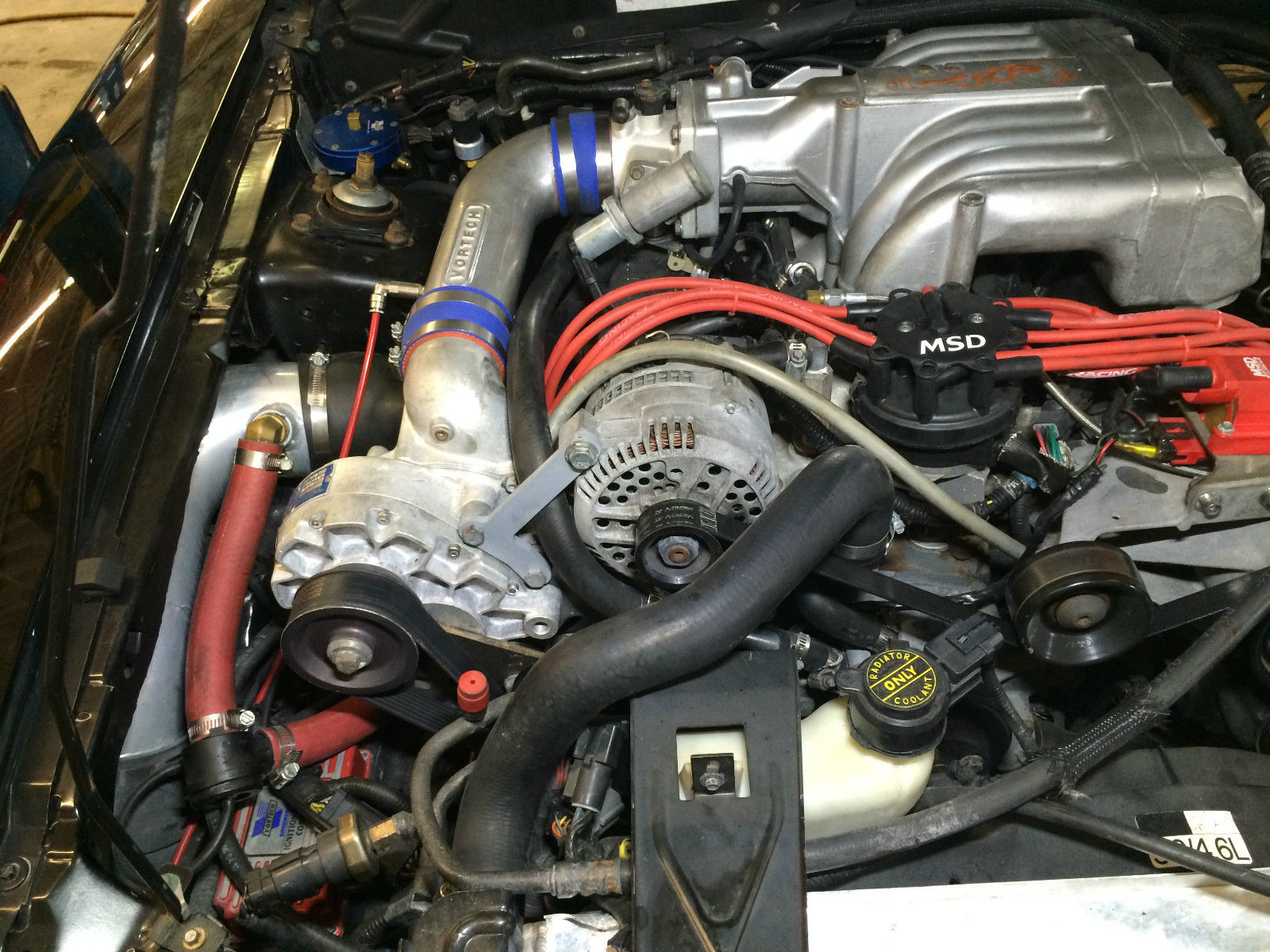 * Has original vortech fuel pressure regulator mounted on firewall, which has been bypassed.
* Equipped with Tremec quick-ratio 5 speed manual
* Alcon 4 piston front calipers and large 13″ rotors, stops from insane speeds very very quickly.
* Racecraft suspension on all 4 corners, including extra large sway bar.
* Saleen fiberglass rear wing.
* Saleen fiberglass "extractor" hood.
* Griffin aluminum radiator.
* Full Saleen cluster and Boost/Fuel pressure combo gauge set.
* 351 Windsor HO motor, upgraded with ford racing roller rockers, custom Saleen spec'd camshaft, Saleen extrude honed custom intake, Saleen spec'd Edelbrok perform aluminum cylinder heads.
* Cylinder heads machined and MLS head gaskets replaced recently, along with all gaskets and seals. New ford racing wireset, MSD cap/rotor/ignition coil. New plugs.
* Vortech t-trim runs 12psi at 6,000 rpm, made 495RWHP on dyno. Added methanol injection tune since, did not redyno, but people report as much as 20 extra hp on boosted engines. Has brand new clutch set (McLeod street extreme), lightwheel flywheel. Huge injectors were installed along with the Aeromotive fuel pressure regulator, A1000 fuel pump, and kept the inline Vortech T-REX fuel pump. Ran out of fuel on dyno and could not go past 6,000 and 12psi. Tuned completely, drives perfectly at all ranges and conditions. Car is very fast, but has more in it. Needs bigger fuel lines and rails and you could run up to 15psi and likely get 550RWHP on a totally streetable machine with A/C. Car is custom flashed by dyno people.
Car is a DRIVER.
Various small imperfections in the body/paint that are too small to show up in pictures. It shows nicely but is NOT in show condition. Interior in very nice shape, was told car was stolen in California years ago and insurance paid for the only available Saleen Recaro seats available which look like they were in a '93 Saleen. Rims were also stolen and a factory set installed, have receipt for 3100 rims alone.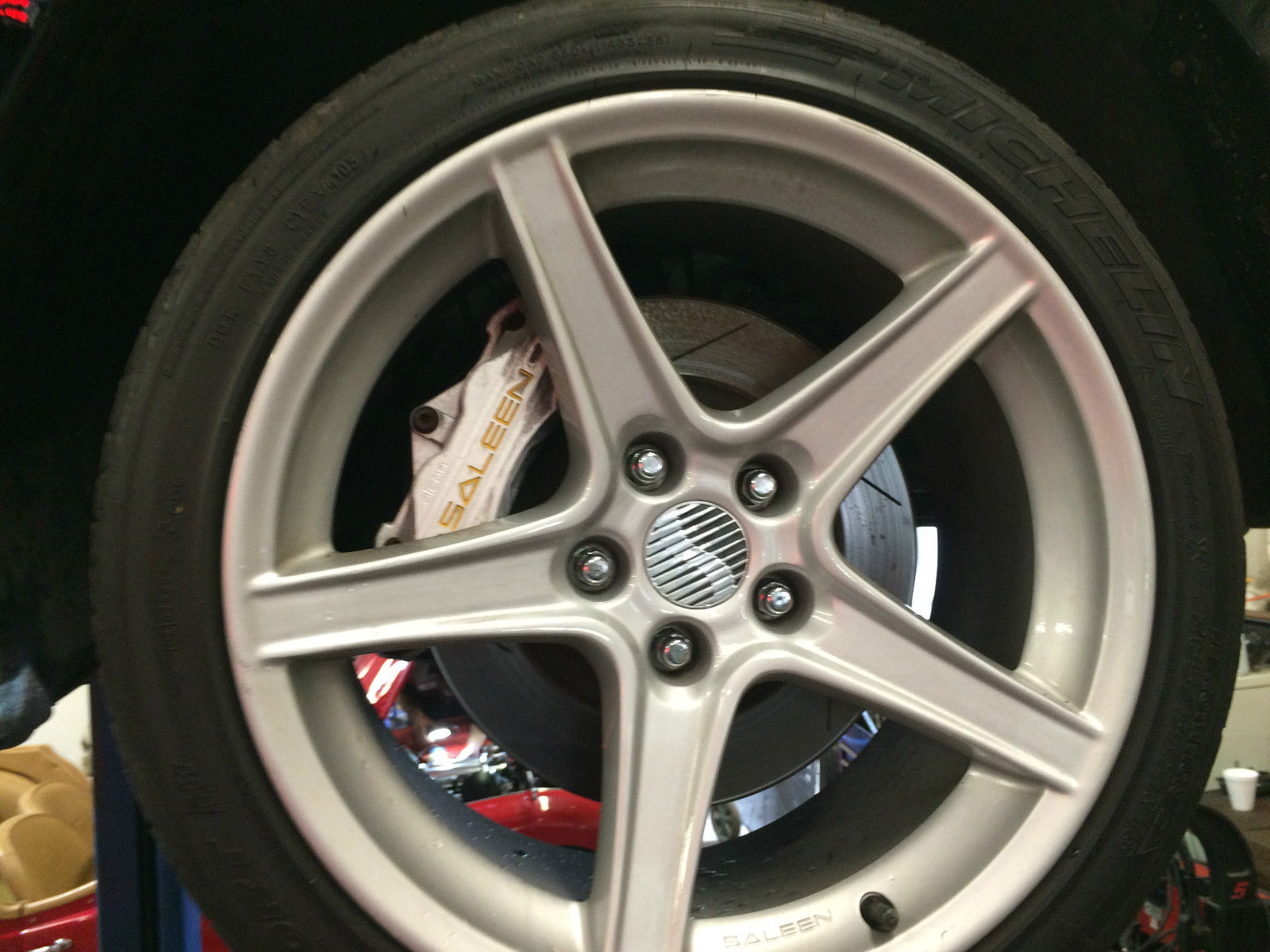 Front wheels are 18″ Saleens.
Rear wheels installed now are 17″ Draglites with 325/40/17 Drag radials.
Have rear Saleen 18″ wheels, come with car but Michelin pilots need replaced.
For emission requirement owners: I have the factory converter pipes/H pipe. I deleted them and installed an x pipe to mufflers. Sounds amazing, looks amazing and will keep up with anything on the road. If you have to be checked for emissions you will have to reinstall them. I can do this for you if necessary. Air pump was deleted and bypass pulley installed.
I Replaced the factory 2.73 gears with 3.73 ford racing gears, and installed a high performance rear differential cover. Did not get around to changing speedo gear, so speedometer is off somewhat. I do have original gears, come with car.
I rarely drive this car, that is why I am selling it. Car is #95-86 very rare and has been a blast to own. Have put too much time and money in this car. Please do your research and be considerate when making an offer!
Do not need to sell. Call me with any questions, I know this car and its history well. Brandon 216-798-3996.
Make offer/trade.
Last reported mileage in Carfax was 32,000 miles… don't know if odometer is correct or replacement cluster was replaced when car was stolen. Says 86,000 miles currently.
500.00 Dollar deposit payable upon auction end. Cash or cashier check/PayPal. Can accept credit cards with 3% fee.
IT IS YOUR JOB TO READ THIS AUCTION AND DESCRIPTION COMPLETELY. PLEASE DO NOT BID IF YOU DO NOT PLAN TO BUY. LETS MAKE A DEAL CALL ME WITH OFFERS.
Click here to participate in the discussion.