From our friends at Mustang Owners Club of Southeastern Michigan.
www.mocsem.com
MOCSEM MEMBER OF THE MONTH
Becki Belcher
2008 Saleen S281 3-Valve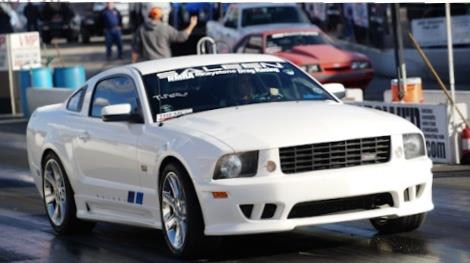 Home to the Indianapolis Motor Speedway is where I reside. Growing up as a tomboy hasn't changed much these days, I still want to do those same things. Go fast, get dirty and never come inside.
My mother drove a 1970 Grabber Blue Mach 1 and my father owned many types of muscle cars including the Mustang. When I was young all I remember ever wanting was to be a race car driver. I remember the year I got my first race track to assemble when I was a little girl, I was fascinated. Mustangs, racing and competing have always been a part of who I am.
In 2011, I purchased my first Mustang, a 2008 Saleen S281 #26. When the deal was sealed, I packed an overnight bag and headed to Georgia the very next day. For many years, the Mustang was a show car, last year all that changed. I wanted to see how the Mustang would perform on the 1320. The first pass became an addition that I have embraced and continued. I love making passes and the challenge of a manual is exhilarating.
Last year, I competed in True Street and this year I am competing in the NMRA's Super Stang Class. Running on the Pro Tree and up against some of the baddest guys with some impressive records was a bit intimidating at first, but I am taking all that in stride and becoming a better racer by the day. Racing, writing and taking pictures of Mustangs makes me happy, it's my passion and a dream come true.
"It's better to have a short life full of what you like to do, than a long life spent in a miserable way" – Author Unknown
Click here to participate in the discussion.
[Source: MOCSEM]