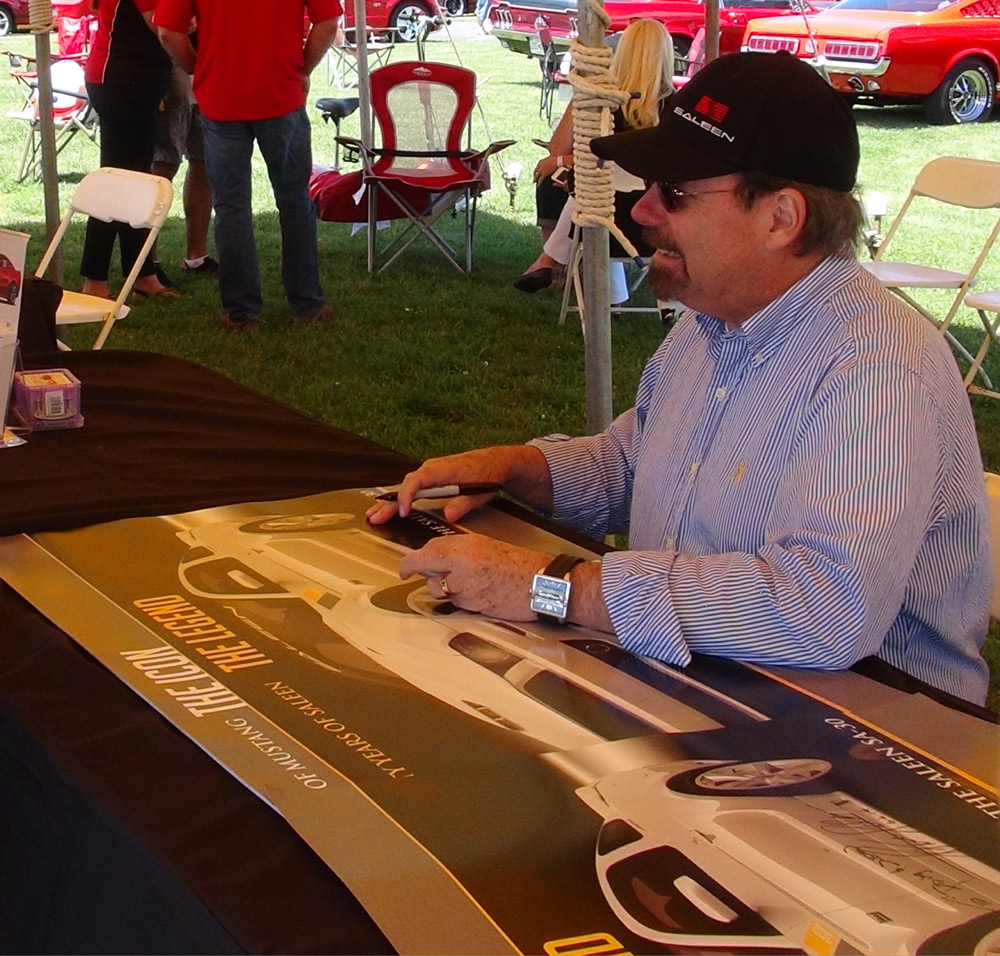 ***** June 5-7, 2015 *****
All Ford Nationals, Carlisle, Pennsylvania
Steve Saleen Signature Event
The Saleen Owners and Enthusiasts Club is pleased to announce that, for the 3rd year in a row, it will host the appearance of Steve Saleen at the 2015 All Ford Nationals, Carlisle, Pennsylvania on June 5-7, 2015. The Ford GT (made for Ford by Saleen) is the featured car. Carlisle Events will try to have all Saleen produced vehicles park together so that all owners can have time to spend with Steve Saleen. Steve Saleen has given us a very early commitment to attend this event. Please watch soec.org for any updates.
---
Event registration is open.
Show Classes:
378 – 1984-1993 Saleen Mustang
379 – 1994-2004 Saleen Mustang
380 – 2005-Present Saleen Mustang
Please remember to choose Saleen Owners and Enthusiasts Club as your club affiliation on your event registration.
~~~~~~~~~~~~~~~~~~~~~~~~~~~~~~~~~~~~~~~~~
Gate-N-Go: Your Green Light to the Showfield
Register for the 2015 Carlisle Ford Nationals Showfield. Registration includes weekend admission for two people. To qualify for the 10% Gate-N-Go pre-registration discount and have your entry window sticker mailed to you, please pre-register prior to May 4th, 2015 at midnight EST. Discount will be applied at checkout. After registering, a receipt will be emailed to you – please bring this receipt to the event. If you belong to a club, enter the full club name. Please do not abbreviate the club name.
https://store.carlisleevents.com/
---
MEET STEVE SALEEN OF SALEEN AUTOMOTIVE, INC.
Hall of Famer Returns to Carlisle During Ford Weekend
A very popular name within automotive circles is coming to Carlisle courtesy of the Saleen Owners and Enthusiasts Club (SOEC). Steve Saleen was born in California and attended USC, earning a degree in business. He parlayed his education into a booming career that saw him work with the Porsche Owners Club before becoming a competitive racer. In 1980, he entered the Formula Atlantic series and was third in the final series standings. After that, he advanced to the SCCA Trans-Am series in '82, driving a Ford Mustang. From there, his passion for the Mustang grew immensely, culminating with the founding of Saleen Autosport in 1983 and subsequent building of the first Saleen Mustang.
In 1984, the car was completed, tested and raced against some of the world's top cars, finishing first in its class at the Mosport 24 hour endurance race. Years later, Saleen formed a race team with comedian Tim Allen and driver Bob Bondurant. The three raced Saleen Mustangs in the SCAA World Challenge. Inducted into the Mustang Hall of Fame in 1996 along side Carroll Shelby, Saleen remains active today, primarily with his namesake company, Saleen Inc.
Saleen also had a hand in the early Ford GT cars. Don't miss out as Saleen, for the first time in front of a large audience, tells his story and version of the GT. With Ford spinning the history of the GT in their words, Saleen wants to take this time to set the record straight in his words. Further, Saleen is working on a new Ford powered Supercar that just may debut at Carlisle in 2015. How cool would that be?
Don't miss a chance to meet Saleen at Carlisle in 2015 as he shares stories of his involvement with the Ford GT as part of the special GT celebration. There will be autograph sessions, Q&A times and more.