Inspired by the 2014 Blockbuster Hollywood Movie Need for Speed, the Saleen NFS Limited Edition Mustang is the Ultimate Collector's Car with only 10 produced worldwide.
0 – 100 Km/h: 3.5 sec.
Top speed: 300 km/h
HorsePower: 650
Engine: V8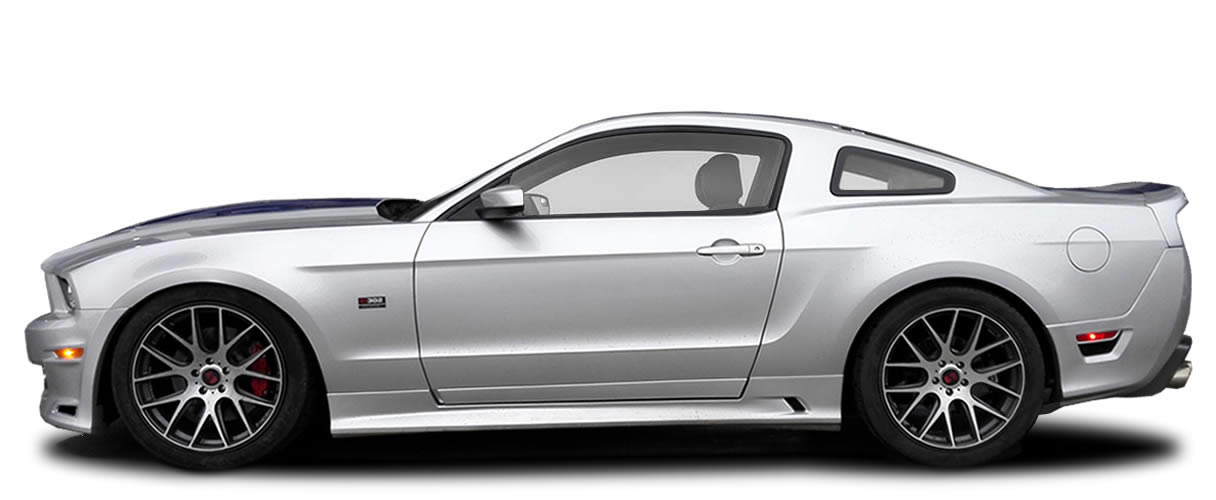 About the Limited Edition NFS Mustang
Steve Saleen used his experience designing and building vehicles for the Need For Speed movie to create a Limited Edition Mustang that is at home in the world's most prestigious car collections . The Limited Edition NFS Mustang adds custom paint wheels, and advanced internal components to Saleen's top of the line Titanium model to produce a vehicle that embodies the spirit of the Mustang used in the movie.
Form Follows Function
The front of the vehicle features a Saleen Functional Red Butterfly™ Center Induction Hood and a Front Fascia with a High Volume Radiator Intake to maximize the airflow in and out of the engine compartment. Side Skirts with Integrated Brake Intakes and Carbon Fiber Air Vanes deliver cold air to the brake calipers to prevent over-heating.
A Rear Integrated Diffuser allows fast moving air beneath the vehicle to expand creating a low-pressure zone, and a high-downforce rear spoiler keeps the vehicle on the pavement at high speeds. The Decklid Center Insert reduces parasitic drag; while the Rear Fascia with an Integrated Quad Exhaust and LED Race Lamps improve rear-end aerodynamics and style.
Lateral Acceleration
S4 Specific Rate Front and Rear Springs, S4 Front Struts, and S4 Rear Shocks work together to optimize stability around corners while providing perfect control during extreme braking. The Saleen Front and Rear Swaybars and High Durometer Pivot Bushings provide precise steering control while conquering tight corners at racing speeds.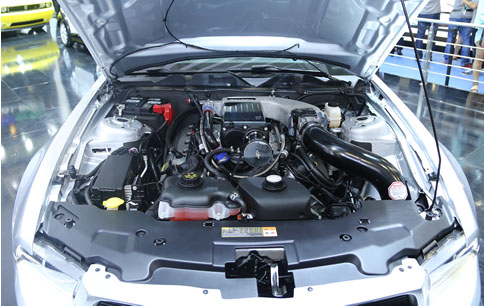 Longitudinal Acceleration
The Limited Edition NFS Mustang features a push button start a 650 horsepower Supercharged 5.0L, V8 Ti-VCT Engine, with a 0-100 km/h time of 3.5 sec and a top speed of 282 km/h. The patented 8th generation Saleen 296 Supercharger™ incorporates a twin-screw compressor which drives an astounding 32 cubic meters of air per minute into the engine adding nearly 200 horsepower to the naturally aspirated 5.0L V8 Ti-VCT Engine. The engine is available with a 6-speed automatic transmission with steering wheel-mounted paddle shifters, or a 6-speed manual transmission with a short-throw shifter and a final drive gear ratio of 3.73:1.
The Six-Pack™ Intercooler System incorporates six cylindrical micro-fin intercoolers providing over 60% more cooling and flow efficiency than the standard 5.0L V8 Ti-VCT Engine cooling system. In addition, the NFS Mustang features a High Volume Intercooler Water Pump delivering 90 liters of water per minute through the cooling system, and a Remote External Air Induction system optimizes the air/fuel ratio within the combustion chamber. The Launch Control App manages wheel traction control for maximum longitudinal acceleration during quick launches that translates to quicker 0-100 km/h times. Finally, Saleen's Power Flash Performance Calibration maximizes the engine horsepower and torque curves throughout the RPM band.
Click here to participate in the discussion.
[Source: Saleen Motors International]