Orange County, California (August 9, 2010) The Ford GT in itself is a rare car with just a little over 4,000 units built between 2005 and the end of production in 2007, all of which were built in a purpose-built facility by Saleen Special Vehicles in Troy, Michigan. Now Steve Saleen, legendary racer, entrepreneur and in 2005 the man behind Saleen Special Vehicles, is bringing his even rarer, personal 2005 pre-production Ford GT to auction. Russo and Steele are offering this car at their Monterey auction on August 14, 2010.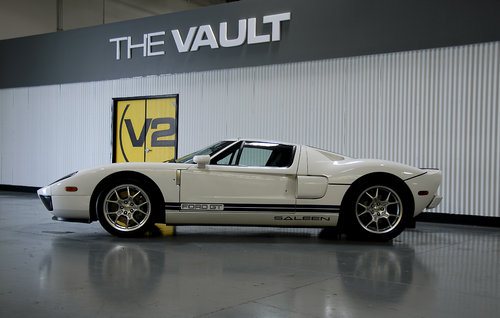 Number 5 of only 9 prototypes ever built
Not only is this car, VIN# 1FAFP90825Y400040, number 5 of only 9 prototypes built, it is also the only one using a hand-built twin-screw supercharger which would later become part of the regular production model. Never titled, this car now has only 3,830 miles on the odometer and remains in as-new condition
Rich movie history – Rocky IV, Fast and Furious 4, XXX: State of the Union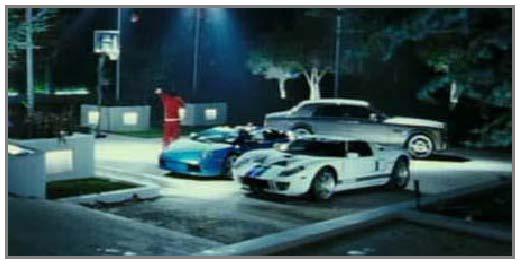 Originally yellow with black stripes, it was first used by the Ford Motor Company for engineering as well as PR and was showcased in numerous books including "The Supercar – An Evolution of Speed, and Velocity" by well known author and photographer John Lamm. Steve Saleen then had it repainted to its current white with blue stripes and unique Saleen decals for various movie productions that had requested his personal vehicle. It appeared in the movies Rocky VI, Fast and Furious 4, and XXX: State of the Union as well as numerous TV appearances and exhibits. This vehicle comes personally autographed by Steve Saleen and is sure to increase in value over the years.
This unique Ford GT will be auctioned off on Saturday, August 14, 2010 (Run #S666) at 9.30pm in the presence of Steve Saleen himself. More images can be found at: http://www.russoandsteele.com/collector-car/2005-Ford-GT-Pre-Production/5909
Technical Data
2005 Ford GT Prototype
Vehicle Type: 2-door coupe, pre-production car
No 5 of 9 ever built
VIN# 1FAFP90825Y400040
Never titled, sold on MFO
3,830 miles since new
Drivetrain
Configuration: Mid Engine/RWD
Engine: Supercharged V8
Displacement: 5409 cc
Horsepower: 550 bhp @ 6,500 rpm
Torque: 500 lb-ft @ 4500 rpm
Max RPM: 6500 rpm
Transmission: 6-Speed Manual
Dimensions
Weight: 3,390 lbs
Height: 44.3 in Length: 182.8 in
Width: 76.9 in
Wheelbase: 106.7 in
Performance
0-60 mph: 3.3 sec
0-100 mph: 8.6 sec
Quarter Mile: 11.6 sec @ 128 mph
Top Speed: 205 mph
Lateral Acceleration: 1.00g Braking, 60-0 mph: 117 ft
About Steve Saleen's SMS Supercars – Speed, Science and Style
SMS Supercars, a company founded by renowned race driver and automotive icon Steve Saleen, is a manufacturer of high-end lifestyle performance vehicles, technical performance parts, lifestyle accessories and apparel. SMS Supercars designs, engineers, tests, certifies, manufactures and assembles all of its own products and vehicles. SMS Supercars vehicles include the SMS 570 and 570X Challenger and the SMS 302 4V, 302SC and 351X Mustang models. The SMS 620 and 620X Camaro models will complete the trio of SMS American Supercars in 2010.
Click here to participate in the discussion.