A Rare 1989 Black & Tan Coupe
Reborn with a New Body…
Photos: DAVID LAXTON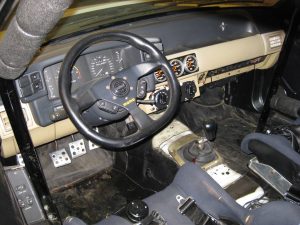 The serialized identities of our limited-edition Saleen production models gives each vehicle a distinctiveness, a personality and history. Questions such as… Why were they made? How were they ordered? What kind of life did it lead? Are details attached to each Saleen product. Stories and folklore surrounding individual Saleen vehicles can at times be more interesting (or at least of equal interest) than the model in question.
The plain truth is, a majority of Saleen serialized vehicles were spec production models, ordered for dealer stock, using similarly equipped knockdown "pool cars" from a manufacturer. This is why specification particulars such as exterior stripe colors, wheel finishes and Saleen optional equipment are so stressed and coveted. Because most of the "basic cars" where identical before conversion took place.
From 1987 through 1993, Saleen produced an estimated 65 serialized 2-door coupes. Most of these units could be considered "special orders." The largest production batch of coupes took place in 1988 when Damerow Ford of Beaverton Oregon sent fourteen identical SSP Mustangs to Anaheim for conversion.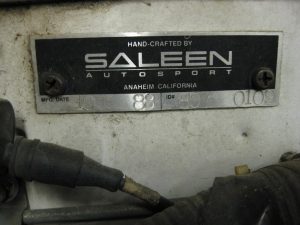 For the 1989 model year, Saleen produced an estimated 26 Saleen Mustangs on the 2-door coupe body. Of those 26, six are believed to have been painted Black. When we view those six, Smoke Grey interiors were in five units while one featured Sand Beige interior appointments with cloth Saleen/FloFit seating. Production number 89-0109 is this vehicle. If we look at a larger picture, the closest matching car to 89-0109, was 88-0523. Another Black and Sand Beige 2-door coupe.
We don't know much about 89-0109 or the history behind it. This Mustang was born as a Black and Sand Beige 2-door coupe with the familiar 5.0 liter / 5-speed manual drivetrain and the customary power equipment group and cruise control. From Saleen Autosport it would gain all the regular conversion features along with flashy gold assent stripes and gold ARE wheels. As for optional Saleen features, the popular 3.55:1 final drive ratio was checked off as a must have by the original orderer. Shipped to Young Ford in Charlotte, NC during the autumn of 1988, 89-0109 was set to impress.
From what is believed, during the early 1990s, the original body (VIN, title, etc) to 89-0109 were separated from the attachable parts. The original car may have met some kind of demise resulting in the transfer of equipment to a new replacement vehicle.
The current assembled configuration of, Oxford White body, Sand Beige interior and blue stripes have been known since the mid-1990s. 89-0109 had been rebuild into a clone for primarily track usage with a 331 CID stroker engine, Tremec TKO 600 transmission and Griggs GR40 suspension. All of this history is confined to the state of North Carolina over a short period of time. Both 89-0109 and donor Mustang were original NC vehicles.
Another wild tale. -DB
Click here to participate in the discussion.
[Source: SOEC.org]