One-of-One
The Strange Life of 89-0348
Photos: "Bottlefed83" via Photobucket
Original Post: November 16, 2008 at 10:28 PM
Original Thread: FOUREYEDPRIDE.COM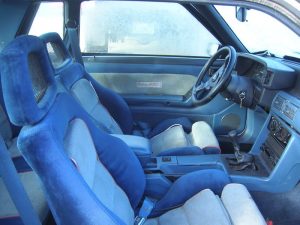 The 1987 through 1993 Saleen Mustangs based upon 2-door "coupe" bodies (aka: hardtops, notchbacks) are a fairly uncommon sight. These coupes were never produced in large quantities and were never marketed or advertised on a national, mainstream channel. The "coupes" were mainly side-note and news brief articles for enthusiast publications during 1987 and 1988.
When we look back at 1987-93 coupe production, the estimated tally equaled 65 units of Saleen Mustangs that were once roaming the streets with their funky square roofs and trunk lids. Two of the more famous examples were the Scarlet Red 87-0068 coupe for Austin Craig and the not-so-controversial run of fourteen white 1988 SSP coupes for Damerow Ford of Beaverton Oregon.
The rarity of these coupes did not translate to kid glove care. When you examine the individual histories and lives of these rare Saleen Mustangs, a range of use and abuse comes to the surface. Yes, there were thefts that were never recovered, other cars were stolen and stripped of all their equipment, a few were damaged and scrapped, while some were used as "normal" vehicles and treated as such.
When we review 1989 vehicle production, Saleen Autosport shipped out about 900 serialized vehicles to dealers. When you take into account the unnumbered 1989 California Sport GT and "other" dealer specials, 1989 was the most prolific year for the 6-year-old company.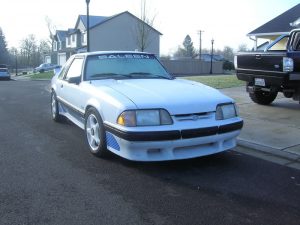 Over the 1989 model year, Saleen produced an estimate of 26 Saleen Mustangs on the 2-door coupe body. Of those 26, 11 are believed to have been painted Oxford White. When we view those 11, Smoke Grey interiors were in 10 units while one featured Regatta Blue interior appointments with custom Saleen/FloFit seating. Production number 89-0348.
89-0348 was delivered through Burch Ford, a source known for oddly ordered Saleen Mustangs, with a stereo delete and leather Ford SVO shift knob as options. This car is the only known '89 Saleen to have the "SVO Knob" note and is one of six serialized Mustangs for the model year to have a stereo delete.
We don't know much about the life and times of 89-0348. There was speculation the car was once hit hard in the rear and repaired. Years later it was hit on the driver's side bending the roof. Eventually these remains were used to create a tribute car while the bent body became home to overgrown brush and forest creatures. -DB
[Source: FourEyedPride.com]