First Drive: 2019 Saleen Sporttruck
700 Glorious Horsepower
By: JASON GONDERMAN on SEPTEMBER 11, 2019
Original Article: TRUCKTREND.COM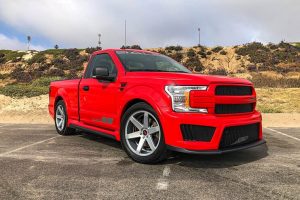 To power-hungry auto enthusiasts, the name Saleen should immediately conjure up images of slick race cars and smoking tires. Steve Saleen, founder and CEO of Saleen Automotive, began racing professionally in the '70s and continued what would be a storied and successful career as both a driver and team owner for the better part of three decades. As an auto manufacturer, Saleen's companies are known for having built some of the coolest cars and trucks on the road, including engineering, developing, and assembling the legendary 2005-to-2006 Ford GT. Saleen has also built one of the winningest supercars of all time, the S7. For those of us who don't want to drop a cool million on an S7 but still desire a Saleen in the driveway, Steve's current company, Saleen Automotive, constructs a line of custom Fords that are hard to beat.
While Mustangs are cool, and Saleen Automotive has built a lot of them, the company's 2019 Sporttruck is far and away our favorite. It's based on the popular Ford F-150 platform, and customers can choose from four different power levels, starting with enhanced 2.7L (340 hp and 410 lb-ft) and 3.5L (350 hp and 450 lb-ft) EcoBoost V-6 engines, a naturally aspirated 5.0L (415 hp and 420 lb-ft) V-8, or a supercharged 5.0L (700 hp and 600 lb-ft) V-8. The Sporttruck comes standard as a single cab but can be ordered in either Super Cab or Super Crew as well.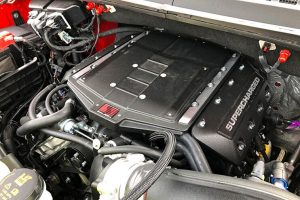 In addition to multiple power levels, there are three progressive levels of customization, starting with White Label, then Yellow Label, and finally the top-tier Black Label. When Saleen offered up the keys to a supercharged Black Label (#001 in fact), we were headed out to its facility before even hanging up the phone.
The nose of our Black Label truck was dressed up with a functional front air dam, front brake ducting, a racing-inspired grille design, and a uniquely sculpted hood. Around back, the Sporttruck features Saleen nameplate trim in the center of the tailgate and large rear exhaust tips that tuck nicely into the rear valence. Side skirts add a nice touch but honestly got in the way of entering and exiting the vehicle, as they can't support the weight of being stepped on. All models are lowered with Racecraft suspension and are fitted with 22-inch wheels and General Grabber UHP tires.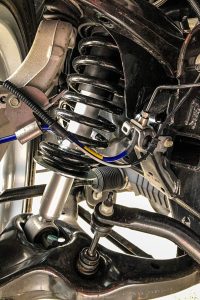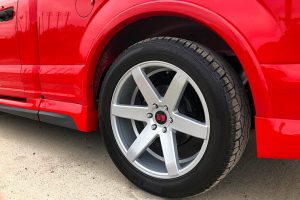 The interior gets a unique Saleen treatment as well, with two-tone leather sport seats, embroidered headrests, white-face gauges, and embroidered floor mats. We could have honestly done without the Saleen sticker placed over the steering wheel's Ford blue oval, but we digress. And if a factory Ford paint color doesn't do it for you, Saleen offers 13 custom exterior choices.
We spent a week behind the wheel of Sporttruck #001, and we honestly regretted giving it back instead of just disappearing to a beach in Mexico somewhere. With 700 hp on tap, the truck is an absolute riot to drive. The wide General tires provide an adequate amount of grip and, despite its short wheelbase, the truck handled remarkably well. We affectionately referred to it as a menace due in part to the fact that the exhaust was obnoxiously loud and our juvenile brains couldn't handle accelerating at any rate other than wide open. The truck's large 15-inch brakes with six-piston calipers did a great job of keeping the speed in check. We still have our reservations about the factory 10-speed transmission's ability to survive 700 hp, but there are several companies punishing them in this way, and, so far, the reports are favorable. While we're certain there's a fair amount of torque management happening to facilitate this survival, we did enjoy the shifting of this transmission versus the competition in this space. So kudos to Saleen's tuning department for whatever magic they performed.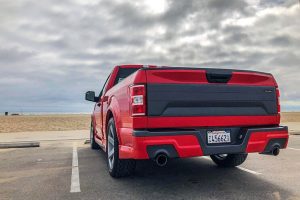 The interior of the truck was comfortable and cozy, and we enjoyed the leather seats. While Saleen will build any trim of truck a customer desires, the crew prefers to start with an XLT. Though we understand why they prefer the lower trim package, we'd still like to see some of the higher-end niceties such as navigation, adaptive cruise, and blind-spot monitoring when we're paying north of $70k for a truck. We also wouldn't order a single cab—other than a play toy, they're nearly useless.
If you're in the market for a high-power street-oriented pickup that'll turn heads everywhere you go, the Saleen Sporttruck is a no-brainer. And to top it off, the Sporttruck is sold through Ford's dealer network, making current incentives applicable (if the dealer so chooses) and retaining Ford's factory warranty. Pick the Black Label with a blower and go have a fun time munching tires and burning gas. We'll take a Super Crew Lariat in Ruby Red, please.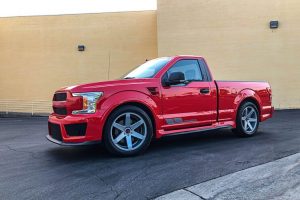 2019 Saleen SporTruck (Black Label)
Base price:
$39,270
Price as tested:
$75,505
Engine:
Supercharged 5.0L V-8
Transmission:
10-speed automatic
Horsepower:
700 @ 5,750 rpm
Torque:
600 lb-ft @ 4,500 rpm
Towing capacity:
Not rated separately
EPA fuel economy rating:
Not rated separately
Actual calculated economy:
11.51 mpg
Miles driven:
186.1
[Source: Truck Trend]