From our friend Joe Mills.
—————————
**RESCHEDULED FROM APRIL 10-12 DUE TO WEATHER**
Hey Saleen-fiends, whose ready to start getting out with your fellow Saleen-brethren this year? Our usual kick-off, as will be again this year, is the Gullo 6th Annual All-Ford Car Show, hosted by the Northside Mustang Car Club on May 9. Located at Gullo Ford in Conroe, TX, NMCC and the great folks at Gullo pull out the stops to make this a great event.
This year will include trophys for 1st and 2nd place in many categories. Gullo is providing free burgers and sodas as has been their generous history. The show will run from 9am to 4pm. Registration cuts off at noon and is $25.00. Gullo Ford is located at 925 I-45 North in Conroe, Tx on the north side of Houston.
This has traditionally been the big event for the Houston area for the year, normally drawing over 20 fine Saleens from all over the state. This year we're bringing back the multi-day/multi-event concept called the Gullo Ford Weekend! We will have organized dinners, a piney-woods cruise, and possibly other events.
This years event is going to follow the same format of the GFWs in the past with a fun-filled itinerary (May 8-10, 2015):
* Friday Nite: Meet and greet Dinner
* Saturday: Gullo All-Ford Car Show
* Saturday Nite: Drinks and Dinner
* Sunday: Piney Woods Cruise/Fantastic Gullo Museum Tour
Our great host hotel for the 2013 Nationals, the Holiday Inn Express in Conroe, will once again host us for our Gullo Ford Weekend!
* For reservations call 936-788-5200.
* Rooms blocked for May 8 & 9, both Queen doubles & Kings, for $104.95/night.
* Our reservation code is "SALEENCLUB"
* They feature a great complimentary breakfast.
* Hotel is located up the freeway from Gullo Ford so it will be convenient to everything, including excellent dining options.
* Location: 240 Stoneside, Conroe, TX 77303
A great event deserves a great flyer…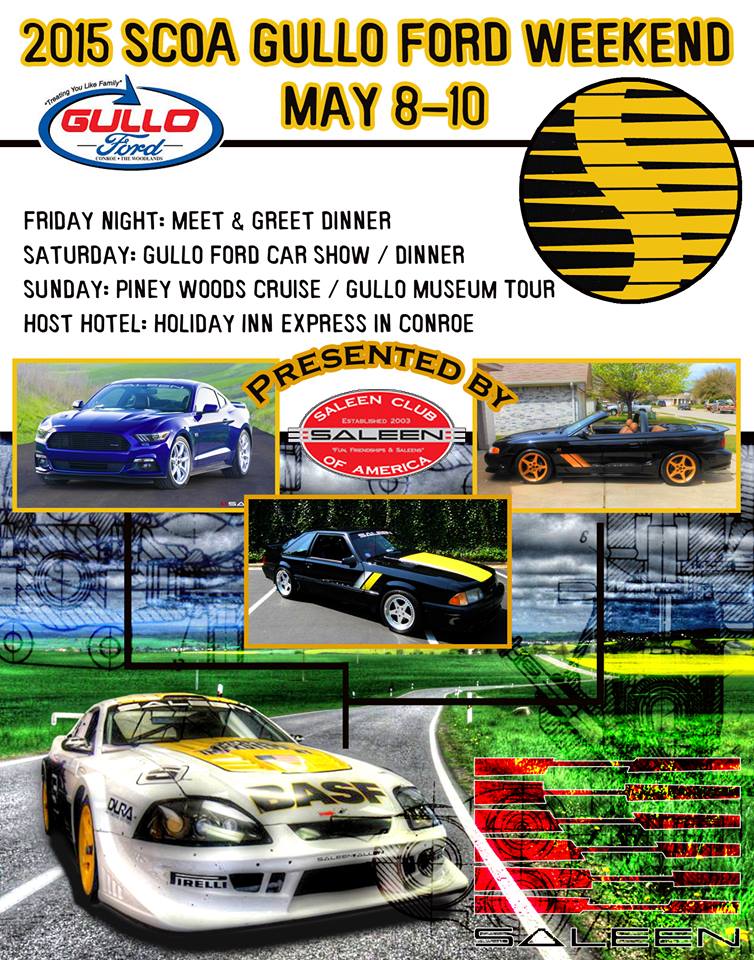 Big thanks to Scott for putting together a beautiful flyer for this years event!
Scott's heading over on Saturday morning from the Austin area and offered to lead a group over:
"I'll be going to Houston from Round Rock on Saturday morning… if anyone wants to drive with me we can do that. It will be early. I'll post up details when I get them."
Anybody else willing to lead groups in, either Friday or Saturday? Let me know and I'll get the word out.
Click here to participate in the discussion.
[Source: Joe Mills for Saleen Club of America]