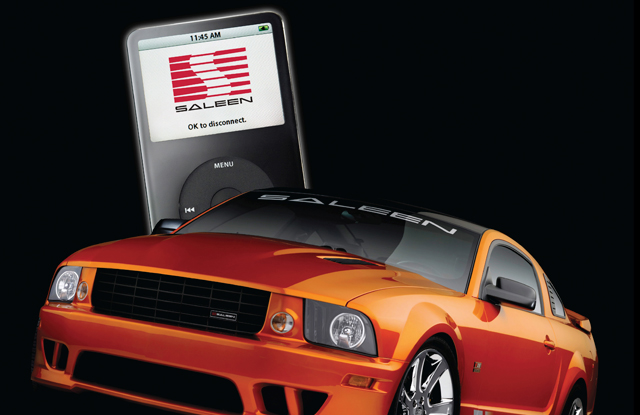 Private Label Program for Mustang High Performance iPodTM Integration
Grand Rapids, MI – Brandmotion, innovator of vehicle-specific OEM Integration solutions for Ford and other vehicle brands, has partnered with Saleen to provide a private label program for Mustang high-performance iPod OEM Integration.
"These products are exactly what our customers are asking for," said Saleen President Marques McCammon. "Today's consumer expects to be able to integrate their personal electronics and their vehicle. The performance and craftsmanship expectations of our owners are even higher, demanding seamless integration to both the vehicle and to the Saleen lifestyle. Our iPod integration solution had to perform to Saleen standards. Brandmotion is an aftermarket company with OEM roots and they were able to provide that".
In 2008, Saleen Inc. celebrates its twenty-fifth anniversary as a specialty vehicle manufacturer. With roots in racing, its vehicles go well beyond the expected, providing a unique style and unmatched power to car enthusiasts and dreamers alike. Vehicles include the new Racecraft 420S, H281 SC Gurney Edition, S281 and S302 Supercharged vehicles, and the S302 Extreme.
"Brandmotion is proud to have been selected as a partner developing OEM Integration solutions with Saleen Inc. This project was challenging and fun and we are delighted to be able to provide a high quality connection between two real icons – the iPod, and the Saleen Mustang, said Jeff Varick, President of Brandmotion.
For more information contact Brandmotion at 877-276-6456 or visit us on the web at www.brandmotion.com.
Brandmotion is located at 3400 Innovation Court SE, Grand Rapids, MI 49512, and provides over 30 different integration solutions for over 20 different OEM vehicles, both as private label solutions and as consumer products available under its own brand through leading distributors nationwide.
iPod is a registered trademark of Apple, Inc.