PHOTOS: CHRIS CHRISANTI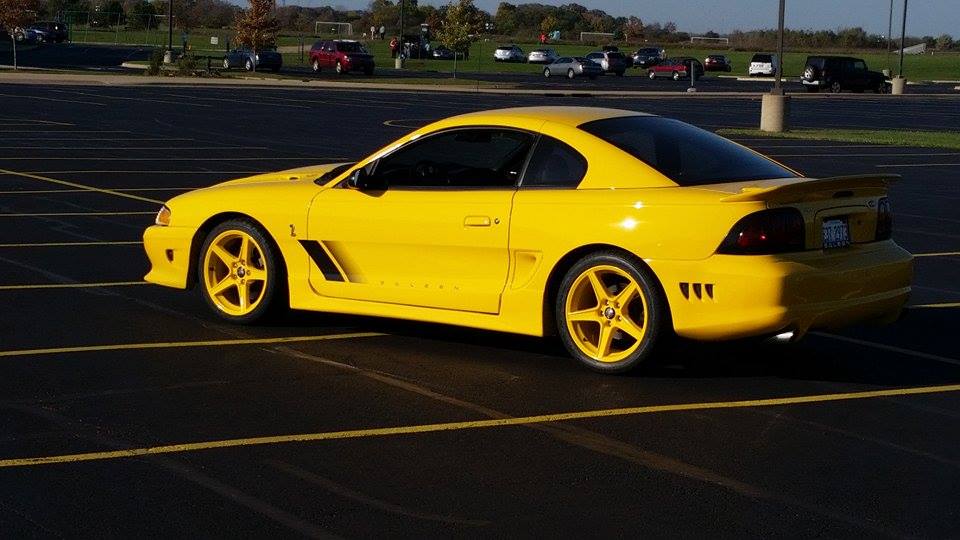 When Saleen Performance debuted their new S281 for 1996, they resumed to offer a mainline model that featured familiar styling and suspension upgrades on the SN95 Mustang. Introduced as an entry-level, serialized Saleen vehicle to complement their labor-intense and performance juggernaut S351; this first generation of S281 returned Saleen Performance to their roots by focusing to improve handling and aerodynamics characteristics of the forth generation Mustang GT powered by a newly introduced 4.6 liter, 2-valve, "Modular" V8 from Ford Motor Company.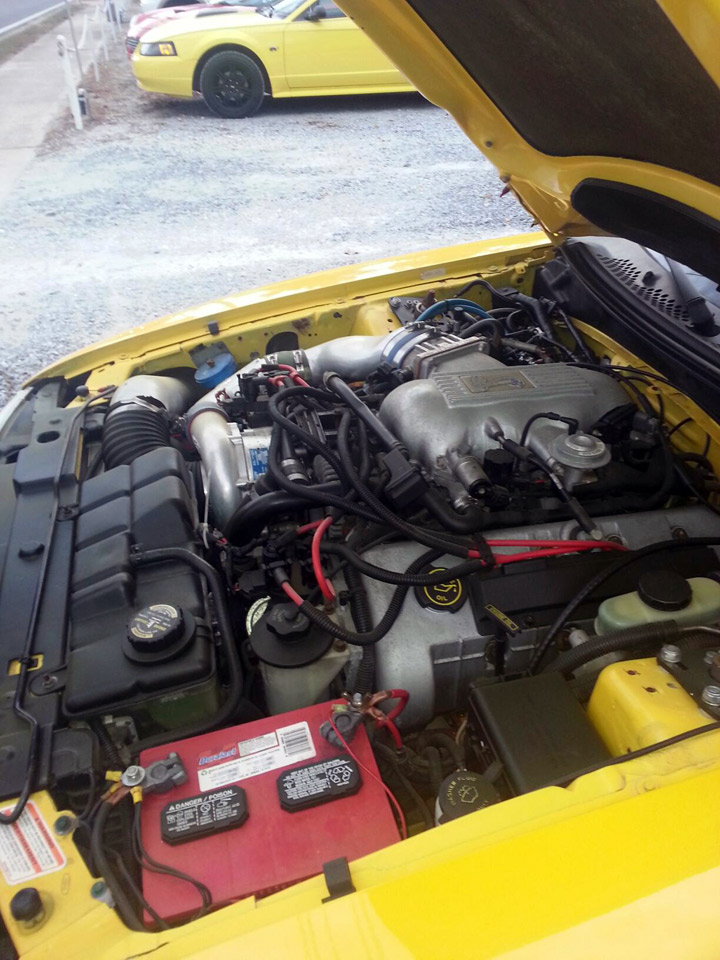 For those in need of more "horsepower," a little-known available option was to substitute the standard Mustang GT chassis for that of an SVT Cobra with it's free-revving 4.6 liter, 4-valve V8 engine. This "special" S281 Cobra conversion was elected by eleven customers during the 1996 model year. Production increased to eighteen units for 1997 with newly established publicity and ordering details for the S281 Cobra Edition.
Chris Chrisanti of Illinois was introduced to Saleen Mustang ownership by way of a thoroughly enjoyed 1994 S351 Supercharged coupe (94-0042). With desires of a streetable, less-complex, but equally rare Saleen Mustang; Chris sold his beloved '94 and began his search for a new steed.
While cruising social media posts in October 2014, a young preteen skateboarder shared a photo of his dream ride, what appeared was a Chrome Yellow S281 coupe with Cobra fender emblems. Further investigation proved futile as this "youngster" would not respond to direct messaging as to the local of this vehicle. Attempts made to contact relatives of the boy were also rebutted. An impatient review of his user profile gave a home state of Florida. Where to begin? CarFax reports were pulled for each of the 1998 S281 Cobra coupes in Chrome Yellow. The lone example last registered in Florida was 98-0075, specifically in Panama City.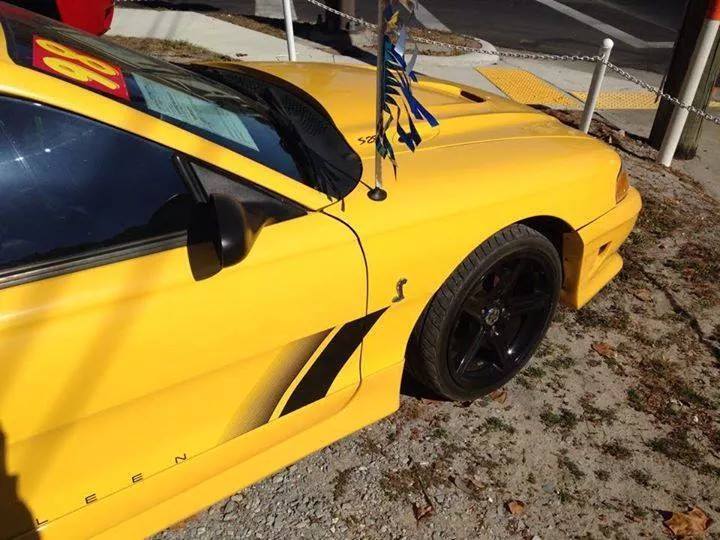 With little else to go by, an ensuing search of local dealer inventory took place through the remaining week and weekend. Attempts to locate 98-0075 failed. With nothing to lose, the photograph was referenced again. What clues could assist in locating this dealer? Item of note were: Promo material stuck to windshield, antenna streamer, bright red truck bumper, chain link fence, gravel lot and street corner intersection with newly paved sidewalk.
Again, local dealers were searched with an eye towards finding similar promo items on their vehicle inventory, whether they had a bright red truck listed for sale and where their dealership was located in relation to intersections using Google Maps. Eventually, this dealer was located while 98-0075 was being prepared for resale and prior to promotion on their website. Coincidentally, Chris' father would be vacationing nearby and agreed to inspect #75 giving a leg up on any competing buyers. A deal and preceding sale was arranged before the dealer publicly offered #75, teasing false hope to many that called looking to make a quick purchase once 98-0075 went public. Causing debates of: "How did this car sell so quickly?"
Modifications:
• Replacement Ford remanufactered long block installed @ 20,000 miles
• BBK full-length headers
• BBK cross pipe w/ converters
• BBK throttle body
• Anderson power pipe
• MSD DIS 4
• Smaller supercharger pulley
• SCT MAF
• 60# injectors
• 340 lph in tank fuel pump
• SCT tuner
• 491 RWHP
• 1999-04 Saleen-style 18×9″ & 18×10″ wheels

Video: 98-0075 from November 2014
Produced during April 1998 and shipped on the 29th of that month, #75 features the most Saleen optional equipment for a 1998 S281 Cobra coupe. Our order began with an Chrome Yellow SVT Cobra coupe featuring the Ford Preferred Equipment Package (Mach 460 sound system and Ford leather seating). Side note: Both Chrome Yellow and Bright Atlantic Blue were introduced on the SVT Cobra during springtime '98.
After arrival at Saleen Performance's 9 Whatney facility in Irvine California, #75 grabbed the following: Heat extractor hood (standard for Cobra Edition), Chrome Yellow Speedline magnesium wheels, tire upgrade, Saleen/Recaro leather seating, 2-point chassis brace, and supercharged twin gauge pod by request of dealer.
For the 1998 model year Saleen produced 208 Mustangs, 173 were S281 models, 35 were based on the SVT Cobra chassis, 14 were of the SVT coupe body, 5 SVT coupes featured Chrome Yellow paint and 4 SVT coupes featured Chrome Yellow wheels. Of those, 3 had the Speedline Magnesium Wheels, 2 were equipped with the optional 2-point chassis brace, 2 had the twin gauge pod while 98-0075 was the lone S281 coupe, SVT chassis, Chrome Yellow paint to receive the optional Saleen/Recaro seating.
PRODUCTION BREAKDOWN
1998
– Laser Red exterior, Black interior, coupe: 2
– Laser Red exterior, Black interior, convertible: 2
– Laser Red exterior, Unknown interior, convertible: 1
– Black exterior, Black interior, coupe: 1
– Black exterior, Black interior, convertible: 7
– Crystal White exterior, Black interior, coupe: 5
– Crystal White exterior, Black interior, convertible: 5
– Crystal White exterior, Saddle interior, convertible: 1
– Bright Atlantic Blue exterior, Black interior, coupe: 1
– Bright Atlantic Blue exterior, Black interior, convertible: 2
– Chrome Yellow exterior, Black interior, coupe: 5
– Chrome Yellow exterior, Black interior, convertible: 3
[Source: Chris Chrisanti]