By: CHRIS WOODYARD on January 29, 2013 at 4:41 am
Original Article: USA TODAY
GM, Ford and Chrysler get creative in finding buyers for the plants they closed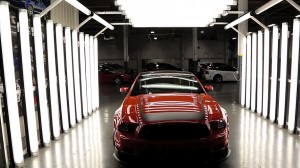 TROY, Mich. — A stroll around the factory floor here reveals the kind of assorted automotive projects that fire imaginations.
Classic Fords and Chevrolets under restoration are parked in neat rows, including a Mustang customized for the ill-fated revival of the Knight Rider television series and another that's a custom prototype for the Chinese market. A 2014 Chevrolet Silverado pickup, yet to appear in showrooms, waits to be prepped for auto show display.
So far, two small auto companies share the cavernous space in the former auto plant in this Detroit suburb. Working together as Automotive Performance Industries, the hunt is on for at least a couple more entrepreneurs who can join up to follow the same model — working on their own projects or as a team.
The rebirth of a former car factory as a business incubator for small start-ups aiming to make it big someday, points to a hopeful trend in the auto industry. More of the old factories left behind by the cutbacks of Detroit's Big 3 automakers during the recession are becoming homes to myriad new businesses. Sometimes the sites stay devoted to automotive uses, but other businesses have swooped in as well — from herb growers to shopping-center developers. They are creating jobs that can begin to replace some of the thousands lost when General Motors, Ford Motor and Chrysler cut back over the past decade.
"There is a lot of activity. Capital markets are flowing again, and there is a demand for space," says Bruce Rasher, redevelopment manager for the Racer Trust, created by the U.S. Bankruptcy Court in 2011 to find buyers for General Motors' shuttered facilities. "It's an excellent way to diversify employment."
In some cases, the new tenants for old automotive plants are leading the way to a new kind of auto industry. Tesla Motors, maker of the $61,070 all-electric Model S sedan, has set up shop in the former GM-Toyota joint venture plant in Fremont, Calif., that once churned out Corollas and Geo Prizms. Fisker Automotive, maker of plug-in hybrid sedans, hopes to start production of its next model in a former GM plant in Wilmington, Del.
And earlier this month, another start-up, Elio Motors, announced that starting next year it will build its $6,800, 84-miles-per-gallon economy cars at the former GM plant in Shreveport, La., that once built the Hummer. "It works out well for everyone," says founder Paul Elio of the real estate deal.
In other cases, different kinds of businesses are coming on board. Florida-based grower Sunfest Organic Herbs is taking over a former GM metal-stamping plant in Ontario, Ohio. Developers are seeking other tenants for what is now being called Ontario Business Park. Though it will demolish many of the buildings, Sunfest plans to create up to 150 jobs in an expansion that will put it closer to its customers.
Yet for all the attractiveness of the notion of entrepreneurs setting up shop amid the ruins of an evolving auto industry, it hasn't been easy. The auto plants are often dated, with low ceilings that don't accommodate today's high-tech manufacturing methods or other uses, such as warehousing. Also, the facilities have, in some cases, required extensive environmental cleanups.
For Automotive Performance Industries, or API, here in Troy, the plant was tailor-made for automotive-related businesses. It had been home to Saleen Performance, the specialty vehicles customizer and maker founded by racer Steve Saleen, who has since gone on to a new automotive venture. A building is a building, but what made the place special was its paint booths, which used a special higher-heat system to paint luxury cars.
Saleen, in its role as a contract builder and backed by Ford, had invested millions in the plant to help build and paint Ford GT supercars to exacting standards. Once the building became empty around 2009, it attracted business partners S.A. "Tony" Johnson and Karl Storrie, who had long worked together as auto-parts suppliers and on other deals. "We bought a paint system, and there happened to be a building around it," Storrie says.
It was the kind of equipment that would be out of reach of most small businesses that specialize in customizing or small-batch manufacturing.
Bryan Chambers saw the possibilities. He had been a manager at the plant when it was under Saleen, and created his own business, Alternative Automotive Technologies, after the factory closed. At first, he was living "check to check," but he soon saw how the old building could become a great place to make smaller batches of custom vehicles. In addition, he prepares concept vehicles for public displays and even takes on individual jobs, such as adding superchargers to further soup-up performance cars for enthusiasts.
Chambers was later joined by George Huisman, founder of Classic Design Concepts, which specializes in aftermarket parts, such as custom grilles and rear trim panels for Mustangs. He is working on a project to convert Mercedes-Benz Sprinter vans into disaster-relief vehicles for the American Red Cross.
While they do their own jobs, they find room to collaborate. Huisman points to a Mustang being customized to suit the tastes of Chinese automotive enthusiasts that could provide work to both companies. It's called the RTR Mustang, for "ready to rock."
So far, though, there are only about 30 employees at work at API. Much of the building, larger than three football fields, is unoccupied. The goal is to bring in at least a couple of other companies, putting them under the API umbrella. "We're not interested in renting space. We're interested in business partners," Storrie says.
Converting big plants can be challenging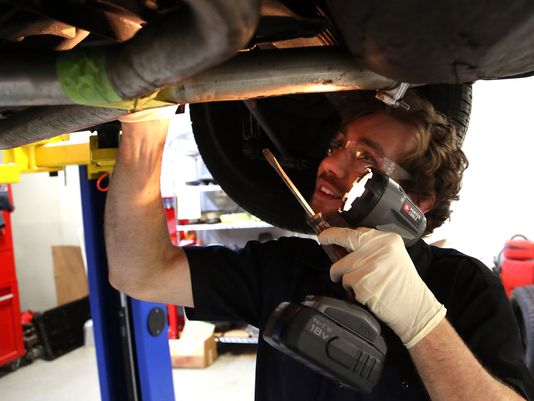 API should be relatively easy to fill. The bigger challenge comes with the Big 3's former auto plants, which measure square feet in the millions. Tesla, for instance, is using only a relatively small portion of its Fremont, Calif., factory even as its production of the Model S all-electric plug-in sedan continues to ramp up.
When Ford closed its assembly plant in Atlanta, which used to make the old versions of the Taurus, Porsche took a portion and the rest is being divided up for light manufacturing or warehousing, says Jay Gardner, director of real estate for Ford Land, which is taking care of the automaker's former plants.
Ford has been trying to find a buyer for its now-closed plant in Wixom, Mich. But 4 million square feet, much of it built when it opened in the 1950s, spread over 317 acres is more than most manufacturers could ever handle.
Still, Ford, which has sold nine plant sites since 2006, has had some notable successes. A dump near Allen Park, Mich., was capped and the ground allowed to settle, then it eventually became a shopping center, Gardner says. That creates more jobs than the usual use of former dumps — turning them into open space or golf courses.
The Racer Trust, which says it has completed 24 sales out of 89 facilities in 14 states, just wrapped up its deal with Elio, maker of the novel three-wheel commuter car. "We're very encouraged by the level of interest in the properties," says Rasher, a former mayor of Marshall, Mich., who says communities are consulted about the uses they would like to see for the former plants.
Entrepreneur Elio sounds thrilled to have gotten a turn-key auto plant on the cheap. (Just how cheap, he won't say.)
"The assets are worth more if you use them for their intended purpose," he says. GM had a peak workforce at its Shreveport plant of 3,200, Elio estimated. He says he guaranteed Racer Trust that he would employ 1,500 eventually, and he plans to tap the pool of veteran autoworkers still in town.
Back at API, workers are relishing the start-up feel inside the business incubator — and the opportunity to collaborate with other companies.
Paul Elizando, 34, who works on the paint line, sees the possibilities of working with others in companies that are part of API. "You can cast a wider net and help everybody," he says. If the others have projects involving painting, "They could give it to us."
Over in the modeling shop, working in the small operation is a big change for 34-year GM veteran Dan Bommarito. But he says he likes it.
"It's a little more one-on-one, and you don't have all the red tape," Bommarito, 57, says between projects. "It's easier on everyone."
He is teamed with a relative newcomer, Kevin Ryszka. "Everything is really exciting," says Ryszka, 40. "Nothing is done by an individual anymore. It's a team. If you can bring that expertise under one roof, how can it be a bad thing?"
Contributing: Lou Whitmire, Mansfield (Ohio) News-Journal