BaT Essentials
Lot #31171
Seller: carsfromgary
Location: Manheim, Pennsylvania 17545
Chassis: 1FMZU35P5WZB18340
23k Miles Indicated
Supercharged 5.0L V8
4-Speed Automatic Transmission
All-Wheel Drive
Toreador Red over Tan Leather Recaro Seats
18″ Wheels w/Pirelli Tires
Saleen Body Kit, Hood, Front Brakes
Window Sticker
Clean Carfax Report
Private Party or Dealer: Dealer
Additional Charges From This Dealer: USD $0
1998 Saleen XP Explorer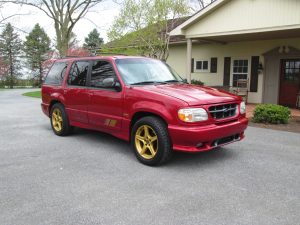 This 1998 Ford Explorer is #28 of fewer than 300 equipped with the Saleen XP8 package, and was acquired by the selling dealer in 2020 after 21 years with its original owner in New Jersey. Power is from a supercharged 5.0-liter V8 linked to a four-speed automatic transmission and a full-time all-wheel-drive system. The truck is finished in red with gold wheels and features a Saleen body kit as well as Recaro front seats in tan leather. This XP8 is offered with a clean Carfax report and a clean Pennsylvania title.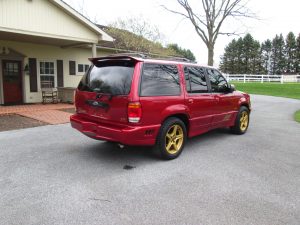 The body wears Toreador Red paint and is fitted with a Phil Frank-designed aero kit including a front valance, side skirts, door cladding, and bumper covers as well as a rear spoiler. Also featured are an optional Saleen Design hood, fog lights, and silver grille inserts. A touched-up scratch is noted on the hood.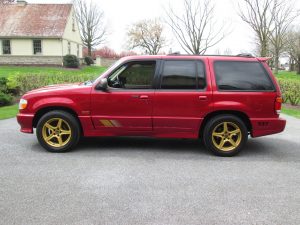 Gold-finished 18″ Saleen wheels are shod with Pirelli Scorpion Zero tires. Saleen-tuned suspension was lowered by approximately 2″ when compared to a stock Explorer, and was fitted with N2 shocks and sway bars from Saleen Racecraft when new. Disc brakes are equipped at all four wheels and include Saleen four-piston calipers over 13″ rotors up front.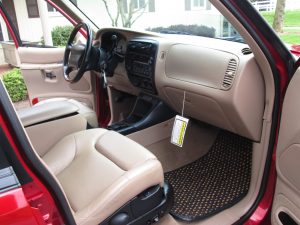 The cabin features tan leather upholstery over optional Recaro front sport seats featuring partial power adjustment. Matching carpets are protected by black coco mats. Equipment includes power windows and locks as well as a Mach CD/cassette stereo with rear-seat audio controls and a subwoofer in the cargo area.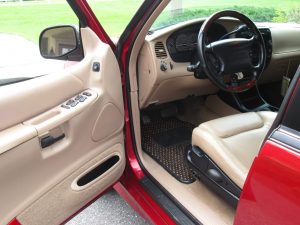 A leather- and wood-trimmed steering wheel features cruise control buttons and frames gray Saleen instrumentation with gold lettering. The 120-mph speedometer houses a six-digit mechanical odometer reading approximately 23k miles.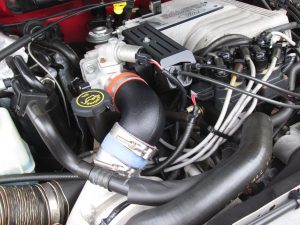 The supercharged 5.0-liter V8 is fitted with a Saleen air intake and was rated at 286 horsepower and 333 lb-ft of torque when new. An oil change was performed in preparation for the sale.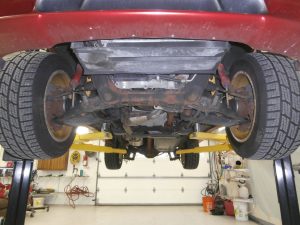 A four-speed automatic transmission routes power to all four wheels through a single-speed transfer case. Borla mufflers and tailpipes were fitted when new.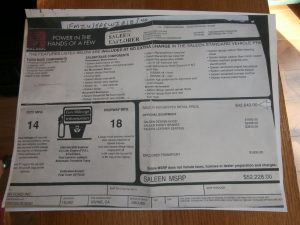 The window sticker shows stock components, Saleen equipment, and additional options for a $52,228 list price.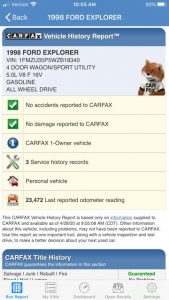 The April 2020 Carfax report shows no accidents or other damage and lists registration with one owner in New Jersey between 1998 and 2019.
https://bringatrailer.com/listing/1998-ford-explorer/
Click here to participate in the discussion.
[Source: Bring a Trailer]