Dream Come True
A once-in-a-lifetime chance to own a celebrity Mustang
By: LARRY HAUGER & TERRY MCGEAN on April 2018
Original Article: HEMMINGS MUSCLE MACHINES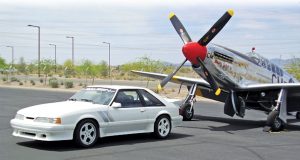 Since I was a young boy, I have been a fan of Ford cars. In the early 1980s, I focused primarily on Mustangs. I purchased a '65 coupe with a 289 in 1980 and owned it for a number of years. In fact, my three kids learned to drive on that car.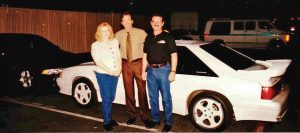 Then, in 1986, a coworker said her father was going to be selling an old Mustang, which turned out to be a 1964½ convertible with a 289 four-barrel, power top, and more. I wound up buying the car sight unseen, and then made the decision to fl y out and drive it home to Arizona all the way from New Jersey. I took a friend, and soon after we headed out in the Mustang, it started breaking down. In fact, I think we had a breakdown of some sort in every state we traveled through. The radiator blew up, we cooked the heads, the distributor shaft broke, and on it went. Plus, the car was pretty rusty, and had holes in the floor and a heater that didn't work. This was in November, so we were freezing. By the time we got to Oklahoma, my friend was ready to fly home, and was trying to hire someone to haul the car the rest of the way. But we kept going. In 2001, I started a restoration on that car. I still have it, and the friend—we laugh about the trip now.
By the late 1980s, I had discovered the Saleen Mustang, and became an instant fan. By the early 1990s, I began watching Tim Allen and his hit show, Home Improvement, and soon became a big fan. In February of 1994, I received the March issue of Mustang Monthly magazine, and there on the cover was a dream that I did not realize I had: A Saleen Mustang custom built for Tim. What a beauty.
test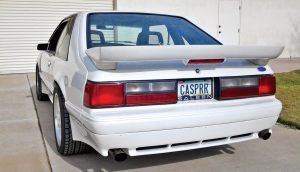 Fast forward to August or September of 1996. I was thumbing through a Mustang magazine and there was Tim's Saleen for sale. I thought, "Wow, someone is going to buy a great Mustang." Actually, I quickly realized that what I really meant was that someone probably already bought that great Mustang. I felt that way because, generally, by the time a magazine reaches your mailbox, the articles in it are already several months old. But, after about two weeks of the magazine laying on the coffee table, curiosity got the best of me, and I called the phone number listed in the ad for the Saleen.
To my surprise, it was still available. I introduced myself, and I was told I was speaking to Brett Gregory, the technical assistant to Tim. Within a few days, my wife and I were standing next to Brett and the Saleen at Tim's shop in North Hollywood, California. We talked for several minutes, and then Brett asked if we wanted to go for a ride. Duh! We headed out with Brett driving, my wife in the backseat, and me riding shotgun. Brett hit the gas and my head hit the head rest. I had to buy this car. We pulled to the curb and Brett said, "You drive." Really? Heart be still, oh yeah, I am going to buy this Saleen.
test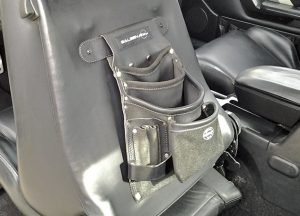 This car is truly unique—it is the only one that Saleen built with the custom carbon-fiber front end that features the narrower Thunderbird headlamp assemblies, along with some other custom body alterations. The drivetrain consists of a modified Ford 5.0 engine that uses a supercharger and makes 576 hp. It is backed with a Tremec five-speed and has 3.55 gears in the rear axle. The car does have a roll bar, though you can't really see it— Saleen custom fabricated it to fit tightly to the inside of the interior's contours. Later, when I visited the Saleen facility, they told me they'd never do another one like that.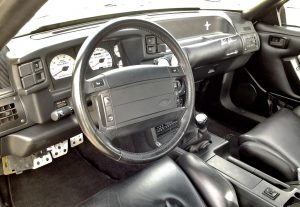 When this car was being built, it got a fair amount of coverage in enthusiast car magazines, and Tim included it in some promotional press material at the time. There was a segment on Entertainment Tonight that was filmed at the Saleen facility with Tim and Steve Saleen, showing the car under construction; a follow-up had the car making laps on a road course. Despite the big deal made around the building of this car, Tim barely ever drove it—when I went to look at it, five years later, there were only 347 miles showing.

Back at Tim's shop, I proposed a deal to Brett. He ran it by Tim, and we reached an agreement. We would be back in January to pick up the Tim Allen, one-ofa- kind, Saleen Mustang.
So, in January of 1997, my wife and I drove to Tim's shop. Tim graciously invited us to attend a taping of his TV show. Early in the afternoon we watched a rehearsal, and then afterwards, Tim took us out to the parking lot, where the "RRR" Saleen was parked next to Tim's latest project, a black 1996 Chevy Impala SS with Corvette running gear.
test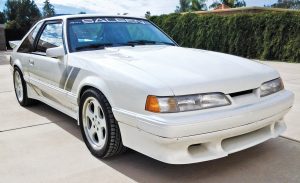 Tim talked about the Saleen, and we took pictures. After the pictures, we talked more about the car and then headed back into the studio for the live taping of the show. After the taping, Tim invited us up to his dressing room. We passed all the other stars of the show along the way. Several people were there, and Tim was kind enough to talk with us some more and autograph a few personal items that we brought along. One of those items was that 1994 Mustang Monthly magazine with the Saleen on the cover and a great spread of the car on the inside. He signed the cover page!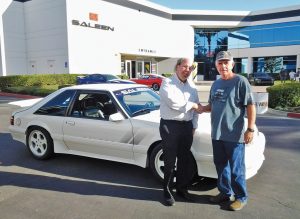 A great night was had by all. The next morning, we loaded the Saleen Mustang on the trailer and brought it home to Phoenix. We stayed in contact with Brett over the years and made a few more trips back to the studio to watch the taping of Home Improvement. Brett has shown us around Tim's shop, letting us check out Tim's very cool collection.
Since then, I've driven the Saleen sparingly, and have taken it to some local shows where it has taken some trophies. I did drive it back to southern California a few times to attend shows held at Saleen's facility, most recently last September.
The Saleen now has about 2,700 miles on it, and always draws a crowd whenever it is out, along with a lot of questions. But, recently I decided it was time to hand it over to my daughter and her family. They are all drag racers—my daughter, her husband, and even their two kids, who run junior dragsters. The Saleen won't be raced, of course, but I know it's in good hands and, in time, it will go to my grandson.
---
Do you have photos from "back in the day" of your muscle car(s) and an interesting story to write? It's high school English class assignment time: Submit your images, memories and contact information to Muscle Car Scrapbook, c/o Hemmings Muscle Machines, attention: Terry McGean, P.O. Box 2000, Bennington, Vermont 05201, or email tmcgean@hemmings.com.
[Source: Hemmings Muscle Machines]