Price: $38,000.00
VIN: 1FABP41E7KF247642
Condition: Used
Vehicle Title: Clear
Year: 1989
Make: Ford
Model: Mustang
Sub Model: Saleen
Engine: Saleen-tuned 5.0L V8
Fuel Type: Gasoline
Transmission: Manual
Drive Type: Auburn limited-slip / 3.55 gears
Mileage: 2,546
Body Type: Hatchback
Warranty: Vehicle does NOT have an existing warranty
Exterior Color: Oxford White
Interior Color: Gray
For Sale By: Private Seller
eBay #: 152556713962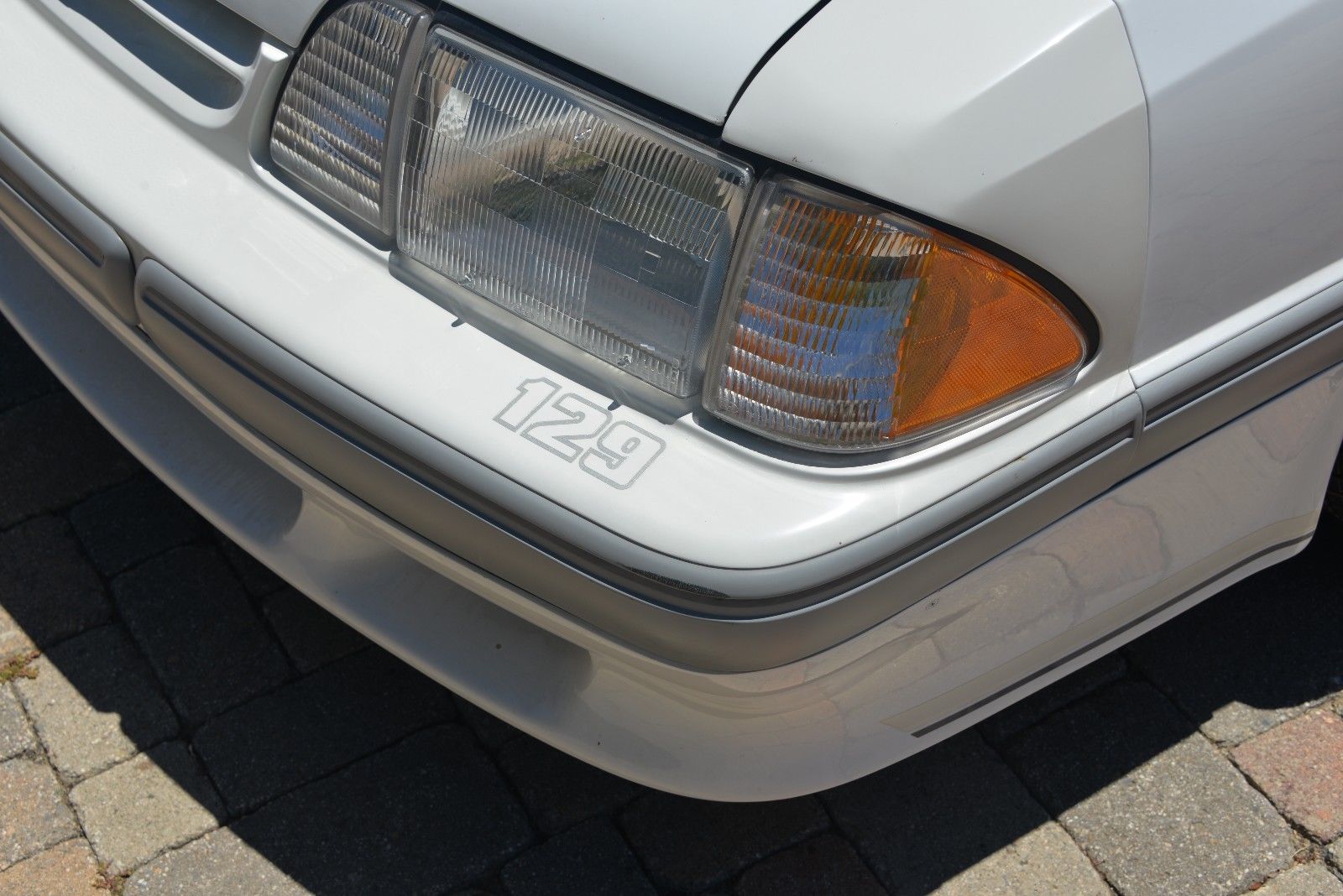 When the 25th anniversary of the Ford Mustang rolled around in 1989, it seems as though their marketing department was the only group interested in capitalizing on the date. There were parties and cross country cruises but no special edition Mustang emerged. Thankfully, Steve Saleen and company weren't going to let 1989 go by without building something worth talking about. His creation was the brilliant single-purpose 1989 Saleen SSC. It was a road-race ready son-of-a-Mustang that served to remind everyone just what Fox bodies were capable of. With only 161 produced, SSC's were scarce commodities to begin with. These days, finding a clean example is a daunting prospect. That's why we jumped at the opportunity to offer SSC #129 – this showroom fresh 2,500-original mile example. All original with no modifications made, this car remains as Saleen intended. If you're looking for a solid investment sure to put a grin on your face, look no further.
The Fox body Mustang was introduced in 1979 as a replacement for the compact Mustang II. Its sharp edged design was a dramatic departure and offered buyers a much sportier package than the previous body style. By 1989, the now ten-year-old Fox platform had matured and provided a truly solid platform for tuners like Saleen. This one, like all '89 SSC's, is painted with an even coat of white that showcases the cars understated lines. With just under 2,600 original miles, this cars pampered life is obvious from across the room. All the original body panels are still in place and remarkably straight. Panel fitment remains factory correct with decent gaps all around.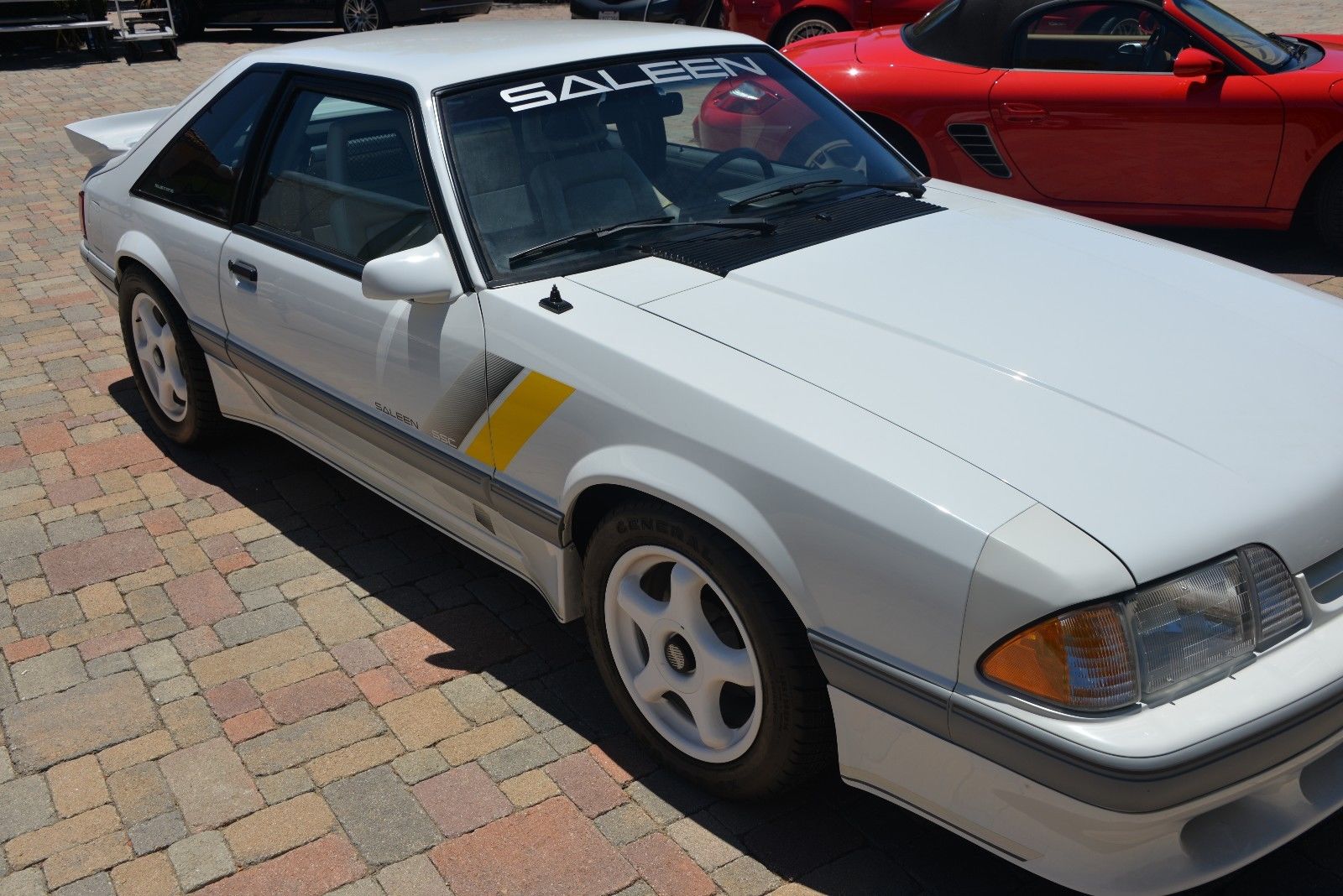 Saleen cars always have a number of distinct visual cues to set them apart. At the front, a number 129 decal sits under the driver side headlight just above a tasteful Saleen-designed urethane front air dam. As always, a large Saleen decal graces the top of the windshield. At the sides, urethane skirts give the car a lower look while complimenting the yellow and gray SSC-exclusive stripes. All molding is gray in color. Out back, the urethane rear valance completes the body kit and provides a nice visual tie-in for the competition-design rear wing. Overall, the package looks OEM but somehow different, like a GT body kit turned up to 11.
Pop the hood open and you'll find the legendary multi-port fuel injected 5.0L V8. In stock form, these engines made an advertised 225hp and 300lb. ft. of torque. Though respectably strong in a regular Mustang, taking things to the next level is what Saleen is all about. Up top, a 65mm throttle body feeds air into a modified upper and lower intake manifold that sends fuel to the Saleen-designed high-flow SSC heads. The valve train has been upgraded with 1:7 SVO roller rockers. Polished aluminum valve covers and a special SSC engine plenum plate add some style to the bay. Exhaust gases travel through a Walker Dynomax low-restriction exhaust system on their way out of the two rear tips at the rear of the car. With the Saleen upgrades in place, the 5.0L produced 292hp and 325lb. ft. of torque good for 0-60 times around 5.6 seconds with high 14-second quarter mile runs.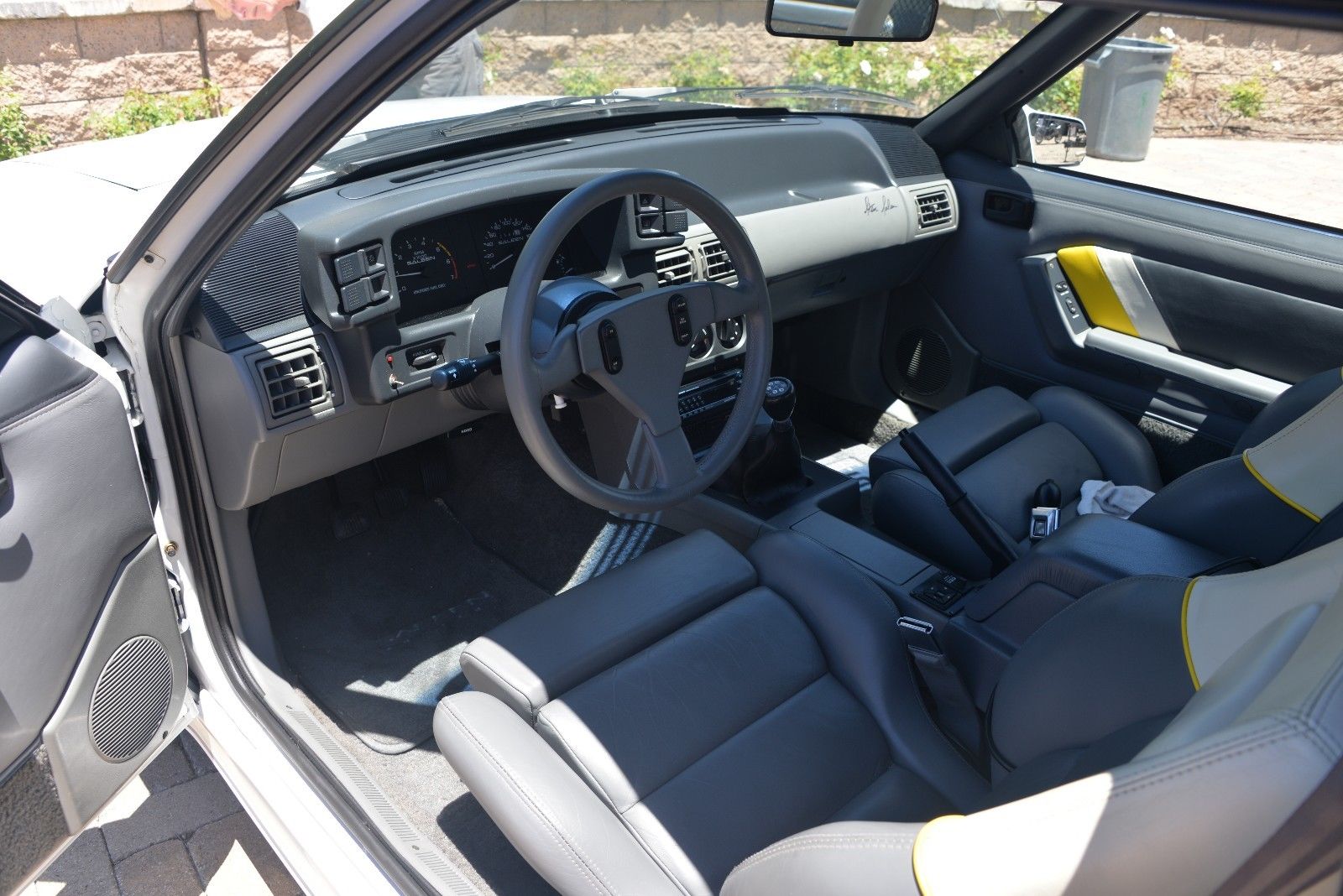 Backing the hot 5.0 is a precision shifting Borg Warner T-5 manual transmission with a heavy duty clutch. That T-5 appropriates power to the Auburn limited-slip differential packed with 3.55:1 gears. The chassis is always a strong point on these Saleen cars and this one is no exception. Saleen-specific Racecraft coil springs absorb bumps with the help of Monroe Formula GP electronic cockpit adjustable 3-position struts and shocks. The chassis is stiffened by strut tower braces and a four-point interior support. When it comes time to slow down, four-wheel SVO-type disc brakes get the job done efficiently. Being a modern car, power steering is naturally present. At the corners specially designed SSC wheels wear a white coating and a General ZP2000 Z-rated tires in sizes 225/50 and 245/50, respectively.It doesn't take much time inside #129 to realize this is no ordinary Mustang. The first major giveaway is the absence of a backseat and the addition of the four-point chassis brace. It's a pure race car look and fits the car's personality well. From the ground up, custom Saleen carpet covers that empty space behind the gray, yellow and white glove leather bucket seats. The seats are firm and supportive as performance-oriented seats should be. The leather treatment extends to the hand-tailored steering wheel, door panels and shift knobs. Instrumentation comes courtesy of Saleen-branded gauges including a tachometer and 200-mph speedometer. Though it may look aftermarket, that's a SSC-exclusive 120-watt Pioneer CD player with a 16-band equalizer sending power to a limited-edition rear sound enclosure. With its stripped down look and high quality pieces, this is arguable one of the coolest Saleen interiors ever produced.
One of the best parts of Saleen cars is their built-in pedigree. Like all true SSC's, this one carries its build number on the bumper with corresponding build plaques located on the passenger side of the firewall and on the console in front of the shifter. If you're unfamiliar with how Saleen operated, it's worth noting that they numbered their cars based on overall build numbers, not individual models. While Saleen only built 161 SSC's in 1989, they built 895 cars total. The #129 represent this cars place within those 895. For good measure, all numbers have been verified by Saleen.
Rarity and value generally go hand in hand but the combination sometimes makes for a dull ownership experience. Regardless if you drive it 5 miles or 25,000 miles, this Mustang offers the chance to enjoy a limited-production low-mileage car with the knowledge that it will continue to appreciate in value. No matter how you look at it, that's a win-win situation. If you've dreamed of owning an unmolested SSC, they don't get much better than this. Don't miss the opportunity to make #129 a permanent part of your collection!
Dan – 949.212.6240
Click here to participate in the discussion.