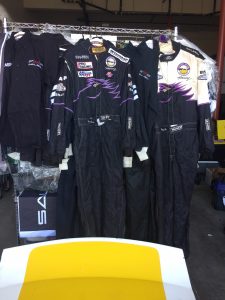 Our friend Marni Nagy (Johnson) is offering a rare collection of original gear from the Saleen/Allen Speedlab race team. Most items are from the 1995-2000 era of Saleen competition history.
Items include: Hoods, Doors, Drivers Suits, Crew Suits, Crew Shirts (new and used), Hats and MORE!!!
All artifacts will be offered through the eBay auction website. Each item will feature "Saleen Speedlab" in their description. Sales will begin September 7, 2018.
Through a special agreement, Steve Saleen agreed to autograph all auction items after sale. In addition, for a limited time there will be free California delivery to winning bidders attending the Annual Saleen Open House & Car Show in Corona.
To see these teriffic items visit: sun.burn on eBay.
Click here to participate in the discussion