Price: $72,888.00
VIN: 1FAFP45X03F453724
Vehicle Title: Clear
Year: 2003
Make: Ford
Model: Mustang
Body Type: Convertible
Number of Cylinders: 8
Engine: 4.6L 281cid V8
Fuel Type: Gasoline
Transmission: Manual 5 Speed
Exterior Color: Pearl White
Interior Color: Charcoal / White
Mileage: 1,013
For Sale By: Starwood Motors
eBay #: 171774873258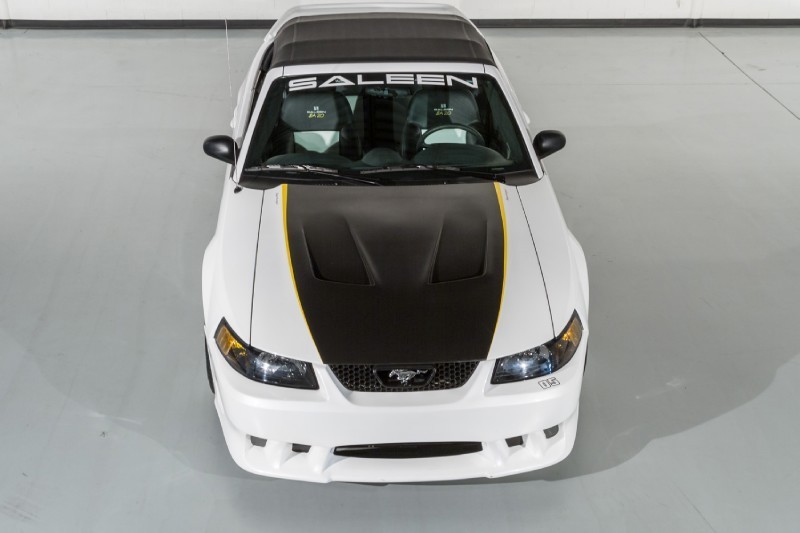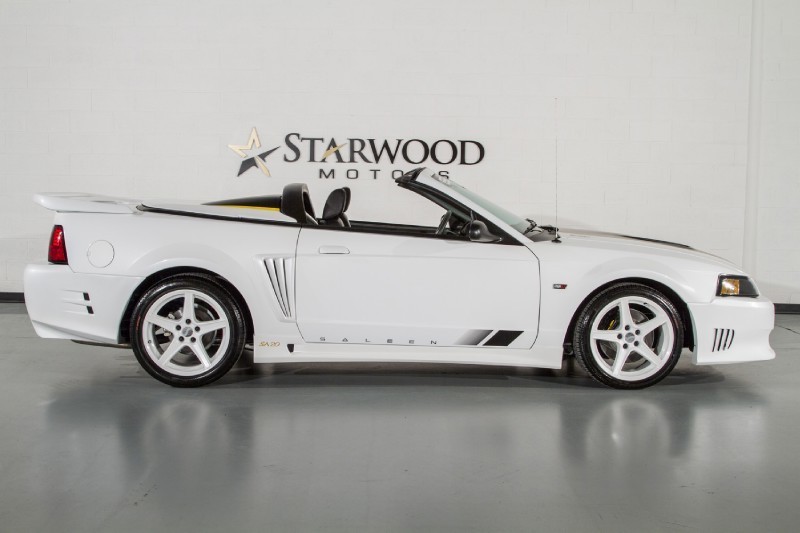 2003 Ford Mustang Convertible Saleen
The SA-20 Speedster, based on the Saleen S281, was available as a convertible only and is powered by a 375 HP, 4.6L V8 featuring a Saleen Series IV Screw Type Intercooled Supercharger and Saleen PowerflashTM performance calibration system. These limited-edition vehicles were factory-custom painted Pearl White with its Five Spoke 18" wheels painted to match. The SA-20 features Saleen's brand-new, never before seen 20th anniversary Tonneau cover with integrated light-bar design. In addition, the vehicle features 20th anniversary black and yellow graphics, Saleen's lightweight, vented, composite hood, S281 Extreme Wing and S281 Extreme Rear Fascia with center exhaust. The interior of the SA-20 features 20th anniversary special edition Saleen leather sport seating, console plaque, custom floor mats and custom door panels.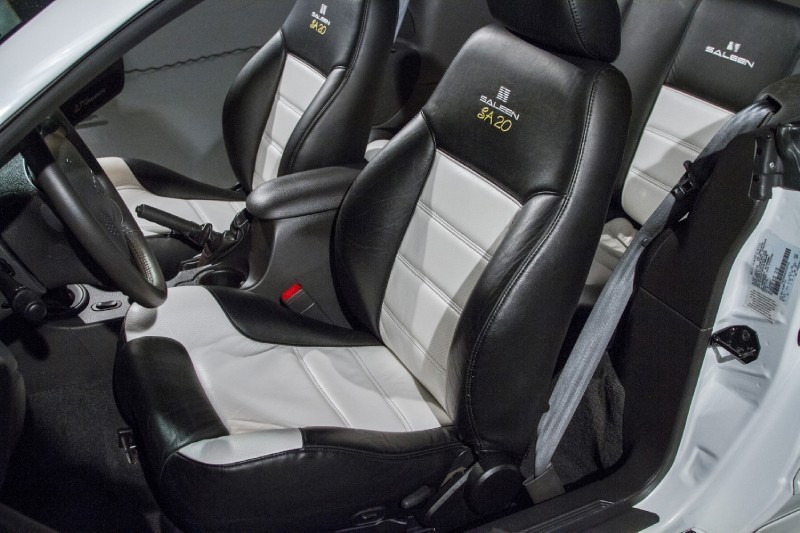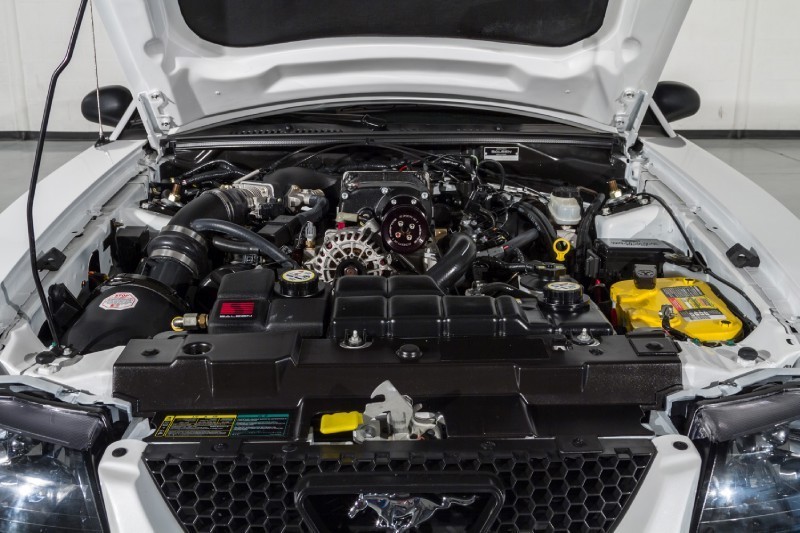 The Saleen SA-20 marks the third time Saleen celebrated one of its anniversaries with the release of a limited-edition vehicle. The company celebrated its 10th anniversary with the SA-10 and its 15th anniversary with the SA-15. As with the SA-20, each anniversary car was produced in limited quantities of ten. These cars are extremely rare and highly sought after. The most notable external difference on the SA-20's was the introduction of the new 20th Anniversary Tonneau Cover with an integrated light-bar design, S-281E Spoiler Wing, and center exhaust. And again, the SA-20 was introduced as a Speedster/Convertible only. This vehicle is number 05 of 10, Saleen Serial No. 03-0007
Standard Features and Specifications:
Saleen S281 4.6L 2V 375 HP Engine
Torque 415 ft lb
Saleen Series IV Screw Type Intercooled Supercharges
Saleen Powerflash Performance Calibration
Differential Gear Ratio 3.27:1
Five Speed Manual Transmission
Saleen Twin Gauge Pod, Boost and Air Temperature
Saleen Performance air filter
Saleen Performance Center Exhaust System
Saleen X-pipe
Air Management Design:
Saleen Urethane Front & Rear fascia, side skirts, side scoops
Saleen S281 rear Extreme Wing
Saleen "blacked-out" front grill treatment
Saleen Lightweight vented composite hood
Saleen 20th Anniversary Tonneau
Racecraft Suspension:
Saleen Variable Rate front and rear springs
Saleen front struts (N2) and upper strut bushings
Saleen rear shocks (N2)
Saleen front sway bar and pivot bushings
High performance Pirelli P7000 tires 255/35ZR18 (Front) 265/35ZR18 (Rear)
Saleen Five spoke Special 20th Anniversary Custom Painted pearl white 9″ wheels
Saleen Valve Stem Caps
Saleen high performance wheel alignment and tuned chassis
Styling and Interior:
Saleen 20th Anniversary Special leather sport seats
Saleen 200 MPH speedometer with white face gauges
Saleen performance driving pedals
Saleen close ratio shifter
Saleen 20th Anniversary Special S281 Graphics and Identification
Saleen Windshield graphic
Saleen Fender Badge
Saleen Serialized engine bay plaque
Saleen Serialized bumper number
Saleen Serialized 20th Anniversary console plaque
Saleen Championship wreaths
Saleen 20th Anniversary Special custom carpet door panels
Saleen 20th Anniversary Special custom floor mats
Saleen 20th Anniversary Special key fob
Saleen "Eagle One" detail kit
Saleen owners document portfolio
Color Combination:
Saleen Factory Paint: Pearl White
20th Anniversary Special black and yellow graphics
20th Anniversary Special custom painted Pearl White wheels
Performance Upgrade Options:
Saleen 13″ Brake System
Exterior Upgrades:
Wheel and Tire Upgrade with 18″ x 10″ Rear Wheels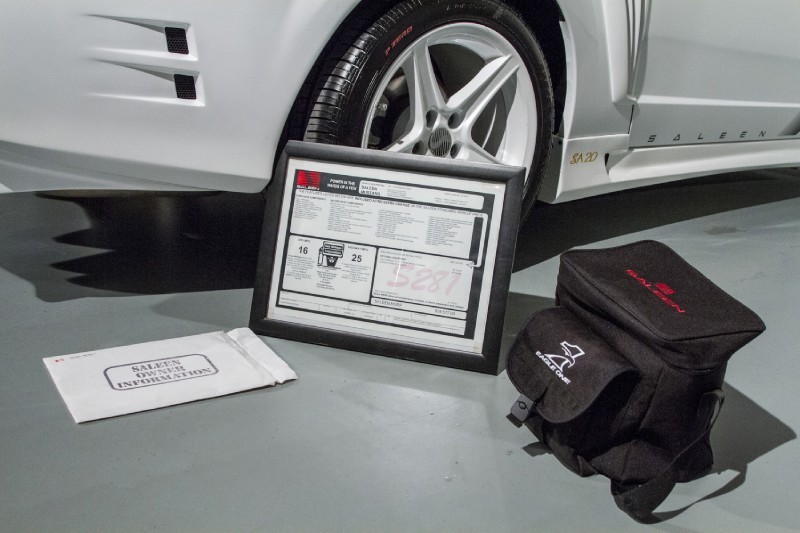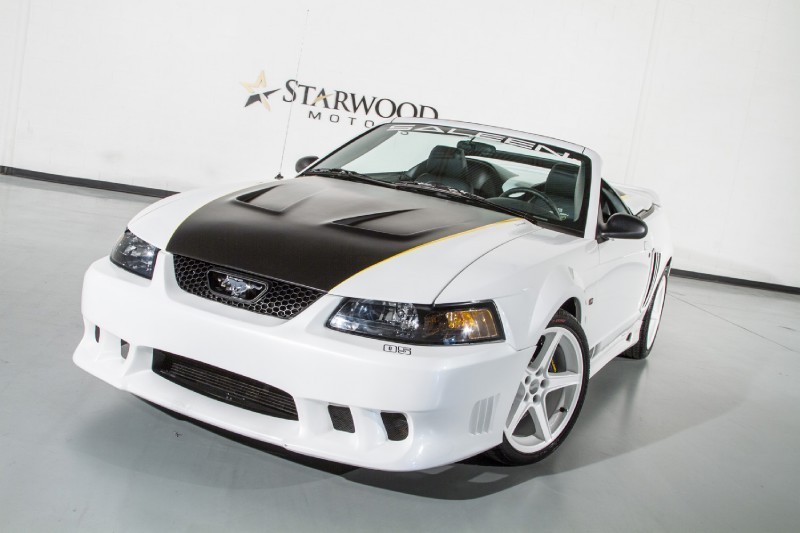 As always, we welcome third party inspections. We offer fast and easy finance and lease programs. Yes, we do take trade-ins. We offer free airport pick up or worldwide shipping. We offer a full line of extended warranties to protect your investment.
These vehicles are USED vehicles and are not new. Please expect a certain amount of wear, use, and flaws, as is standard on ANY used car. All used cars including this one may have dings, nicks, chips, scratches and any other marks that are associated with use consistent with age and mileage of the vehicle. Obviously, a car that is 10 years old will show more wear and have more flaws than one that is 2 years old. Despite this we at Starwood Motors pride ourselves on attempting to find the highest quality vehicles available. WE WILL ALWAYS MAKE AN EFFORT TO INFORM OUR CUSTOMERS OF ANY FLAWS WE MAY DISCOVER ON OUR VEHICLES, IF/WHEN WE BECOME AWARE OF THEM. We are always open to third party inspections on all our vehicles and would be happy to arrange for one at the customers expense. Since these vehicles are used, please remember that books, extra keys, remote entry keys, CD cartridges, etc…, do not always remain with vehicles throughout their life and we are not responsible for providing them unless otherwise represented or photographed by us.
BRIANNE FORREST
806.543.0089
EMAIL: BRI@STARWOODMOTORS.COM
Click here to participate in the discussion.