PHOTOS: Car Stereo Review | September/October 1991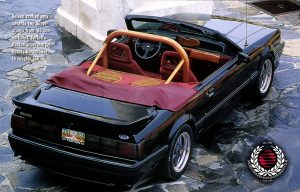 In the world of limited edition production automobiles; unusually equipped vehicles can exist through a myriad or reasons. Such as a deletion of options, a shortage of parts, or even a change in suppliers. Any scenario creating a variation of equipment from car to car. Abnormalities can also happen by way of unusual, non-standard exterior and trim colors by "special request" from the original order.
When we view Saleen Mustang production from 1984 through 1993; we see an allotment of standard issue exterior and interior colors with each model year as well as recommended color combinations for paint, decals and wheel finish. These recommendations for hues were generally accepted by most customers; though a few buyers went away from these Saleen color charts to create one-off vehicles without equal.
From what we know, Saleen produced nine Mustangs between 1984 through 1989 that featured a solid red interior. (For the sake of this story, we are ignoring the 1986-91 convertibles that were optioned with the red/white Ford leather option.)
When we examine these solid red interior cars, most were produced for the 1988 model year in the hatchback body style.
During the 1989 model year, Saleen Autosport produced 892 serialized Mustangs. Of these, 167 were convertibles. As of this writing 51 units are known to be painted black.
Of the 51 black convertibles:
*36 units had Smoke color interior
*11 units had Sand Beige interior
*3 units are believed to have white tu-tone color mixes of Ford leather
*1 unit had Scarlet Red interior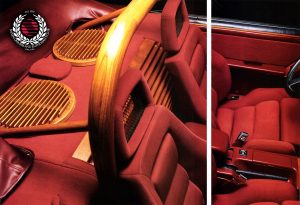 The lone 1989 convertible with solid Scarlett Red interior is serial number 89-0107. Produced during October 1988, this early '89 Saleen Mustang was equipped with grey ARE wheels with an exterior graphic delete. This Mustang was one of eight black convertibles for the model year to feature side graphic delete as well as one of 40 black convertibles to be equipped with a black roof.
One unique feature of 89-0107 is the Bittersweet Red painted side pin stripe applied by Ford. Typically these painted stripes, when applied during the aero era, matched the main interior color. Saleen Mustangs produced in 1984, 1985, 1988 through 1990 will tend to have these stripes most often. Exceptions being GT conversions, SSC and SC. -DB
Click here to participate in the discussion.