PHOTOS & TEXT EXCERPTS: GEORGE CHABAL
"Original owner with 10,000 miles, original paint and interior. 86-0068 was special ordered as a stripped down Mustang from Ford and drop shipped to Saleen Autosport for the Saleen conversion. Car was purchased to compete in SCCA Solo II."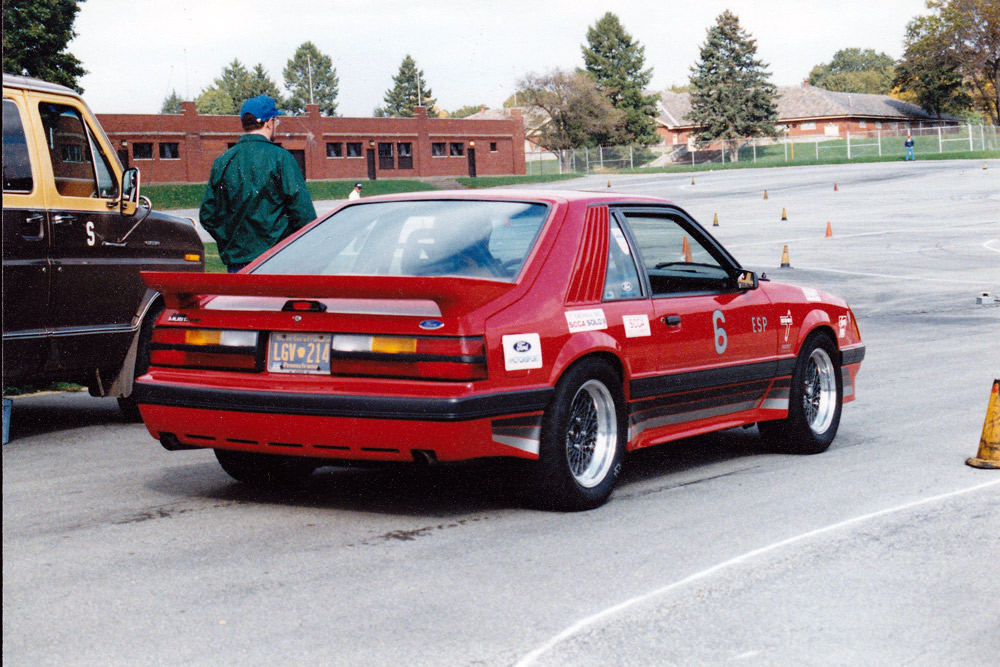 The '80s were a relaunch of factory-backed racing efforts from Ford Motor Company. Earlier in the decade, with the birth of Special Vehicle Operations, FMC became a global juggernaut in all forms of vehicle racing through their Ford Motorsport program lead by Michael Kranefuss. While Detroit was busy forming Goliath; a little-known Californian upstart run by Steve Saleen approached the Motorsport operation with his plan to remanufacture 5-Liter Mustangs into an uncompromised, signature series, street-legal, niche performance vehicle. With SVOs blessing, the Saleen Mustang concept became a welcomed addition to FMCs Motorsport agenda and their "Racing into the Future" marketing vision.
"Saleen had said this car was what they would have done if they were to sell a R-version to the public. At the time they were out of the Hurst shifters for the street cars, but since they knew I would be racing this one; Saleen took a backup shifter from their race team to install into 86-0068."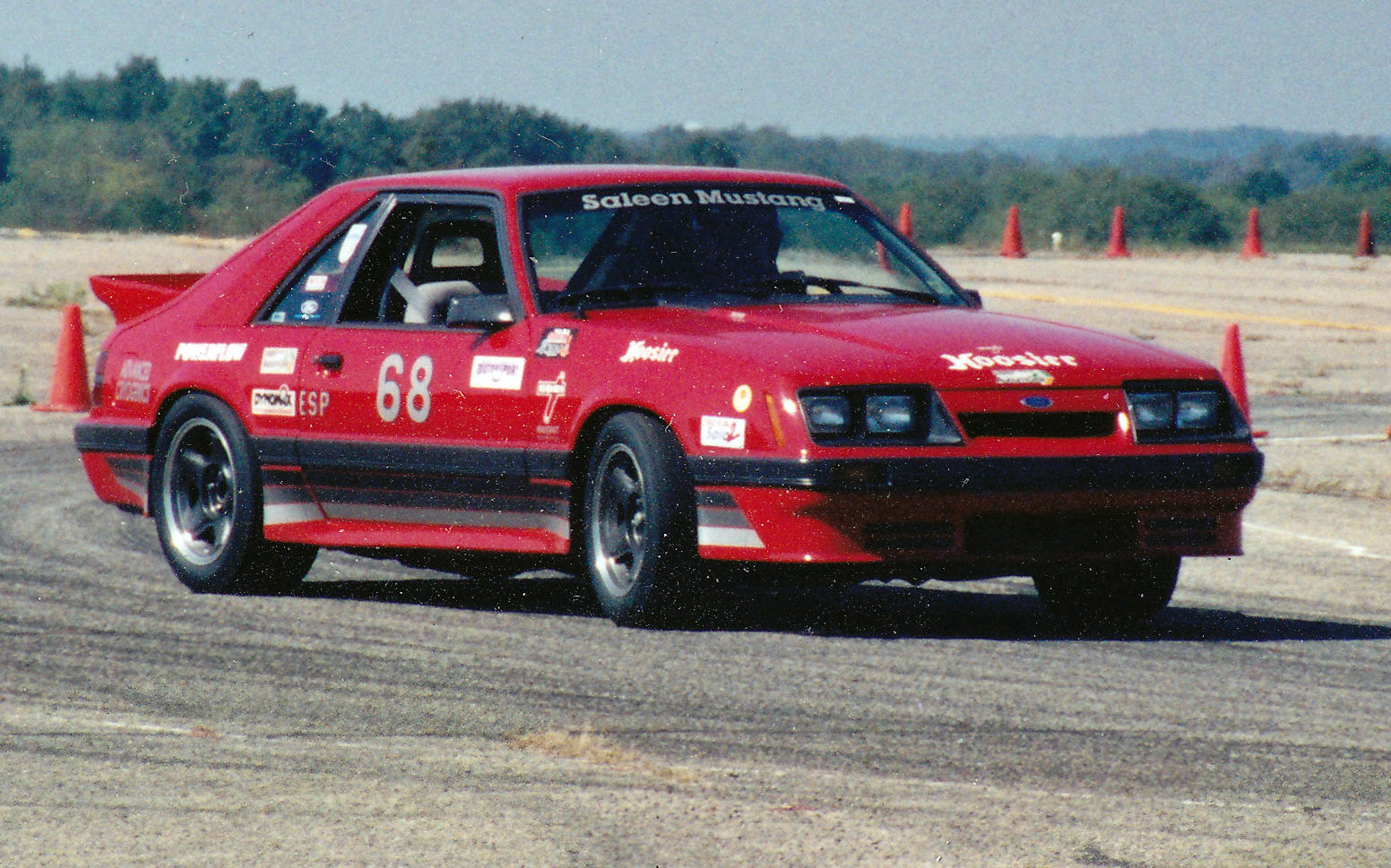 1986 was Saleen Autosport's debut year into SCCA road racing. Their '86 model year signature package was approved for SCCA Showroom Stock Endurance Series in class SS/GT. Saleen would compete with SCCA's entire calendar of events; winning the prestigious 24 Hours of Mosport race late in the season. While the factory racing team was busy scraping paint with Porsche and Corvette on a national stage, effort was also made to endorse Saleen Mustang sales to regional racers seeking a value added, sanction approved performance package, for their dreams of clinching the checkered flag. Through Saleen Autosport's grassroots support program; experienced racers could special order a new vehicle and qualify for competition incentives throughout their competition season.
"86-0068 was the first Saleen Mustang shipped to Pennsylvania. After I took delivery Steve Saleen called me and asked if I was willing to take my car to New York for a Koni advertising photo shoot. I mentioned to Steve I had to make sure could take time away from work. When I called back the following day Saleen had made other arrangements because of their short lead time."
George Chabal, of western Pennsylvania, was one of Saleen Autosport's earliest competition customers. With an eye on the SCCA Solo II Series, George contacted Steve Saleen on how best to order a new Mustang for club racing. With Steve's assistance they ordered a Bright Red 5-Liter LX hatchback with tinted glass, light group, power lock group and Ford radio delete. Other equipment would include Saleen's standard Kenwood sound system, Ford Mustang GT seating and Hurst short-throw shifter; George would arrive to PA SCCA events in style.
86-0068 SCCA SOLO RECORDS
DRIVER: GEORGE CHABAL
I. Regional
A. Class Champion 1987-2001 ESP, 1999 Driver of the Year; Steel Cities Region SCCA
B. Year End Points Champion North Hills Sports Car Club
1. Most number of total & consecutive starts for Driver since 1958
• 1984, 1987-1990, 1993-1994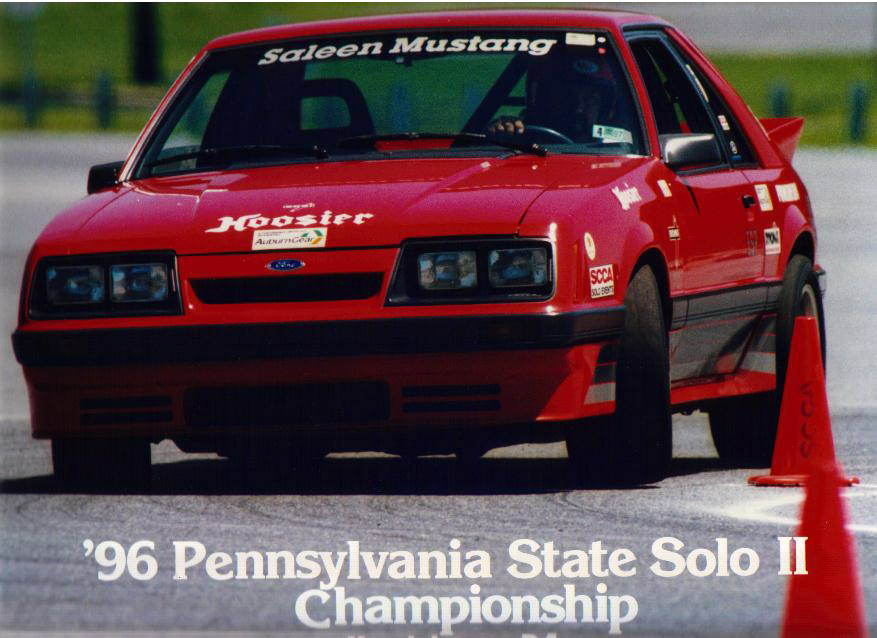 II. SCCA NEDIV Divisional
A. 2nd, Best Finish
B. 1st, 1995
III. SCCA CENDIV Divisional
A. 1st, 1998
IV. SCCA National Tours
A. Evansville, IN 1993: 3rd
B. Norfolk, VA, 1994: 2nd
C. Evansville, IN, 1994: 3rd
D. Pittsburgh, PA, 1996: 1st
V. PA State Championships
A. 1st, 1992
B. 2nd, 1993
C. 2nd, 1994
D. 1st, 1995
VI. SCCA SOLO II Nationals, Salina, KS
A. Middle of group, 1990-1992,1994
B. 8th 1996
C. 7th 1997
CO-DRIVER: LADIES CLASS
I. Regional
A. Class Champion 1983-1997 ESPL, Steel Cities Region SCCA
B. 2nd year end points North Hills Sports Car Club 1995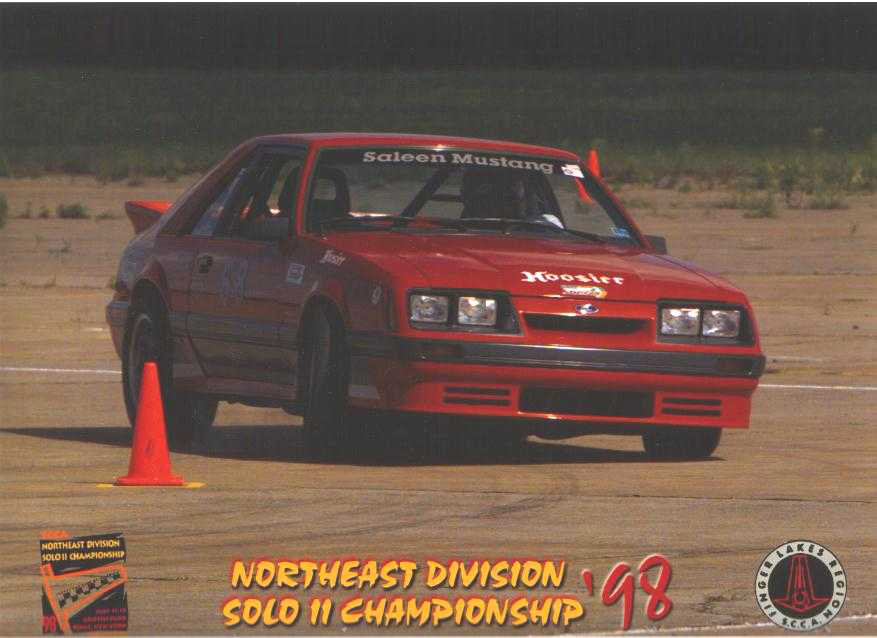 II. SCCA NEDIV Divisional
A. 1st 1983-1986, 1991-1997
B. 2nd 1987-1990, 1999
III. SCCA National Tour
A. Evansville, IN: 2nd 1993
B. Evansville, IN: 1st 1994
C. Norfolk, VA: 1st 1994
IV. PA State Championships
A. 1st 1992-1995
B. 2nd 1999
V. SCCA SOLO II Nationals, Salina, KS
A. 4th 1989
B. 3rd 1991
C. 2nd 1992
D. 3rd 1994
E. 5th 1995 (Topeka)
F. 2nd 1996
G. 1st 1997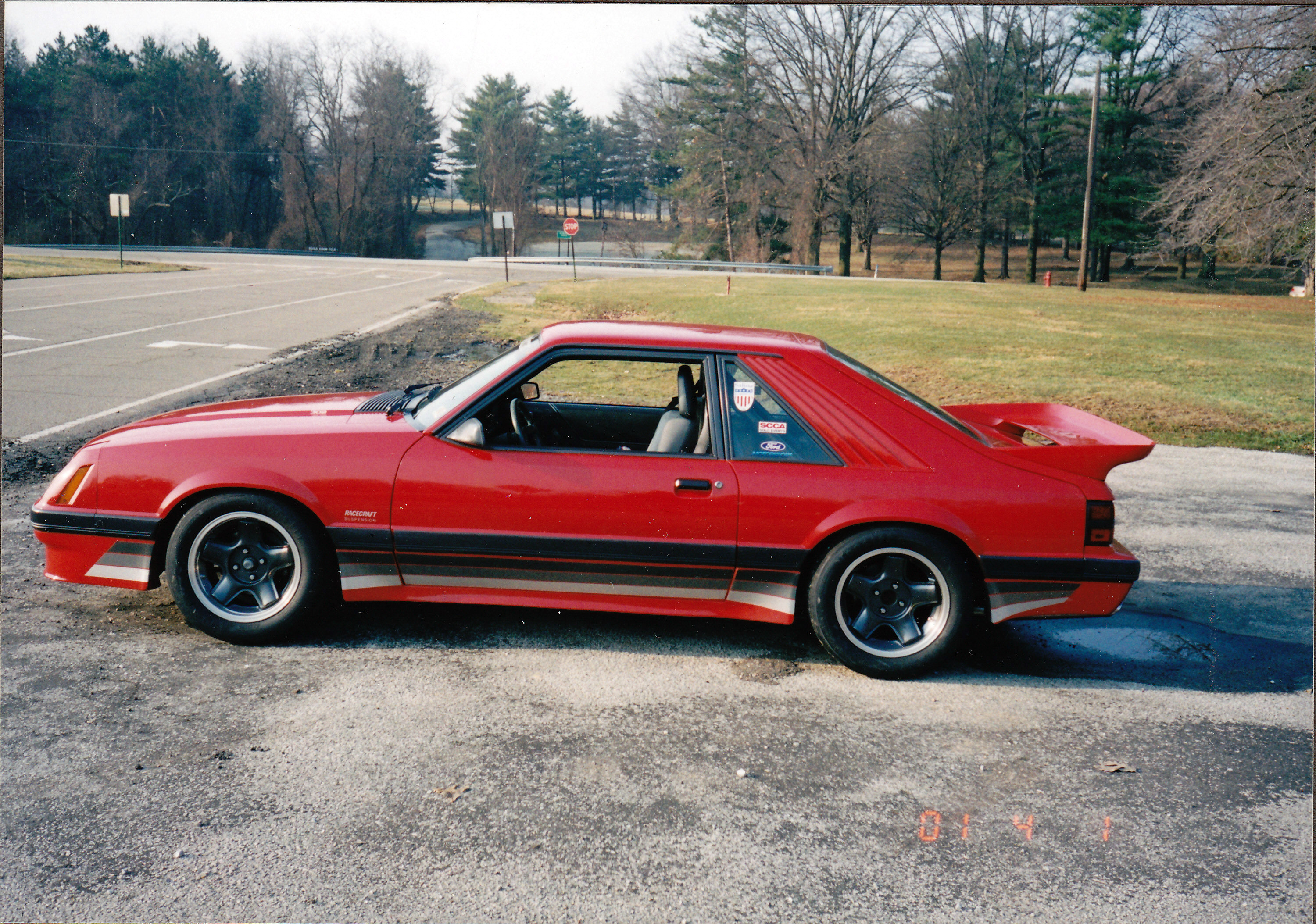 Produced by Saleen Autosport using their facility at Burch Ford in La Habra California and shipped to Bures Ford in early May; 86-0068 was an unusual Saleen Mustang conversion given the lack of air conditioning, power windows and featuring a light grey Momo steering wheel.
For the 1986 model year Saleen produced 201 serialized Mustangs, 198 were street models with three competition prepared vehicles. The body style breakdown of those street models are, 187 hatchbacks and 11 convertibles.
Of the 187 street prepared hatchbacks, it is known that 47 were painted Bright Red (paint code 2R). Of those, 44 featured Charcoal interiors. All 44 were equipped with 5-speed manual transmissions, while 43 were built from the LX 5-Liter platform.
Closer examination of these 44 Bright Red with Charcoal interior conversions reveal, 35 were equipped with Saleen's Kenwood Stereo. Of the 187 street prepared hatchbacks 86-0068 is one of three with delete features and one of three known with a light grey Momo steering wheel.
Click here to participate in the discussion.
[Source: George Chabal]