SALEEN RAISES THE BAR AGAIN FOR 2018 WITH THEIR 700HP SPORTRUCK
AND ADVANCED PERFORMANCE MUSTANG LINE UP
Aggressive exterior redesign and advanced performance specs highlight changes to all-new
Saleen Signature models
CORONA, CA – October 2, 2017 – Saleen Automotive, highly respected for innovative high performance vehicles of all kinds, returns to the truck market with the announcement of their new 2018 Sportruck. Available beginning in November 2017, the truck will again be based on the popular Ford F150 platform. Power will be offered in four levels including enhanced Eco-boost turbocharged 2.7 and 3.6-liter engines as well as naturally aspirated and supercharged versions of 5.0-liter V8, the top level achieving a whopping 700HP.
"We are excited to have returned to our heritage with a high performance Saleen Sportruck that fits perfectly within our program for a full line of high performance vehicles carrying the Saleen brand," said Steve Saleen, CEO of Saleen Automotive. "Our truck heritage includes many race wins in our Ranger-version of the Saleen Sportruck followed by the extremely popular Saleen S331 Sportrucks. Ford chose to use Saleen Superchargers on the Harley Davidson F150 editions, which were installed at the Saleen factory in Troy, Michigan. The time is right that we return to the market with a product that feeds an audience of hungry Saleen truck enthusiasts."
The Saleen Sportruck will be instantly recognizable as a Saleen-exclusive offering. The new bodywork includes a functional air dam, front brake ducting, racing inspired grille and hood with center sculpting. The rear of the truck will feature Saleen nameplate trim in the center of the tailgate and large rear exhaust tips that tuck neatly into the lower rear valance for a race inspired look. Racecraft suspension, Saleen signature interior appointments and big brakes are standard. The trucks will be equipped with side skirts and Saleen-exclusive alloy wheels wrapped with high performance General Tires.
All New Signature Saleen Mustangs Now Available
The much-heralded release of the 2018 Ford Mustang has set the stage for an even more exciting debut – three new 2018 Saleen Mustangs. Best of all, for those customers who are on the fence with regards to the new Ford's "freshened" design changes, rest assured, the new Saleen will wrap its high performance abilities with an exterior that delivers an aggressive performance look that enthusiasts will certainly embrace.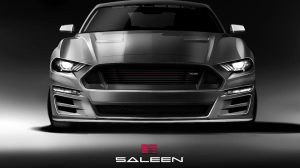 The 2018 Saleen Mustang line up builds upon its three previously available performance levels; the White, Yellow and Black Label models. Each will sport a very aggressive, Saleen-exclusive front fascia that includes functional ducting throughout, angled headlight pockets and all-purpose grille and hood that are a dramatic change. Complemented with high performance wheels, race-bred General Tires, advanced suspension components and more horsepower, the new Saleen Mustangs are an amazing value that anyone considering a muscle car purchase should put on their short list.
"Expanding upon our tradition of delivering truly unique performance models that offer something special for discerning performance enthusiasts, the 2018 Saleen 302 is our best looking and performing car yet," said Steve Saleen, CEO of Saleen Automotive. "Our signature line of Saleen 302s sets the bar for vehicles that are not only great looking and deliver premium performance but also maintain an affordable price level so that any enthusiast vehicle buyer can find a car that fits their need. Our White, Yellow and Black label cars feature power and handling along with unique interior styling."
Saleen is currently taking orders for the all-new 2018 Saleen Signature Series Mustangs and Sportrucks with delivery slated for the end of 2017. Interested parties can call (800) 888-8945 and ask for the sales team!
About Saleen® Automotive, Inc.
Saleen® is an American specialty manufacturer of high-performance vehicles, technical performance parts, lifestyle accessories, and apparel. Founder Steve Saleen has continually set the bar for automotive design and performance engineering in both street and racing applications. Saleen® plans to utilize its existing strategic partnerships and dealer network to refine its design and engineering prowess, continue development of emerging automotive technologies, and expand its presence nationwide with a combination of automotive retail services, aftermarket parts and new vehicle sales to build significant long-term value. Learn more at www.saleen.com.
CONTACT INFORMATION
Media contact:
pr@saleen.com
Saleen Automotive, Inc.
2735 Wardlow Road
Corona, CA 92882
714.400.2121
Click here to participate in the discussion.
[Source: Saleen Automotive]