PHOTOS: ANGEL MUNIZ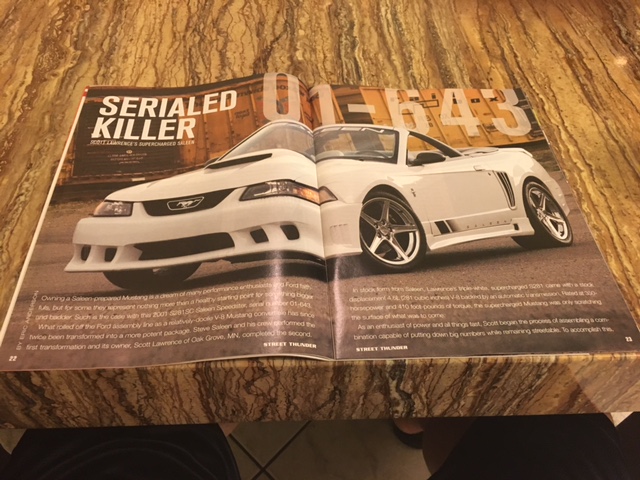 Angel Muniz of New York is a lifelong "Saleen Freak." Having owned two previous S281 "New Edge" coupes, Angel recently upgraded to a modified Supercharged Speedster. As a child, Angel loved reading car magazines, wishing he could one day own a vehicle worthy of a centerfold feature. For the past year Angel was on the lookout for a "special" Saleen Mustang and found 01-0643, an S281 Supercharged Speedster with a rare optional Ford white leather interior and white top. Angel's surprise bonus to this find was the history of 01-0643 being a former Street Thunder magazine and calendar car.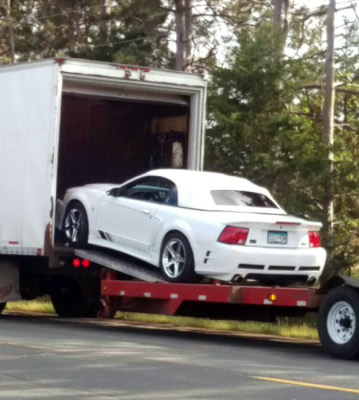 Produced during May 2001 and shipped to American Ford, 01-0643 contained the following Saleen equipment: Tire Upgrade, 10″ rear wheels, painted door panels, floor mats, 13″ front brakes, chrome wheels, tonneau bag and stripe delete.
From model year 1999 through 2002, Saleen Performance produced 12 Mustangs with optional Ford white leather seating. For 2001, Saleen converted five white seat cars. Of those, four were painted Oxford White and two were equipped with the optional automatic transmission.
Aftermarket modifications include the following:
Engine:
• Rebuilt original supercharged long block
• Bored .20 over to 284c.i.
• New Cobra crankshaft
• Cobra oil pump / pick up tube
• Diamond +20 – 19cc ceramic coated forged pistons / Diamond rings
• Manley H beam rods w/ ARP 2000 bolts
• Fed Mogul Main bearings
• Fed Mogul Rod bearings
• ARP main studs #ARP156-4101
• Comp Cams XE270AH
• Manley valve springs
• Valve job and new valve seals
• Engine was washed, bored, honed, balanced and assembled by Modular Performance
• Built to handle well over 1000hp!
Transmission:
• ProMotion built Tremec 3650
• New bearings, synchros, seals, small parts kit, fork pads
• Ford TSB + beefy forks
• 68% overdrive
• Built to ProMotion Performance race spec and precision shim to handle 1000hp
Additional:
• Chicane RIPP cold-air intake
• Accufab polished 75mm throttle body
• Upgraded intercooler pump
• BBK ceramic coated Long tube headers
• BBK X pipe
• NX Nitrous wet kit retrofitted to run alcohol through "fuel solenoid"
• Snow Performance methanol kit (used only with nitrous)
• Innovate air/ fuel gauge
• MGW shift handle/ Saleen carbon fiber shift knob
• Saleen EXTREME heat extractor composite hood
Congratulations to Angel on his new purchase!
Click here to participate in the discussion.
[Source: Angel Muniz]