By: BOSSHORSEPOWER.COM on September 26, 2013
Original Article: BOSSHORSEPOWER.COM
Here is a shining example of a Fox Body car from our BOSSHORSEPOWER.COM classic Ford Mustang Muscle Cars Collection.
Take your time and view this example of a timeless vehicle that makes you feel "Born to be Wild". Feel free to email us at INFO@BOSSHORSEPOWER.COM for additional pictures or questions about this car. Life is a journey, so enjoy what you drive!
1993 MUSTANG GX 01. Fox Body fans pay attention here! This is an all original dealer prepared car. Built by John Bleakley Ford in Lithia Springs Georgia and completely prepared to be a Saleen killer. This is number one of four uniquely serialized 1993 Mustang GX cars built before Ford asked them to cease production.
I went into the dealership and drove one of the new 1993 Cobra Mustangs and was left with a feeling of disappointment over all of the hype. The Cobra Mustang felt very under-powered and gave me no inspiration for the purchase. The salesman then talked me into a test drive of their GX beast and I had to have it. Feels like the power of an old school big block drag car!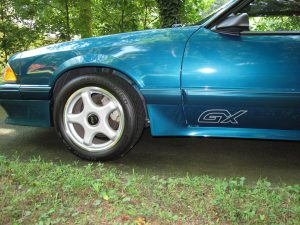 This Mustang GX model is adorned in a rare and unique reef blue color that was a special order option and was assigned with Ford limited edition serialization. It has a host of Ford SVO Motorsport off road racing components such as K302 big valve aluminum high flow and o-ringed heads, B303 roller cam, SVO roller rockers, SVO HD pushrods, GT40 intake, 30 pound injectors, 190 lph fuel pump, SVO 65mm throttle body, Pro-M 77mm mass airflow meter, heavy duty radiator, engine oil cooler, long tube headers, and Paxton supercharger with fluid cooler.
A full competition suspension upgrade that includes Racecraft Saleen edition springs, Racecraft subframe connectors, Racecraft upper and lower chassis braces, Racecraft interior roll cage, Koni gas adjust shocks, struts,and horizontal dampers. Hurst short throw shifter, Motorsports Cobra clutch, Motorsport aluminum driveshaft, Global West Traclink and tubular lower control arms, 3:55 Traction Loc differential, and SVO Motorsports 4 wheel disc brakes round out the handling and help plant the power.
Saleen Autosports aerodynamic body kit including competition design wing, front air dam, rear valence, side skirts, and NASA air induction hood provide the race inspired looks.
All of these modifications were done by the dealer and sold through Ford Financing as a new car with factory warranties. Over $10k in upgrades were added to the original sticker price of the car before final delivery. Has well over 450 horses and handling to boot. The 1993 Mustang GX, what a ride! This car is in show room new condition and has only 8k original miles, all original paperwork, widow sticker, and one original owner.
​Never raced or abused. $65,000.00
Click here to participate in the discussion.
[Source: BossHorsepower.com]