Auburn Fall Auction – August 27-31, 2014
2011 Ford Saleen Brenspeed S302 Mustang
Ford VIN: 1ZVBP8CF7B5130864
Saleen ID: 11-0001-DR
To be offered on Saturday, August 30, 2014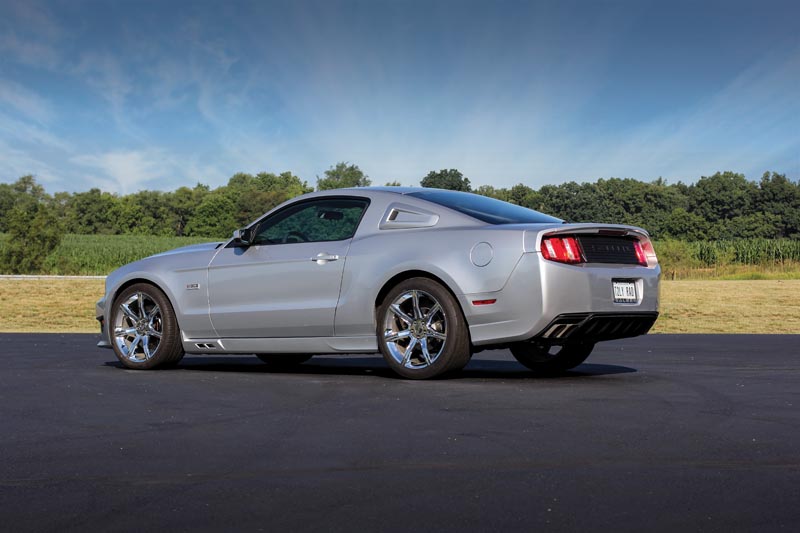 Estimate : $65,000 – $85,000
Saleen Mustang #DR1 –The Prototype, Only 4,500 Miles from New, Supercharged V-8 Engine with 650+ Horsepower, Charity Car with Proceeds Being Donated by Brenspeed to the Next Gen Education Program
Supercharged 302 TI-VCT V-8 (Forged), 650+ HP, stainless steel headers and exhaust, upgraded axles and differentials, six-speed automatic transmission, four-wheel disc brakes; wheelbase: 107.1"
The original Ford Mustang debuted on April 17, 1964. Ford originally expected 100,000 units a year to sell, as it was deemed a revolution in design and appearance. Ford was inundated with interest, as well as orders, for these benchmark cars, and by the end of first day they had already taken 22,000 orders! An astounding 417,000 units were produced in the first year alone, and exceeded one million units by the end of the second year.
Ford had created a modern day monster, and being offered in many guises from coupes to fastbacks and also convertibles. Ford's stance on the Mustang was to also create a pedigree, something the spirited drivers amongst us would enjoy. So, to air their opinion, they campaigned the Mustang as the Official Pace Car at Indianapolis in 1964; the crowds loved it.
For some, though, the Factory Stock cars were still not special enough and a gap in the market led to specialized tuning companies plowing the way forward with special builds to give a "Track Experience" through a driving set up that could also haul the groceries home as well. Many bespoke tuning companies have been conceived over the years but one name stands out in these modern times – "Saleen".
The car you see before you is very special indeed. The serialized 2011 Saleen Drag Racer #1 was built by Saleen & Brenspeed for marketing purposes. It was to show the capability of the Saleen Mustang with upgrade options much beyond the standard Saleen Mustang typically available, yet it carries a Saleen tagged serial number.
This car should be a Saleen collectors dream. If you want something rare, this is it. Brenspeed has been initiating Saleen's mechanical upgrades for a number of years now and has made a name for themselves in the marketplace as one of the leading tuning companies. Many have tried to create fast and competitive Mustangs over the years but their attention to detail, research, and development, has led them to create some of the most well known and prolific Mustangs in the world today.
With a Forged Supercharged 302 TI-VCT with steel crank and upgraded rods and pistons, the motor got the best of everything. The car's concept was to push the boundaries but yet maintain reliability, which was not always associated with higher horsepower cars. Brenspeed installed a 2.4 litre Twin-Screw supercharger to obtain the power required for the project, this Supercharger was only ever fitted to two Saleens and never went into production as its cost was deemed too expensive by its peers, thus creating a true "Prototype" Mustang. When Shelby was only using a 1.9 litre unit on their cars, you can understand how much more powerful #DR1 really is.
The brakes were upgraded as well as the exhaust system. Axles and gearing were also modified to take the extra power. In fact, no stone was left unturned with this very special car. As with most cars of this racing pedigree, the cabin area is not set for comfort, but this car received bespoke Carbon Fiber Buckets wrapped in leather and, with its exterior finished in Ingot Silver Metallic wearing its 20 Saleen Alloy wheels, we are sure you'll agree this is one handsome vehicle.
This is a truly special car, a prototype, a Sunday car for cruising and an animal at the race track if the mood takes you. It has covered a mere 4,500 miles since its completion and has been housed in the main foyer of Brenspeed's Indiana Headquarters. Offered without reserve, with Brenspeed donating the proceeds to the Next Gen Education Program, this car will undoubtedly be the charitable highlight of the evening.
Click here to participate in the discussion.