Techco International was launched in 2008 as an engineering services and performance parts entity. Based in Anaheim, CA Techco was staffed with a collection of former Saleen Inc personnel from the previous company's 25 years of existence. As per agreement, Techco was to supply engine, suspension and appearance items for serialized vehicles produced by SMS Limited (Steve Saleen's SMS Supercars) while selling performance parts and services direct to customers under this new Techco brand.
For a brief period of time, Techco International was a full-service speed shop offering many items originally engineered for S197 Saleen Mustangs as well as improved versions of similar OE Saleen items.
Now lets take a look at 05-0683 S281 Supercharged, a 2005 Saleen that went through the Techco finishing school of high performance bliss.
Enjoy!
DB
As purchased highlights include:
* TECHCO 100mm Cold Air Kit
* TECHCO Ported GT Throttle Body
* TECHCO Ported Saleen Supercharger Manifold
* TECHCO CNC Ported Extreme FLOW Cylinder Heads
* TECHCO High Performance Camshafts
* TECHCO 5.0L Cylinder Block Bore and Hone with Torque Plates
* TECHCO 5.0L Forged Rotating Assembly (Pistons/Rods/Crank/Bearings)
* JBA Shorty Headers
* JBA High Flow Cats
* 60LBS Fuel Injectors
* Saleen Watts Link
* Trutrac Diff
* QA1 Rear Adjustable Shocks
* Meizer Electric Water Pump
* Baer 13″ Rear Slotted Brakes
* Saleen Upgraded Heat Exchanger with upgraded pump
* Chicane Strut Tower Brace
* T56 Magnum XL 6 Speed Transmission
* Dynotech AL Driveshaft
* ACT Twin Disc Clutch and Lightened Billet Steel Flywheel
* Progress LCA
* CHE LCA Relocation Brackets
Results of dyno run from June 2013:
Went to the dyno today and have some updated numbers with proper SAE correction factor. Pretty pleased overall. I got third place with 561HP. A fox body race car made 673HP and there was a 1990 300ZX that put over 730HP down. Lots of other nice cars…2013 Viper (529HP) and a 911 (476HP).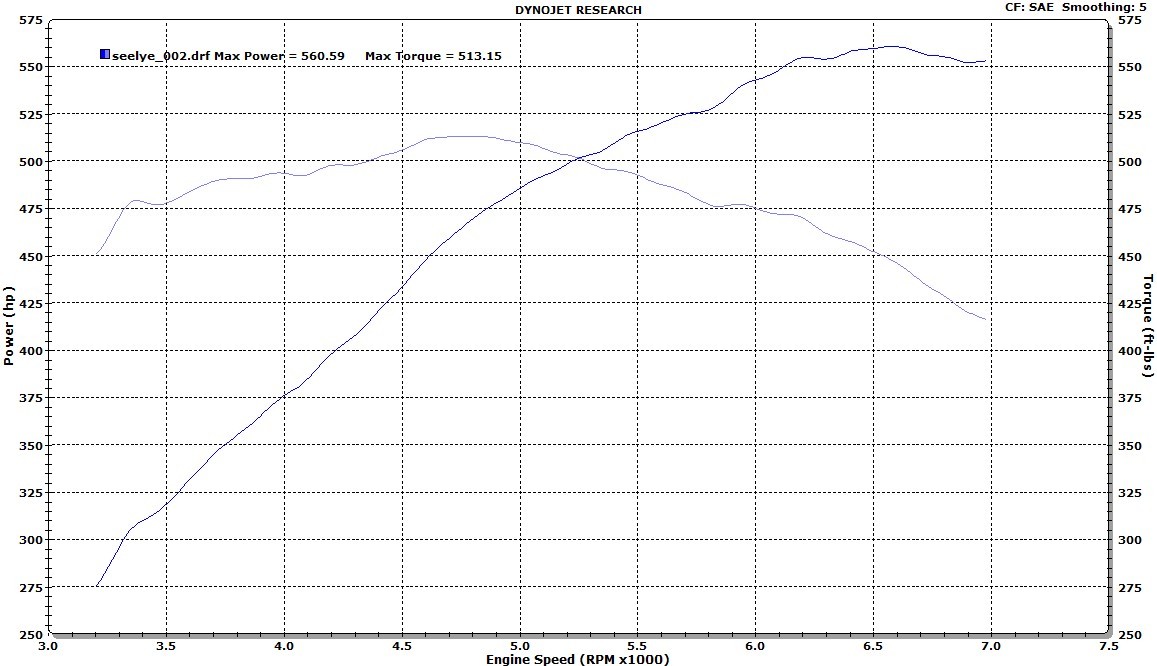 Updates as of April 2014 include:
* CSF Radiator
* Upgraded to 2007+ cooling lines and crossover
* 170 deg thermostat
* Pioneer AVH-4000NEX Stereo (I can control volume, seek, source, and launch Siri right from my GT500 steering wheel)
* Ambient Lighting center console
* 65mm FRPP throttle body
* Cortex Watts Link
* Griggs Coilovers
* Welded and painted axle tubes
* Moser axles
* WMS Stealth Hood Pins
* Replaced exterior badges and horn badge
* Added factory weather strip to rear of hood where it meets cowl (allows you to get cold air from outside into the passenger compartment instead of sucking in hot engine air)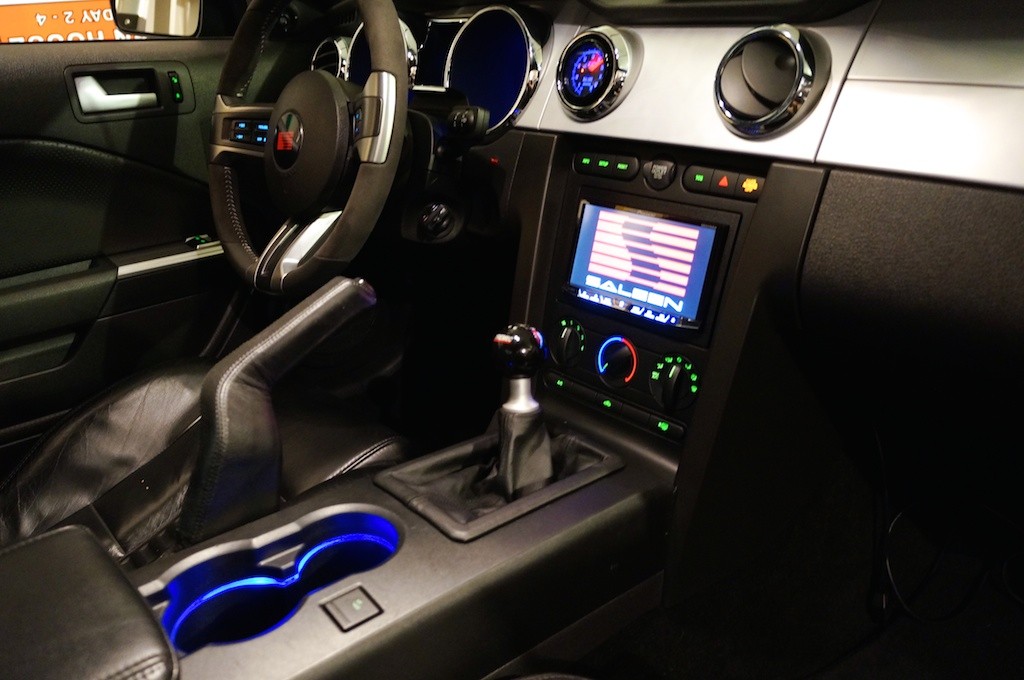 Results of dyno run from May 2014:
Went to a local car show today and they had a mobile dyno so I figured I would give it a shot since I added the throttle body and improved (but not eliminated) my belt slip. I was very happy with the results. 608 SAE Corrected HP at the wheels. Uncorrected it was 620RWHP. This was all on my street, 93 octane tune. Probably get 10 more HP with the 100 octane tune. Also saw Seethrough there with his sweet Barricade replica. Awesome car and workmanship!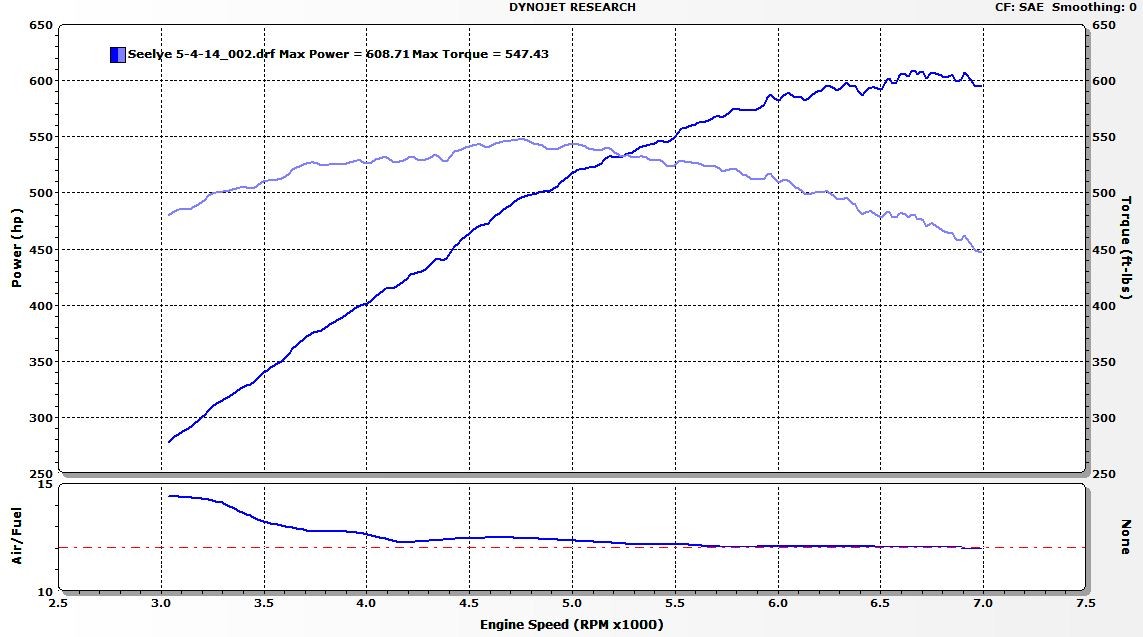 Click here to participate in the discussion.