Price: $32,500.00
VIN: 1FALP42T1SF254720
Vehicle Title: Clear
Year: 1995
Make: Ford
Model: Mustang
Sub Model: Saleen S351
Body Type: Coupe
Number of Cylinders: 8
Engine: 5.8L 351 Cu. In. V8 Naturally Aspirated
Fuel Type: Gasoline
Transmission: Manual
Exterior Color: Rio Red
Interior Color: Black
Mileage: 26,500
For Sale By: Private Seller
eBay #: 133020019436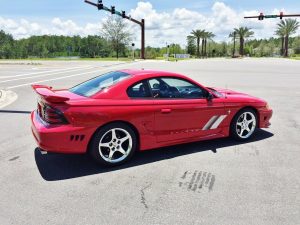 If you are looking at this auction, then you know what you have just found …. If you don't, you are looking at 1 of 89 Saleen S351 coupe's produced in 1995. There were a total of 139 units produced in 1995, this is one of those …. This is Saleen Serial #95-0075 …. Please see all pictures ….
*** There are no issues with the mileage of the vehicle. There was an error made at the DMV back in 1998 when the mileage was recorded. As you can see in the AutoCheck report, the mileage is noted correctly and sequentially and I have the registration document from the previous owner when he purchased the vehicle in 2002 showing the correct mileage of 12,177 noted in the report. ***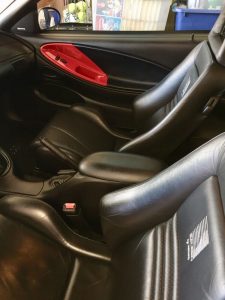 Everything works; A/C, cruise control, wipers, washer, power windows, power door locks, radio and CD player, power trunk release, etc. …. Vehicle comes with three factory Ford keys as well as two remote key fobs ….. Just get in, fire up that 371 hp 351, put it in gear and go!
The vehicle turns heads wherever it goes and it always takes me just a little bit longer to leave the gas station due to curious on lookers wanting to talk about the car….
Vehicle has been owned by adult Saleen enthusiast owners and they can all be traced back to the original owner. The vehicle is well known in the Saleen community, as are the owners (as I mentioned)…..I will include all parts that were replaced due to age as well as parts that were replaced due to upgrades that I think make the car stand out, e.g. Cobra style head lights, which change the front look of the vehicle …. I will also include a myriad of receipts of the work that has been performed by me and previous owners.
Also included in the sale are parts that are brand new and have never been installed…..I will also include trophies that the vehicle has won at various area car shows…..Vehicle has been signed by Steve Saleen in the engine compartment as well as on the dash, along with the company trademark line "Power in the hands of a few" that can be found on the Monroney as well…..In addition, the vehicle has been signed by Steve Saleen's long time in house vehicle designer, Phil Frank.
Vehicle is equipped with and comes with the following:
1) 351 cubic inch, 371 bhp (5.8L) naturally aspirated V8 engine.
2) Tremec 3550 5-speed transmission with Pro-5.0 short-throw shifter.
3) Saleen shorty headers.
4) Saleen 13″ rotors and Saleen/Alcon 4 piston calipers.
5) Racecraft suspension components.
6) Complete Bilstein struts, shocks, quad-shocks.
7) Saleen aluminum differential cover.
8) Kaenan Saleen style heat extractor hood.
9) 18″ x 8.5″ and 18″ x 10″ chrome Italian Saleen Speedline wheels.
10) Extra set of gray Saleen/USA LeMans 18″ x 8.5″ wheels.
11) Saleen/Recaro full leather front/rear seats.
12) 3.73 rear gear ratio.
13) Correct speedo gear for 3.73 gear ratio.
14) Saleen S351 front/rear floor mats.
15) Brand new unused S351 front/rear floor mats.
16) Brand new unworn Saleen Owners jacket (M).
17) MOMO correct leather shift knob.
18) Maximum Motorsports caster/camber plates.
19) Battery Tender battery charger.
20) Custom NOAH car cover.
21) Borla exhaust with correct "machine gun" tailpipes and chrome tips.
22) Original Monroney and add a tag (window sticker) from 1995.
23) Newer style Monroney that Saleen graciously made custom for me.
24) Saleen serialization engine bay plaque, dash plaque and bumper number.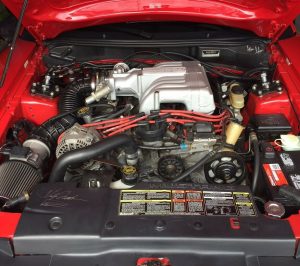 There are a couple of windshield chips, I took a picture of the one that has a "star"….. There are a couple of small rock chips here and there but they don't photograph well as they have been touched up with correct Ford E8 paint ….. The car is in fantastic shape for a 24 year old vehicle and that is a testament to the owners, (including myself), that have all taken excellent care of this rare beast.
The only reason for selling is that I am trying to purchase a different year Saleen and need to sell this one to make room, that's it …. If I could keep it, I would.
Stand out at your next car show or cruise in ….. I would venture to say that there will most likely not be very many Saleen's and much less a 1995 S351 in this condition!
Please ask any and all questions prior to bidding….The car is for sale locally and I reserve the right to cancel the auction early if car sells locally.
For serious buyers, I have many more pictures that I can't upload here. Please get in touch with me and I will send you a link to the host website. In addition, I also have a video that I can send you the link to.
Mileage is approx. as it may change due to showing vehicle at a few car shows and cruise in's coming up in the next few weeks.
Thank you for looking and good luck…