PHOTOS: TOM GIARRAFFA, & SOEC ARCHIVES
Model year 1999 marked the final chapter for Saleen Performance's S351 Mustang. After six years on the market, a combination of changing government emissions/fuel vapor regulations in addition to a lack of inventory and technical support with pushrod engines from Ford Motor Company, led to the elimination of Saleen's halo product offering.
Launched in 1994 as the new standard serialized Saleen Mustang package for retail sale, the S351 offered Saleen's highest content of unique equipment and most labor intense remanufacture when compared to all their previous vehicle lines from 1984-93. Even in base, no option form, an early 1994-96 S351 conversion featured the customary 351 CID engine swap, adaptation of a heavy-duty Tremec transmission, modified mounting of each and a shortened driveshaft. Buyers received a familiar Racecraft Suspension package, featuring a larger front sway bar, G-Load brace, firmer bushings, lowering springs and revalved shocks/struts. While inside the passenger compartment new Saleen/Recaro front seating, a matching rear seat cover, "Saleen" logo floor mats, a leather Momo shift knob and a Saleen white face gauge package left no doubt this was a special Mustang.
After Saleen Performance released their S281 Mustang, this caused a "rethink" as to what the S351 model line should offer in content, value and performance. With the newly established S281 leading Saleen's value market; there was no need for the S351 to continue in base form. Steady development launched the S351 into supercar territory for their 1997 model year. For '97 the Vortech supercharger became standard equipment as did a 6-speed manual Tremec transmission. Standard heat extractor, Saleen/Alcon front brake upgrade and Speedline magnesium wheels continued unchanged from the 1996 product offering.
Prior to new model unveil and manufacture for a newly restyled 1999 Saleen Mustang line, Saleen Performance announced that '99 would mark their final year of assembly and sales for the S351. Production was set to carry throughout the 12 month calendar, when necessary Saleen used model year 2000 Ford Mustangs to finish orders late into '99. This final production year for the S351 would inadvertently be the lone version built on the "New Edge" design Mustang introduced for 1999 and carried through 2004.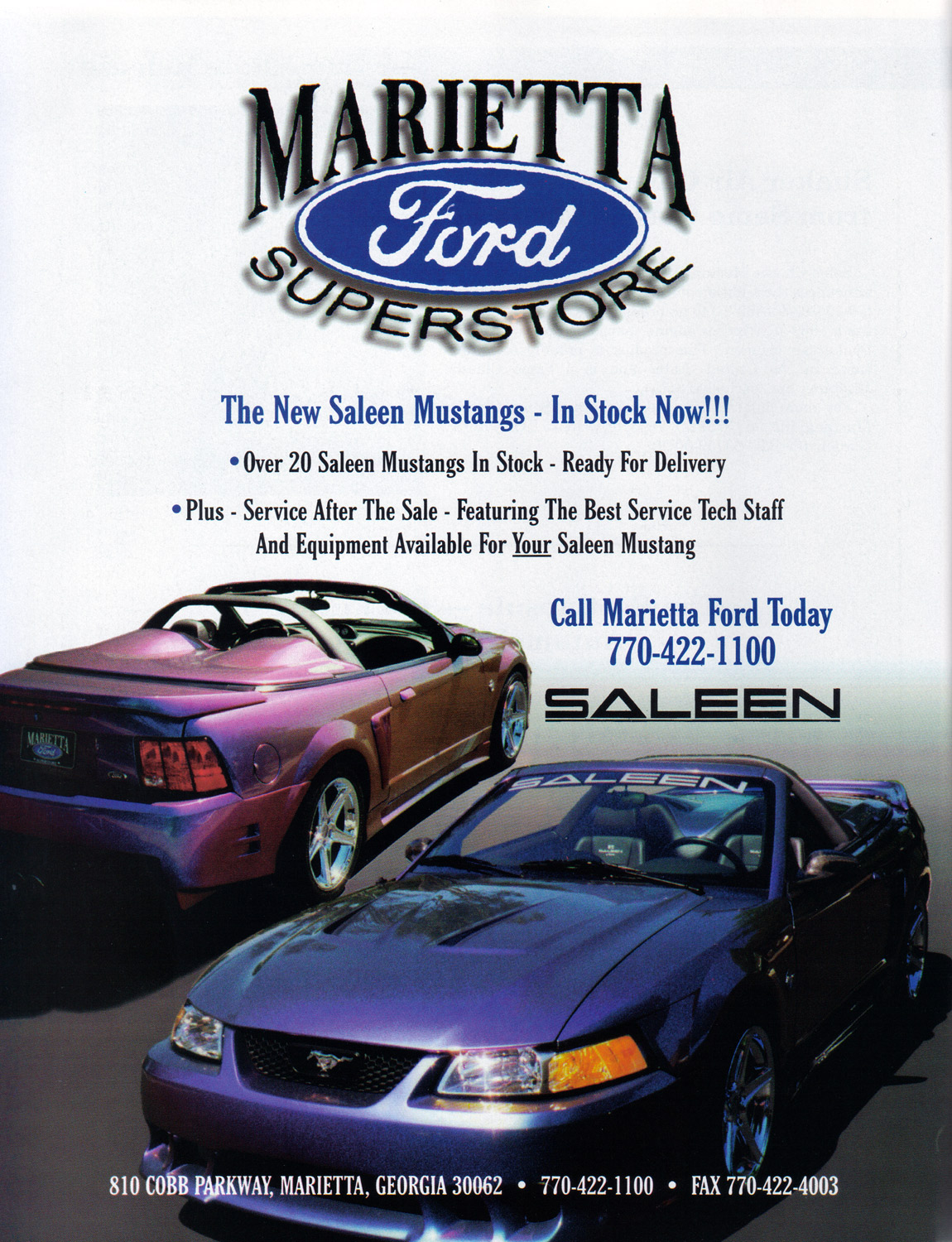 Or feature car, 99-0012S, debuted during the Mustang 35th anniversary celebration event in Charlotte North Carolina. A festival organized by the Mustang Club of America for spring 1999, 99-0012S was part of the infield Saleen Performance display and added to the spectacle at Charlotte Motor Speedway. Ordered by Marietta Ford and shipped on April 13th, #12S contained the following Saleen equipment: 3.55 gears, Torsen differential, tire upgrade, 10″ rear wheels, chrome wheels, Saleen leather, floor mats, carbon fiber interior trim, Speedster tonneau and custom paint. Coincidentally Marietta Ford would order a near twin of 99-0012S for the 2000 model year using an S281 Supercharged model as the foundation. (Read about 00-0387)
For the 1999 model year Saleen produced 420 street going Mustangs, 46 were S351 models, 26 were of the convertible body style, of those there were 21 built using a 1999 model year chassis, 3 featured optional Saleen paint while 99-0012S was the lone S351 painted Extreme Rainbow.
"Day two" additions are not uncommon for S351 Mustangs, there are a number of owner requested modifications present on #12S, both to increase the looks and performance. Our feature vehicle holds a distinction of attaining these mods by the hands of Joe Gosinski and Chicane Sport Tuning in Torrance, CA. Joe a noted former Saleen employee and mastermind of custom late-model Mustangs worked his magic to detail #12S beyond factory.
Final power number of 99-0012S are the following: On 91 octane pump gas 600+ HP and 600+ LBS torque at the wheels using a conservative tune.
Aftermarket modifications include:
Suspension:
• Global West Tri-ladder Sub Frame Connectors Maximum Motorsport Camber/Caster Plates Maximum Motorsport Pan hard Bar Maximum Motorsport Lower Control Arms W/ Adjustable spring perch Maximum Motorsport Front Coil Over's W/ Adjustable Ride Height Maximum Motorsport Torque Arm
Engine:
• 351 SVO Block (original block that came with car) Stroked to 408ci
• 225 AFR heads
• JE Custom Dish Pistons
• Manly Rods Race
• Bassani Shorty Header
• Trick Flow Intake (extrude honed upper and lower) S-Trim Vortech Supercharger (original Equipment) Anderson Power Pipe 90mm Mass Air Cog Drive Belt on Supercharger Custom Aluminum pullies Powdercoated Accessories, Brackets & Covers
• 2003 Cobra Fuel Tank W/ Twin Pumps Converted To Return Style Fuel Delivery Kenne Bell Boost A Pump 55lb Fuel Injectors
Click here to participate in the discussion.
[Source: 21st Century Performance]