BaT Essentials
Lot #23663
Location: La Mesa, California 91942
VIN: 1FA6P8CF6F5323023
26k Indicated Miles
Replacement Supercharged 5.0L V8
6-Speed Manual Transmission
Maliblue Metallic/Black Leather
Carbon Fiber Trim
20″ Wheels
Heated & Cooled Seats
Service Records
Clean Carfax Report
Private Party or Dealer: Private Party
2015 Saleen Mustang S302 Black Label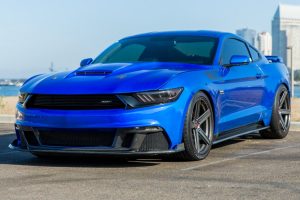 This 2015 Saleen Mustang S302 Black Label was purchased by the seller from Saleen prior to being displayed at SEMA and the San Diego International Auto Show in 2015, and has since been driven approximately 26k miles. Power comes from a replacement supercharged 5.0-liter V8 paired with a six-speed manual transmission, and the car is finished in Maliblue Metallic over black leather. Equipment includes carbon fiber trim, a rear spoiler, blue LEDs, 20″ wheels, slotted and cross-drilled brake rotors, and heated and cooled seats. The radiator and clutch have been replaced by El Cajon Ford under current ownership. This Saleen Mustang is offered with stock taillight panels, service records, a 2019 dyno sheet, a clean Carfax report, and a clean California title in the seller's name.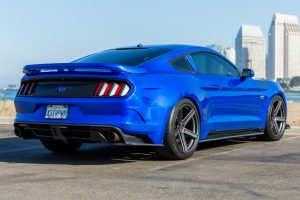 The body is finished in Saleen Maliblue Metallic and features a vented hood, tinted windows and lights, and a rear spoiler as well as a carbon fiber front splitter, side skirts, and rear diffuser. Flat black taillight panels replace the stock Saleen units, which are included in the sale. The seller states that the front bumper cover and hood have been repainted due to chips, and the front splitter has also been recoated with carbon fiber to repair chips and cracks. Remaining chips and scratches can be seen in the gallery along with broken passenger-side mirror glass.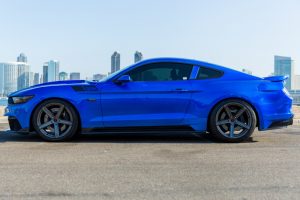 Grey 20″ wheels are mounted with Continental rubber up front and Michelin tires in the rear, the latter of which show 2017 date codes. The car is equipped with Saleen S4 high-performance suspension as well as slotted front brake rotors along with cross-drilled and slotted rear rotors. The seller describes the front tires as in need of replacement and notes that the parking brake is inoperable due to worn pads.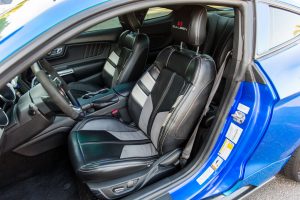 The interior features heated and cooled front sport seats upholstered in black leather with white and grey inserts, blue LED lighting, dual-zone climate control, a touchscreen stereo, and an integrated Escort Passport 9500ci radar and laser detector.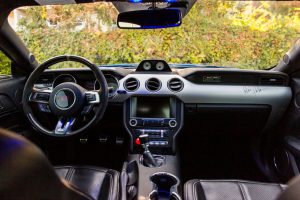 Instrumentation includes a tachometer and speedometer with inset coolant temperature and fuel level gauges as well as boost and air intake temperature readouts on top of the dash. The digital odometer shows approximately 26k miles.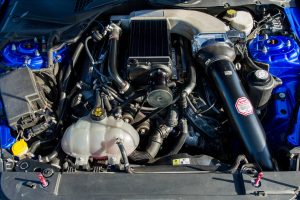 The replacement supercharged 5.0-liter Coyote V8 is said to have been installed by El Cajon Ford and reportedly features forged internal components. An oversized radiator has also been installed along with an Exedy Racing Stage 1 organic clutch kit. A 2019 dyno sheet in the gallery shows peak output of 516 horsepower and 443 lb-ft of torque at the wheels, with an estimated 609 crankshaft horsepower. Power is sent to the rear wheels through a six-speed manual transmission.
The September 2019 Carfax report shows no accidents or other damage with entries through August 2016. Service records are also included in the sale.
Click here to participate in the discussion.
[Source: Bring a Trailer]