Price: $50,000.00
VIN: 1FACP44E0MF152665
Vehicle Title: Clear
Year: 1991
Make: Ford
Model: Mustang
Sub Model: Saleen Mustang
Body Type: Convertible
Number of Cylinders: 8
Engine: 5.0L 302 Cu. In. V8
Fuel Type: Gasoline
Transmission: 5-speed Manual
Exterior Color: Bright Red
Interior Color: Black
Mileage: 14,200
For Sale By: Private Seller
eBay #: 233368515160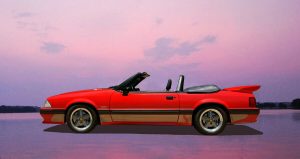 91-0002 Saleen Convertible , number 1 of 1 Car built by Saleen in California during the 1991 Model Year. All standard Saleen Mustangs were manufactured by Cars and Concepts in the 1991 model year except for this Car. This Car was made for a personal friend of Mr. Steve Saleen , and is autographed in several places.
This Car was not used in Rain or Snow by the original owner from which we purchased it, and we have not used it at all. Absolutely no paint work ever , Car was never damaged.
The original build included a Roll Bar which was almost immediately substituted with a factory Light Bar, possibly the first Fox body Saleen with such an accessory. We have that Roll Bar along with any piece of the Car that was replaced with more modern parts such as Headlamps.
Click here to participate in the discussion.