Price: $27,750.00
VIN: 1FALP45T8SF119679
Vehicle Title: Clear
Year: 1995
Make: Ford
Model: Mustang
Sub Model: Saleen S351 Speedster
Body Type: Convertible
Number of Cylinders: 8
Engine: Original 1995 Saleen S351 V-8
Fuel Type: Gasoline
Transmission: 5-speed Manual
Exterior Color: Rio Red
Interior Color: Black
Mileage: 16,000
For Sale By: Private Seller
eBay #: 183992886192
Seller Notes: "This vehicle is an AUTHENTIC and UNALTERED, extremely low mile, 1995 SALEEN Mustang S351 Convertible Speedster, T-code that is truly one of the few 1990's collectible High Performance Mustang Muscle Cars. The Saleen Speedster, I is Saleen's "flagship". This model, the Saleen Speedster was the representative model on all Saleen Performance Part Booklets and even covered the front and back of the Saleen Book and Owners Registry. Saleen incorporated lessons learned from the track to the street in these mustangs, becoming a four time SCCA Champion by 1998. From original production records at corporate Saleen, the originating dealer was Archway Ford in Baltimore, MD with a manufacture date of May 12, 1995. An authentication letter signed by Liz Summar verifies this Saleen #95-0050 as Rio Red tinted clear coat exterior with black Saleen Recaro leather interior convertible with Silver graphics and Silver Wheels manufactured with the optional Speedster Package and T Code package."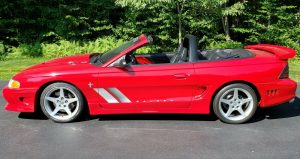 Vehicle Description & History
A. Vehicle Description
This vehicle is an AUTHENTIC and UNALTERED, extremely low mile, 1995 SALEEN Mustang S351 Convertible Speedster, T-code that is truly one of the few 1990's collectible High Performance Mustang Muscle Cars. The Saleen Speedster, I is Saleen's "flagship". This model, the Saleen Speedster was the representative model on all Saleen Performance Part Booklets and even covered the front and back of the Saleen Book and Owners Registry. Saleen incorporated lessons learned from the track to the street in these mustangs, becoming a four time SCCA Champion by 1998. From original production records at corporate Saleen, the originating dealer was Archway Ford in Baltimore, MD with a manufacture date of May 12, 1995. An authentication letter signed by Liz Summar verifies this Saleen #95-0050 as Rio Red tinted clear coat exterior with black Saleen Recaro leather interior convertible with Silver graphics and Silver Wheels manufactured with the optional Speedster Package and T Code package. Further, this letter indicates that this particular Saleen is 1 of only 3 with these colors and options.
1995 Saleen Production consisted mainly of eighty-nine S351 Coupes and forty-three S351 Convertibles.
Optional Saleen Packages included:
the R Code (mainly Vortech supercharger equipment);
the T Code (13-inch Saleen slotted racing front rotors, Saleen/Alcon four-piston calipers, 3.27:1 rear axle, and Saleen Recaro Leather interior; and
the Spyder or Speedster Package (convertible only, Saleen sports light bar, soft top cover, and hard light weight exterior color matched tonneau).
Engine: Saleen spec. 351-cid (5.8-liter) Windsor electronically fuel injected V-8 manufactured by engine-builder Billy Wages, Jr. of AER in Texas.
Horsepower: 371@5100 RPM
Torque: 422@3500 RPM
** These numbers were extreme for the 1990s and quite respectable even today for a naturally aspirated engine **
Headers: Saleen ceramic-coated
Transmission: Tremec quick-ratio five-speed manual
Suspension: full Saleen Racecraft suspension – springs, shocks, struts, quad shocks, urethane bushings, G-load brace
Other Performance Enhancements: Saleen high-performance pressure plate and clutch; Balanced and customized driveshaft; three-core radiator; and high perf. (high flow) 2 ½" stainless four-way cat exhaust
Saleen Authenticity maintained by: serialization numbers on front bumper, Saleen console plaque, and Saleen engine bay plaque, and other not so visible locations on the Saleen.
B. Vehicle History
This Saleen S351 Speedster is fully documented and authenticated from Saleen, Ford, and the original dealer.
It comes with congratulatory letter signed by Steve Saleen and Team Saleen verification letters signed by Liz Summar;
all dealer delivery documents, manuals, Ford and Saleen window stickers;
photographs from the original dealership showroom floor, the first owner and myself; and copies of bill of sale, original title, and other purchase transactions between first owner and myself.
If you have been searching for the right Saleen S351 at the right price, this is it! If you research price of Saleens I suggest NADA Classic Car Guides. However, one problem with the Saleen Speedsters is that they are "not referenced or priced as such" only convertibles, so look at the original Saleen MSRP and current retail value as a guide. Just remember, the original Saleen MSRP of this Speedster was $54,534, near that of a Saleen S351SR. This is understandable considering its light weight racing additions.
Should you have any questions call me at (860) 537-9183 to secure this rare find to add to your collection!
Thank you for looking, and good luck bidding!
Click here to participate in the discussion.