Price: $27,000.00
VIN: 1FAFP444XWF137713
Condition: Used
Vehicle Title: Clear
Year: 1998
Make: Ford
Model: Mustang
Trim: Saleen S351R
Engine: 5.8L 351W Supercharged 5.8
Transmission: 6-speed Manual
Drive Type: RWD
Mileage: 19,650
Body Type: Convertible
Exterior Color: Laser Red
Interior Color: Black
For Sale By: Owner
eBay #: 132886190897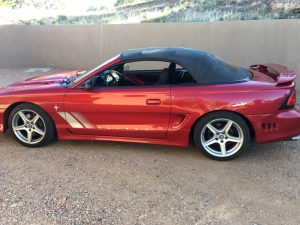 Up for sale is a very clean and low mile 1998 Saleen S351 Convertible. Yes it's a real Saleen! 1 of 1 car as you can see in the letter of authenticity I bought from Saleen. Super low miles as you can see.
The car runs and drives perfect. I just had the engine and trans pulled and had it completely resealed. It had some oil leaks when I acquired the car. Convertible top is in great condition, and the motor for the top works great. The car has been under a car cover in a temperature controlled garage for the last two years and driven a couple times a month to keep all the fluids moving.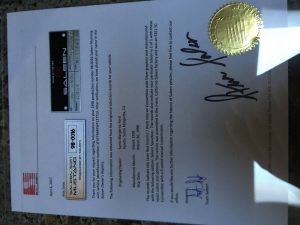 Recaro cloth seats on the interior. I purchased a complete decal kit from Saleen when I got the car so all the decals are brand new. OK! so what isn't perfect. The Speedster cover was not with the car when I acquired the car. Nor the roll bar. Last thing is the rear wing. Its not the S351 wing that is commonly seen on these cars. I called Saleen and spoke with Molly Saleen for about an hour and a half. She verified that the spoiler that is on the car is the one the customer ordered when she personalized the car. Original owner was named Beatrice. If any of you have a Saleen Registry you will be able to find this information.
If you have any questions please feel free to reach out. Title in hand. Don't waste your time or mine with low ball offers. I will entertain any reasonable offers. No trades. Just looking to sell the car. Thank you for taking the time to check out the car. Happy Bidding!
Please keep in mind the car is for sale locally. I can end the auction early if the car sells locally.
Click here to participate in the discussion.