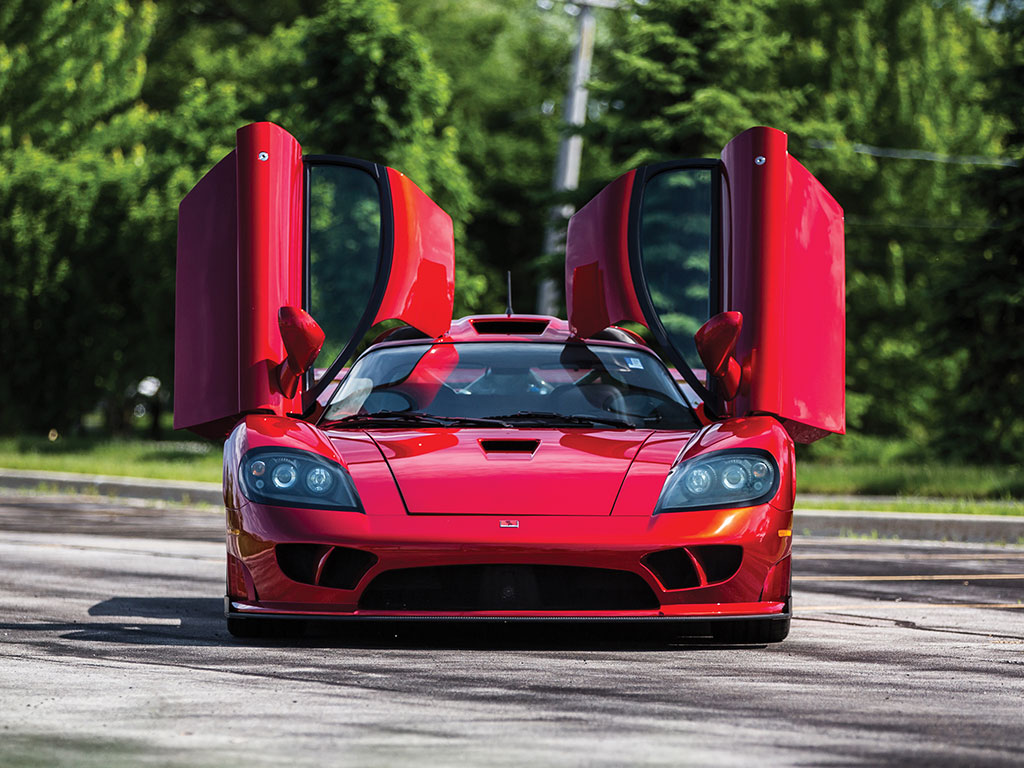 Plymouth, Michigan – 30 July, 2016
2006 Saleen S7
Chassis no. 1S9SB18106S000073
Serial no. S7-06-073
www.rmauctions.com
750 bhp, 427 cu. in. DOHC aluminum V-8 with twin Garrett turbochargers, six-speed manual transaxle, four-wheel fully adjustable independent suspension, and four-wheel ventilated Brembo disc brakes. Wheelbase: 106.2 in.
One of the final Saleen S7s built
Two owners and just over 300 miles from new
Serviced in May of 2016 and ready for the road
Born and bred right here in the United States, the all-new Saleen S7 was the brainchild of Steve Saleen and marked his company's first venture into the world of the supercar. While it had an excellent reputation for tuning Mustangs, the company had never before built and designed a car of its own name, and so the world definitely took notice when Saleen unveiled the S7. Boasting a completely unique chassis clothed in svelte carbon-fiber bodywork, the S7 was developed for racing, with road-going examples constructed to meet homologation requirements and please eager customers. Fitted with a mid-mounted 427-cubic inch V-8 engine at its heart, it could truly compete with the world's fastest and most exclusive supercars, boasting a top speed of 220 mph and a 0–60 mph time of 3.3 seconds.
Looking to turn up the intensity of the S7 even more, Saleen introduced the S7 Twin Turbo in 2005 to great fanfare. With the addition of a pair of Garrett turbochargers, the S7 Twin Turbo supplied one of the fastest cars that money could buy, with even more horsepower, torque, and speed. Horsepower was raised to 750, and the car was fitted with new front and rear fenders, along with a slightly revised aerodynamics package. The car's performance was nothing short of ludicrous, boasting a 0–60 mph time of 2.8 seconds and a top speed of 248 mph.
Of the 13 S7 Twin Turbos produced for the 2006 model year, the example offered here is one of the last, and therefore one of the very last S7s ever built. Finished new in Lizstick Red, it was acquired by its current owner from the gentleman who purchased the car new. Today, it is presented in absolutely factory-fresh condition and is said to exhibit exceptional build quality throughout. Having only traveled just over 300 miles from new, it is undoubtedly one of the lowest-mileage examples in existence. Last serviced in May of 2016, it still retains its original window sticker, as well as its luggage set and car cover.
Both today and when it was new, the Saleen S7 stood proud against Europe's supercar establishment as a fully American supercar. Still incredibly fast even by today's lofty standards, the Saleen S7 has already proven to be a highly coveted and collectible automobile and will surely only garner more attention in the future. One would be hard-pressed to find a more pristine example than that offered here, which has been carefully preserved by only two private owners and driven just over 300 miles… thus far!
Click here to participate in the discussion.
[Source: RM Auctions]