PHOTOS: JAEDA CROSBY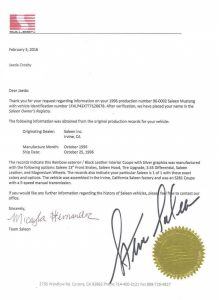 Currently, Saleen Automotive offers a dozen custom exterior paint colors on their line of performance vehicles. Though in the late 1990s during the SN95 era, there was one available non-factory hue. A single color that could represent green, blue, purple and gold. This lone color was Extreme Rainbow, the initial optional Saleen custom color developed with partner BASF.
BASF introduced a line of "Extreme Colors" in 1996. Of these first three Extreme hues, Rainbow was the most varied. Officially offered by Saleen as an option for the 1997 model year, they would go on to produce a total of 19 vehicles in this chromatic paint before this color disappeared after the 2009 model year.
One such vehicle is 96-0002, this special SN95 S281 coupe is among the earliest Saleen Mustangs to showcase this unique paint option. Current owner, Jaeda Crosby, located 96-0002 through a fever-pitched search for an original Saleen Extreme Rainbow Mustang. Given both the limited production and limited availability of this color, Jaeda had few leads and numerous dead-ends in trying to locate a vehicle in the United States. Perseverance sent Jaeda to the United Kingdom where #02 had lived since 2004.
Produced during October 1996 and shipped on the 25th of that month, #02 features an interesting list of early Saleen optional equipment. Beginning with the newly introduced S281 coupe, #02 hosts the following: Heat extractor hood, Speedline magnesium wheels, tire upgrade, 13″ front brake upgrade, and Saleen/Recaro leather seating.
For the 1996 model year Saleen produced 444 Mustangs, 424 were S281 models, 413 were based on the GT chassis, 191 were of the GT coupe body, 177 GT coupes featured 5-speed manual transmissions and 27 GT coupes with manual transmissions featured Opal Grey interior. Of those, 4 had the Saleen/Alcon brake upgrade, 20 were equipped with the optional 3.55:1 gears, 3 had the Tire Upgrade while 96-0002 was the lone S281 coupe, GT chassis, Manual Transmission, Opal Grey interior vehicle to receive the optional Saleen vented hood, Saleen/Recaro leather seating, Speedline Magnesium Wheels and Optional Custom Paint.
Of the 444 street Mustangs produced for the model year, one was painted a Saleen custom color. 96-0002 is this car.
Click here to participate in the discussion.
[Source: Jaeda Goodwin Crosby]