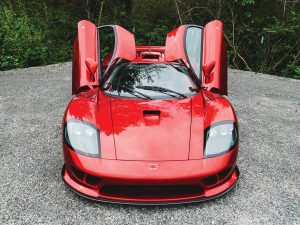 Monterey California – 15 August, 2019
2005 Saleen S7
Chassis no. 1S9SB18185S000062
Serial no. S7-05-062
www.rmauctions.com
750 bhp, 427 cu. in. DOHC aluminum V-8 with twin Garrett turbochargers, six-speed manual transaxle, four-wheel fully adjustable independent suspension, and four-wheel ventilated Brembo disc brakes. Wheelbase: 106.2 in.
Only 19 examples finished in Lizstick Red
Offered with just over 900 miles from new
Proudly recognized as America's Supercar
If one were to take the badges off a Saleen S7 and ask people where they thought this car was built, the answers would be predictable. Italy would be at the top of the list, followed by Germany and perhaps England or France. Surely something this extreme, aerodynamic, and fast had to come from Europe. In fact, the S7 is American through and through.
The Saleen S7 is the brainchild of Steve Saleen, the owner and founder of Saleen Inc., a performance company known for aftermarket enhancement for Ford Mustangs along with being a formidable racing team. Unlike Saleen's previous projects, the S7 boasts a completely unique and bespoke chassis originally developed for competition. Their racing car was followed with a series of road cars built for homologation. The S7 was appropriately fitted with an all-aluminum 427-cubic-inch V-8, which was wrapped in a carbon-fiber body. The car could sprint from 0–60 mph in just 3.3 seconds and had an estimated top speed of 220 mph. On the track, the S7R variant quickly earned the respect of some of motorsport's most seasoned professionals, achieving class wins at both the 12 Hours of Sebring and the 24 Hours of Le Mans.
However, while its impressive figures would match many of today's premier supercars, Saleen decided that after four years of production, it was time to upgrade the already immensely powerful car. After fitting twin Garrett turbochargers, the S7 entered a league of its own. The engine now produced 750 horsepower and 750 foot-pounds of torque, thanks to 5.5 psi of boost. Its 0–60 time had been considerably shortened, dashing the sprint in just 2.8 seconds. Furthermore, its top speed increased to a mind-warping 248 mph. To ensure safe stability at those incredible speeds, the car's front and rear diffusers were redesigned to increase the downforce by over 60%.
This Saleen S7, a Twin Turbo example built in 2005, is among the finest extant. The car was built with the optional equipment of tasteful, polished alloy wheels and a GPS navigation system. And to ensure factory condition, the car was also selected to travel in enclosed transport to its dealer. The car is just one of 19 total Saleen S7s finished in the attractive color of Lizstick Red. And to ensure the car comes with proper documentation, the owner carefully kept service records and a copy of its original window sticker. In January 2018 the car underwent a major service, including an oil and oil-filter change, flush and replenishment of the power-steering and brake fluid, replacement of spark plugs, and the replacement of ignition coils.
With a little over 900 miles from new, this Saleen is yet again ready to challenge the best of European supercars.
Click here to participate in the discussion.
[Source: RM Sotheby's]