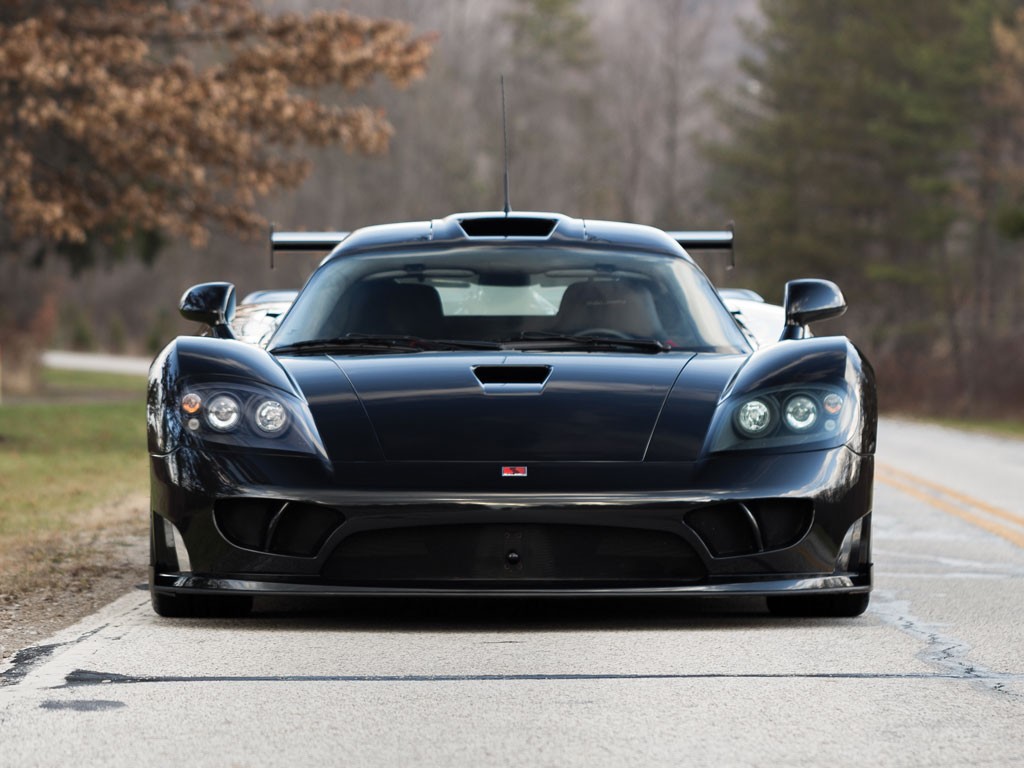 Phoenix, Arizona – 28-29 January, 2016
2005 Saleen S7 Twin Turbo 'Competition Package'
Chassis no. 1S9SB181X5S000046
Serial no. S7-05-046
www.rmauctions.com
850 bhp, 427 cu. in. DOHC aluminum V-8 with twin Garrett turbochargers, six-speed manual transaxle, four-wheel fully adjustable independent suspension, and four-wheel ventilated Brembo disc brakes. Wheelbase: 106.2 in.
The only S7 Twin Turbo built with these particular colors and options
Just two owners and 941 miles from new
Upgraded by Saleen with the desirable Competition Package
Documented by a Letter of Authenticity from Saleen
While Saleen had a very well-respected reputation for tuning Mustangs, the company had never ventured out on its own to build a car of its own design until the S7. Boasting a completely unique chassis, the S7 was developed for racing, and the road-going examples were constructed with homologation in mind. Fitted with svelte carbon-fiber bodywork and a mid-mounted 427–cubic inch V-8 engine, it could sprint from 0–60 mph in just 3.3 seconds and would accelerate onward toward an estimated top speed of 220 mph.
In 2005, Saleen took the S7 one step further and introduced the S7 Twin Turbo, adding even more horsepower, torque, and speed to one of the fastest street-legal cars that money could buy, thanks to a pair of Garrett turbochargers. Horsepower was raised to 750, and the car was given different front and rear fenders along with a slightly different aerodynamic package. Thanks to these changes, the car's 0–60 mph time was decreased to 2.8 seconds, and top speed was quoted as a mind-boggling 248 mph.
Produced in January of 2005, this particular S7 Twin Turbo was finished in Black Metallic paint with a matching black interior and was outfitted with polished wheels and a GPS navigation system. It remained with its first owner until 2012, when it was sold to its second owner, in whose care it resided in a collection of modern supercars.
Under the stewardship of its first owner, the car had been returned to Saleen and upgraded with the desirable Competition Package. Horsepower was yet again raised to 850, and the car was fitted with revised front and rear diffusers, an upgraded suspension, and a massive rear wing to help manage the car's power and performance.
The car is said to be in virtually as-new condition and an absolute joy to drive. Accompanying it is an S7 owner's manual and a piece of S7-branded luggage. Furthermore, the car is documented by a copy of its original window sticker and a Letter of Authenticity from Saleen, confirming that this particular car is the only S7 Twin Turbo with these exact colors and options.
One of the most compelling American automobiles built thus far into the 21st century, the Saleen S7 proved that Saleen was capable of much more than building hot-rodded Mustangs and could truly play with the big boys on the world stage. Not only did the S7 make a big impact on the street, but it brought Saleen great success in racing with class wins at both the 12 Hours of Sebring and 24 Hours of Le Mans. The only S7 Twin Turbo built to this particular configuration and believed to be the lowest mileage S7 Twin Turbo in existence, it goes without saying that this is truly a spectacular automobile in all regards. For the individual with an unquenchable taste for horsepower, it would be difficult to make a better choice.
Click here to participate in the discussion.
[Source: RM Auctions]