With humble beginnings of long ago Saleen Autosport, it is easy to forget how momentous their achievement was with bringing the 1989 SSC to market. This high-performance 5-liter Mustang was a juggernaut of excitement to 1980s performance vehicle communities. Evidence of this can be seen with the many period cover stories, feature articles and road reviews for Saleen's new SSC Mustang.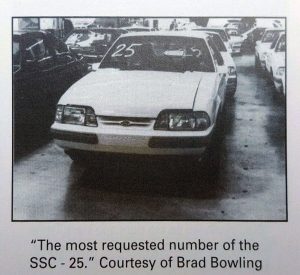 Beyond the infamous 89-0002 (former 01) SSC and Steve's personal 89-0001 SSC, there were an exclusive number of privately owned Saleen SSC Mustangs running through reviews of supercharger and nitrous kit installations was well as basic performance data collecting for various enthusiast magazines. The Saleen SSC was a media king for 1989.
Many of these print publications would mention or proclaim how Saleen's SSC was the "unofficial" 25th anniversary edition Ford Mustang. Given how Ford Motor Company lacked offering a special edition of their own. This "media stir" caused superfluous attention from customers towards SSC serial number 25. A new era of modern collector cars was gaining momentum by the late 80s.
Here we are thirty years later. As expected, a few Saleen SSC editions are no longer accounted for and have positively left the earth. Though, 89-0025 SSC still exists. Perhaps the noise of time diluted their fanfare, but this "Super Saleen" broke the obstacles for a continuing stream of exciting product from an intimate Southern California company. -DB
Click here to participate in the discussion.
Continue below for 89-0025 SSC sales details and photos.
---
1989 Ford Mustang
cylinders: 8 cylinders
fuel: gas
odometer: 18000
paint color: white
title status: clean
transmission: manual
Selling my 1989 Mustang Saleen SSC. This is only 1 in 160 SSCs ever created. This is a early production #25 with only 18k original miles. 5.0 engine and manual transmission are quiet and smooth.

Original paint that still has the pinstripe laser etching. No accidents. Interior is near perfect.

Car is in excellent condition, runs and drives great. Near mint interior. Still has the Saleen installed pioneer radio with eq and speaker box in the backseat.

Well documented as well.

Just ready to move onto something. Asking $35,000. Serious people only.
https://miami.craigslist.org/pbc/cto/6760226177.html